Ladysmith Strider Archives 2007 | 2008 | 2009 | 2010 | 2011 | 2012
---
2013 Ladysmith Striders News Headlines
---

December 6, 2013 - John's Half-Fast Run Report - Cinnamon Bun Fun Run -- Every year the Ladysmith Striders organize a charity run called the Cinnamon Bun Fun Run in support of the Ladysmith Food Bank. The account of the event below was circulated to all the participants as a final report of the event under the title Cinnamon Bun Fun Run Stuffs Ladysmith Food Bank With Donations. The Ladysmith Striders take great pride in organizing this annual event and are proud to include the report on their achievements below.
---
The level of support for the CBFR this year was phenomenal and I can't say enough about all the runners and walkers who came out to support our food bank. There is no doubt that participants made a big difference in the lives of those less fortunate with their generous food donations.

We had a relatively decent day for running with very little rain - in fact a mere drizzle at one point and that was about it. And it didn't seem to bother anyone when they took to the start line. It was great to see seasoned runners and casual walkers, friends and families, and even entire hockey teams all ready to start the event with laughs and smiles. This is really turning into a fun-loving community event.
We had a big turnout this year. In fact, the interest was so high that event organizers ran out of race bibs. This is quite a story because we went to great lengths to ensure that there would be enough. Last May, we placed an order for 1000 custom race bibs with the event name and our primary event sponsor printed on the face because we felt it was time for the Cinnamon Bun Fun Run to have its own unique identity and we wanted to ensure that we had plenty of bibs on hand. The bibs were sent down to Mark Nelson at RaceDay Timing Services in Victoria for attaching the timing chip to the bibs - a pretty routine procedure. We ordered 850 timing chips which was almost twice as many as we had finishers at the 2012 event and we thought we were in good shape to handle a modest increase in participation. But alas... even with 850 bibs available, some walkers and runners were unable to register on Sunday morning due to the high demand.

Don't know if it was Bruce Youngren's attention to his CBFR9 Facebook page or RaceOnline.ca early promotion of the event or even the novelty of an event that highlights predicted time, food for entry fee, and cinnamon buns that garnered attention. Whatever it was, the 9th Annual Cinnamon Bun Fun Run registered 849 participants this year and welcomed 754 of them across the finish line. This was such an amazing spectacle to see and a great result for the Ladysmith Food Bank.
The popularity of the event challenged CBFR Organizers and in fact sort of caught them off-guard. As Race Director, I made the decision to cut off online registration early in order to preserve some bibs for same day registration. Even with that move, I was only able to save 30 bibs which I knew would disappoint many that have traditionally arrived with their families in tow expecting to sign up.

As a runner, I felt really awful and it was no fun sharing my story with those who were truly disappointed. Many participants - upon finding out there were no more bibs - simply donated their entry fee anyway and completed the course with family or friends minus the bib. I heard over and over that running out of bibs wasn't that big of deal because many simply wanted to donate, complete the distance, and enjoy a cinnamon bun.
Cinnamon buns is another story but you have to look back at 2012 to understand. We ran short of cinnamon buns last year so organizers brainstormed when the event was over to try and figure out how to ensure that there would be Old Town Bakery cinnamon buns available for the 10K finishers who were complaining that there were none left when they normally finished. We did the obvious first by asking Old Town Bakery owner Kate Cram if there was any chance that she might be willing to somehow boost last year's 400 cinnamon bun order up to 600. Kate indicated that there were logistics involved that may be a problem and without promising too much - said she could probably handle 600 if she worked the bakery in two shifts on the night before the event. Imagine our surprise when Kate Cram delivered 1000 cinnamon buns on Sunday which allowed all participants - bib or no bib - to enjoy her freshly baked cinnamon buns. Heck!... many of them were still warm when participants got their hands on them which made the cream cheese icing even more delicious. Special shout-out to our Ladysmith Mayor Rob Hutchins who helping Kate and crew in the bakery in the wee hours of Sunday morning but couldn't stay due to another pressing commitment.

Opening comments of welcome from CBFR Event Host Gillian Sharpe preceded Ladysmith Deputy Mayor Gord Horth who spoke about strength of community and the amazing support that residents of Ladysmith provide for events like the Cinnamon Bun Fun Run. He thanked the Ladysmith Striders for organizing this charity event and for their continuing support year after year for the Ladysmith Food Bank.
After an energetic warm-up routine guided by resident FJCC Fitness Trainer Patti, Deputy Mayor Horth touched the air horn to signal the beginning of the 9th Annual Cinnamon Bun Fun Run and sent the walkers and runners onto the streets heading south on 6th Avenue past the Fire Hall to Methuen. Both the 5K and 10K distances were over the same course with 10k runners extending the course with a second lap. At the Dunsmuir and Bickle half-way point, Doug Judson and family manned the water station again this year to provide hydration to the weary as they crested the steepest hill on the course.

The steep hill gives way to a gentle kilometre and a half downhill that provides nice recovery over Malone Rd. and Colonia Drive before a slight 1.5 kilometer climb on Cloke which feeds back onto 5th Avenue. Once past the 5K/10K split point at Buller, participants turned right onto 6th Avenue for some recovery before a short uphill grunt to the finish. Special thanks to Chief Course Marshal Steve Sharpe for managing his team of Course Marshals volunteers who brought everyone back to Frank Jameson Community Centre safely for a cinnamon bun finish. Thanks are also extended to the Ladysmith Parks and Rec and FJCC Personnel for their advice on managing the street course and their volunteer contributions of time.
Arriving at the finish, runners and walkers were rewarded with yummy-gooey cinnamon buns and hot chocolate, and smiles and well-wishes from friends, family, and volunteers. With the water re-hydration tables outside close to the finish, weary finishers were able to access water as soon as they crossed the line. And those finishers hungry for cinnamon buns and hot refreshments were greeted by two food lines this year which allowed for cinnamon buns to be consumed in an unhurried manner.

With the final participants crossing the finish line, RaceDay Timing Services clocked in the results and returned the winners. The 9th Annual Cinnamon Bun Fun Run winner was Jenna Wickham who was slightly over her predicted time but within one point five one seconds of her time. Young Brianna Bold claimed second position at one point six second after her predicted time and Lorrie Baildham ran to a third place finish with a close one point eight one second brush with her predicted time. Congratulations to the winners of this predicted time event and a round of applause to all walkers and runners that participated and made this event a success.
Much of the success of this event can be attributed to the financial support given by LCU Insurance Agencies who for nine years has provided much of the initial organizational funding to lift the Cinnamon Bun Fun Run off the ground. To recognize their commitment over the years, the Ladysmith Striders presented LCU Insurance Agencies Manager Cindy Cawthra with a commemorative plague that displayed the very first Cinnamon Bun Fun Run Race Bib #1 mounted over words of appreciation for their many years of involvement in the fun run.

Draw prizes were sourced from a number of local businesses in both Ladysmith and Chemainus, and from generous Ladysmith Striders and CBFR Organizers. Bib numbers were drawn for a selection of prizes including LCU Insurance Agencies travel blankets, gift baskets, technical athletic wear, retail gift cards, and Frontrunners water bottles filled with $25 dollar gift certificates. Frontrunners Nanaimo Stefan Jakobsen sweetened the door prize draw by pulling the name of a male and female participant from the crowd who were provided with a brand new pair of running shoes courtesy of Frontrunners.
A cash box for monetary donations was also available for participants who wanted to give cash instead of food and a peak into the box after the event revealed a number of fives, tens and twenties just waiting to be turned into jars of peanut butter and packets of hot cereal. In addition to more than $430 dollars cash being plunked into the donation box by generous participants, there were three donations to the Ladysmith Food Bank of significant value. Using the donation tools available on the RaceOnline.ca online registration website, participants who pre-registered online donated over $900 dollars that was received with thanks by the Ladysmith Striders on behalf of the Ladysmith Food Bank. Fifteen hundred dollars was donated by the Steelworkers Humanity Fund which is a fund that regularly helps food banks right across Canada and was created to assist those who need help as a result of crisis situations around the world. Another large $1,500 donation to the Ladysmith Food Bank was presented by Starbucks Canada District Manager Gillian Sharpe. Thanks to Gillian, not only did Starbucks Coffee provide all of the hot beverages for the event, a number of Starbucks Coffee Baristas volunteered to help dispense hot drinks.

Volunteers provide the fuel that drives the Cinnamon Bun Fun Run engine and without volunteers the CBFR Organizers - volunteers themselves - would never have been able to conclude this fundraising event. Through their generous offering of time and energy, a core group of volunteers makes this event happen by setting up the venue, shepherding participants through the registration process, marshaling the roads, dispensing water on the course and finally, by offering hot beverages and cinnamon buns to all. Volunteers who give their time to the Cinnamon Bun Fun Run provide the high energy that drives the degree of organization to higher levels of accomplishment. CBFR Organizing Committee appreciates this fine volunteer work and has a great deal of gratitude for all that the volunteers achieve in their efforts.
For the record, the Ladysmith Food Bank received truckloads of food that weighed out at over 5,000 lbs. and brought in over $4,300 in cash donations - all due to the generosity of walkers and runners who participated in the event. The 9th Annual Cinnamon Bun Fun Run was both a success and a learning experience for everyone involved, so get ready for the 10th Annual Cinnamon Bun Fun Run as we're already figuring out ways to both welcome more participants and improve our organizational performance to better handle even larger crowds.
Thanks everyone for your patience with CBFR Organizers and volunteers, and thank you for your generosity. Thanks and appreciation to all our CBFR sponsors for their financial support and in-kind donations.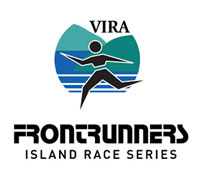 May 6, 2013 - John's Half-Fast Run Report - Vancouver Marathon -- Well it was... a beautiful day in Vancouver! And for nearly 5,000 runners, Sunday May 5th turned out to be almost perfect for a marathon and were greeted clear skies and sunshine with only a threat of a breeze.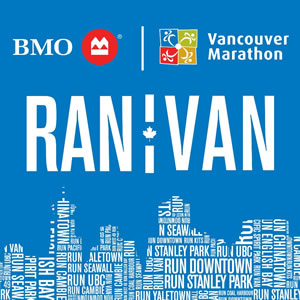 I ran my 15th marathon today with I was joined by a pile of other runners who also thought it was a great day to knock off 42.2 kilometres. The marathon began at Queen Elizabeth Park at 33rd and Cambie and concluded after a run on the Stanley Park seawall on Pender between Bute and Thurlow in the downtown core. And I must say... this was one of the most scenic marathon routes that I have experienced and it was for that reason I chose this marathon over another for my yearly ramble. In 2001, I grunted out a three and a half our finish on the old Vancouver marathon course and as a rule don't like to retrace previous marathon memories, which were good – by the way. But I made an exception for Vancouver because last year the marathon mandarins mapped out a new course that I imagine has captured a new vision of the city.
Marathoners started at 8am on Midlothian which is a street nestled in behind the famed Nat Bailey Stadium. Having referenced my previous marathon finishing time when I registered, marathon organizers placed me at the back of the second starting corral with others who were also aiming for a four hour finish. Organizers adopted runner corrals for the start of the run in an effort to allow elites and other like-minded gazelles to light their rockets in advance of the everyday plodders and our corral start time was about four minutes after that 8am missile launch. While queuing at the back of the corral in order to find just the right place to make my own launch, I tucked in behind the three hour and fifty minutes finishing time pace bunny and had that rabbit in my sights for the first fourteen kilometres – figuring that my best shot for race pacing would be to follow those two little pink ears. In hindsight, I may have made a bad choice and started off a bit too fast.

Southbound on Cambie and once through Kerrisdale on 49th, we turned onto SW Marine Drive. The sun was on our shoulders on 49th and it was a relief to turn north on SW Marine Drive and gain a little shade in the shelter of the boulevard trees. Skirting the edge of UBC Endowment Lands and Pacific Spirit Park, we ascended Camosun Street to gain back all the elevation we discarded with easy downhill running on Cambie and 49th. The uphill on Camosun was about a kilometre of steady climbing and most I'm sure were relieved to finally turn onto Imperial and then again into some welcome shade of 29th Street northbound. It was after 9am by this point and the temperature was rising.
Sixteenth Avenue is a main east-west thoroughfare to UBC and once bidding the 29th Street shade good-bye, marathoners grunted up the last two elevation gains before tipping down towards UBC.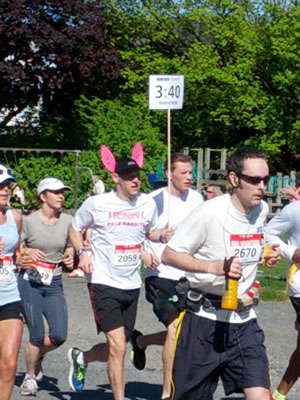 At Bianca, a kilometer long north-south out-and-back was inserted into the route to reconcile the 42.2 distance and it was here that the rabbit got away. I was playing my game to be a little ahead of the three hour fifty minute pace bunny and I figured the out-and-back portion of the course on Bianca would allow me to gauge how far in front I was of the "pesky wabbit's" position. I made the turn for the return portion of the out-and-back and couldn't see the wabbit anywhere. Wow… I must be really fast today.
Nope… wrong. The smooth running wabbit had come around the out-and-back turn on my right shoulder directly in the blind spot beside me and I'd completely missed him. Now he and his clan were inching ahead and for me, it was time to pay the piper. I kicked it up a bit to join his band of merry runners for another three kilometres before fading and loosing ground on the curvy Marine Drive adjacent to UBC Museum of Anthropology. By the time I reached the downhill at Spanish Bank, the wabbit and his litter were gone.
I lost ground because both calves were aching as we rounded the University and the decent to Jericho seemed to erase that achy sensation and I thought the downhill decent to Jericho Beach went well. For some reason once down, that stretch along Jericho Beach took forever and I believe it was the signal that my mental game was suffering. Once past the 21.1 kilometre half-way mark, I berated myself for not picking this earlier and focused from that point forward on an even pace – albeit in the high fives by now – and running tangents by observing the shortest distance between two points and running corner to corner. The little hill leading up to 4th Avenue seemed to knock the stuffing out of me and I realized that the sun had other ideas for my race plan.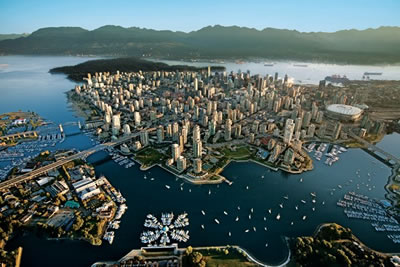 We were starting to thin out by the time I reached Point Grey Road and I believe many others were facing the same challenges. Through the Point Grey neighbourhood and into Kitsilano on Cornwall further sharpened the focus on my mental game because it was now clear to me that I was bonking early – the sun no doubt playing a role. Focus… focus… comfortable pace… relax your shoulders… loosen up and straighten your back… easy arm swings… drink at every kilometre marker. The road was starting to fight me and it was starting to become difficult. The rise in the road on Cornwall just before Kits Beach seemed to be made of glue… it was a challenge to even lift my feet clear to take the next step.
We left Cornwall Street and slipped over to the Maritime Museum and the Planetarium on side streets and then made the turn for the Burrard Street Bridge – the final hill. And with the bridge approaching, my training finally kicked in as my body switched over to burning fat. I was three hours into the marathon at this point and once cresting the steel hill mid-span, grabbed a long lost gear and revved around to the left onto Pacific Boulevard and Beach Avenue.

Finally, the Stanley Park Seawall and some very familiar territory. For five years while working in the downtown on Pender Street I would run the all or portions of the seawall in the morning before work. Now I was back in my comfortable familiar zone locked into visions of me and my running partner Graeme Erickson challenging ourselves on distance and speed while just running for the sheer enjoyment of being in such a beautiful place in the middle of a big city. My mental game was back on.
Graeme – while not physically with me – was on my right shoulder pacing me around the seawall to Second Beach, then Third beach and Siwash Rock, then under the Lions Gate Bridge at Prospect Point and on to Lumberman's Arch. Steady pacing now… still drinking on the kilometre marks… no Gatorade left by this point… but one back-up Power-Gel in my waistband… Graeme urging me on. Around Brockton Point… past the Nine O'clock Gun… past the sculpture of Harry Jerome breaking the finishing tape… still steady… then pain.
Three kilometres to go and their back. Graeme vanishes because I have another problem… leg cramps. Yes, pain stabbing into my calves… both… and it hurts. But think!… come on!... think!... fix it! Yes… lift your toes a little while running carefully until the cramping subsides. Yes… that works. Less pain. Drink! Yes… drink the remaining water in your camel back! Yes… it's hot from the sun, but drink it anyway. Steady pace… keep a steady pace with no increase in speed and don't lift your knees any higher than you're ding right now!. Two kilometres to go. Yes… keep a steady pace and you'll make it.

Past the Coal Harbour Marina with the downtown skyline in full view. Then past the Vancouver Rowing Club and I know I'm getting close to the finish. It's looking good but I'm on the threshold of the cramps coming back. No crazy moves… it's still a mental game.
Now Denman Street is under foot and runners are almost single file with large gaps between them as they head under the huge Power-Gel arch. Right onto Georgia using the wide eastbound sidewalk where spectators are going mad urging us to the finish. I'm told over and over that you're almost there!
With the looming Pender Street buildings casting cool and inviting shadows on the final kilometre, Graeme suddenly returns and reminds me to focus and stay strong. He fades behind me and I'm by myself again. I can see the finishing arch in the distance and it seems like I'm viewing the final 800 metres in the air just above and behind myself. From this serene out-of-body experience, I see myself calm and focused and in complete control of my outcome. I hear the noise of the spectators who seemed to have turned up the volume just as the finishing clock comes into view. I can't quite make it out yet but it is probably the gun time on the clock. I look at my Garmin and it's almost to four hours and eight minutes. I think I'm going be under my target time of four hours and fifteen minutes.
I chose four hours and fifteen minutes as my target time earlier in the week. My previous four months of training had a few holes in it due to some minor injuries which I realized pushed a sub-four hour finish off the table. It was a missing 32 kilometre long run and the loss of a couple of weekend runs due to a re-occurring knee discomfort and that's all it takes to adjust your game. A realistic approach was necessary for Vancouver so I picked a target finishing time that outside of the four hour mark – outside the majority of my previous marathon finishing times.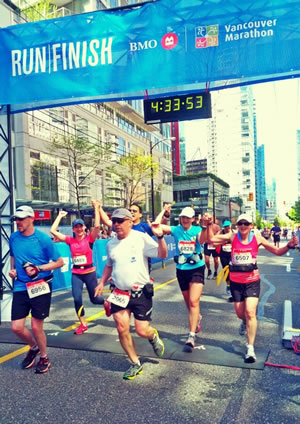 Into the finishing chute and then jubilation. It came up quickly and I crossed the line with gun time of 4:14:58 – under my target time with only a couple of seconds to spare. I quickly stabbed my Garmin at 4:11:30. It was only after the finishing medal was draped around my neck that I realized that my Garmin stopped timing out on the course during one pit-stop and one or two water stops causing a discrepancy between my Garmin and my net time – 4:12:02 – a difference of thirty-two seconds, but still under my target.
I am very pleased with my finishing time today and despite my training period excuses, I feel that I have done something that – on another level – means allot to me. Nine months ago I was diagnosed with prostate cancer and two months after that I underwent a surgery to remove my prostate. Running this marathon has allowed me to prove to myself that my life is not over. Far from it actually. I now know that I can deal with adversity and removing my prostate is just a physical symptom of the cancer that after two tests is relegated to the past and is considered something that once happened to me. While I am still in recovery, running has helped me to move though this phase of my life which I think looks pretty rosy. I have my family and I have my health back. It's all good!
Running eight FrontRunners Island Series races during January to April and now finishing a full marathon has essentially allow me to "thumb my nose" at prostate cancer. After four months and 6909 kilometers of races and training runs, I take satisfaction is saying, "So long cancer, so long sucker!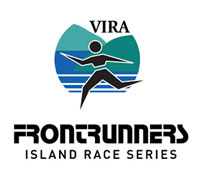 April 21, 2013 - Frontrunners Island Series - Striders Race Wrap -- Eight road races from January to April that is open to all competitors on Vancouver Island and beyond. In fact, some competitors traveled all the way from the lower mainland and Washington State and they have been coming to the Frontrunners Island Racing Series since 1980 when 189 runners toed the line for the first Pioneer 8K.
Ladysmith Striders have been running the Frontrunners Island Series for over ten years and although only a few Striders participated this year, they continue to bring determination and drive to the series; the hallmark of southern Vancouver Island competitiveness.
Central Saanich Pioneer 8K - Brant Dame, John Mountain, Laurel Szasz, and Carol Van Acker.
Cobble Hill 10K - Dolly Brown, Steve Sharpe, John Mountain, and Laurel Szasz.
Cedar 12K - Gary Vermette, Dolly Brown, Steve Sharpe, John Mountain and Denise Aucoin.
Hatley Castle 8K - Steve Sharpe and John Mountain.
Bazan Bay 5K - John Mountain, Brant Dame, Laurel Szasz, and Carol Van Acker.
Comox Valley Half Marathon - Dolly Brown, Steve Sharpe, John Mountain, and Nicole Roy.
Merville 15K - Dolly Brown, John Mountain, and Denise Aucoin.
Sooke River 10K - Dolly Brown, Steve Sharpe, John Mountain, and Denise Aucoin.
The Ladysmith Striders finished club standings mid-pack in 22nd place with fine performances from both Dolly Brown and Steve Sharpe finishing well with appearances in over half the races. John Mountain completed all eight road races.



March 24, 2013 - Ladysmith Striders Bid Farewell To Esquires Coffee -- Since 2001, the Ladysmith Striders have been gathering at Esquires Coffee for their Sunday morning runs. Now with Esquires Coffee closing, the Ladysmith Striders bid Esquires Coffee good-bye with thanks for putting up with sweaty shoes and swag.
Throughout years of friendship, Ladysmith Striders had become coffee shop regulars and had become close with other patrons who settled in for morning coffee on Sunday morning. It was great to have you tables moved together and reserved by Johanna who over the years had come to know most of by name. Ladysmith Striders got to know Ken and Nicki who would always meet Johanna and who were always interested in how our runs were and marveled at the adverse weather that never stopped our Sunday morning runs.


Ladysmith Striders also tip their caps to Esquires Coffee Barristas Spencer and Micki who were always there to whip up our drinks with a warm-hearted smile. Thanks Spencer(pictured left) for your friendship and good natured humour and we're so glad that you were able to join us for a few a final Sunday morning run.
The Ladysmith Strider were sad to have their favourite coffee shop close but understand that life goes on. And while have temporarily moved next door to McDonalds Restaurant for our post-run recovery drink, we hope to find another establishment with equally great people that would welcome a bunch of disheveled and sweaty Ladysmith Striders for coffee.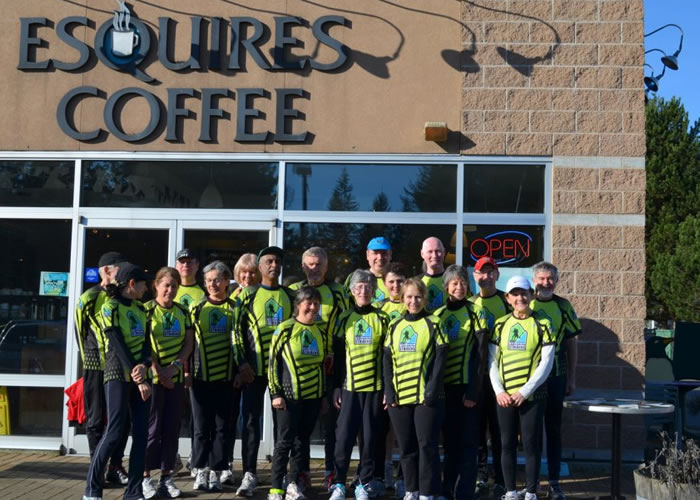 March 1, 2013 - Ladysmith Strider Shoulder New Swag -- It was just a matter of time before the Ladysmith Striders draped themselves in something that would distinguish them as a identifiable running group; something that would be representative of their community and something that would be stylish to wear. It was on this premise that the Ladysmith Striders technical t-shirt was created.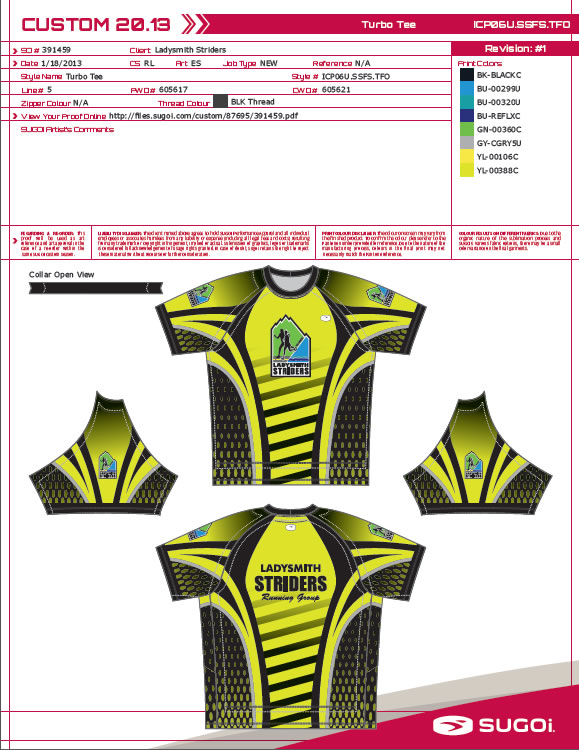 Born over Sunday morning coffee at Esquires, the idea of creating a running shirt from scratch gained traction when Burnaby-based Sugoi Apparel sales representative Ryan Lowe became involved. With Ryan's help, John Mountain was able to corral the Ladysmith Striders running shirt ideas together into a zappy-looking design that proved to be a success with the running group.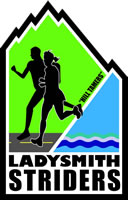 Based upon a cycling turbo-tee design, accent stripes of silver and black were laid upon a bright yellow fabric background that features wide sloping bands of black and a wave of fading polka dots. Along with the new shirt design, Ladysmith Striders developed new cresting as well that was shaped into a representative logo by John Mountain. Placed on the both shoulders and chest, the Ladysmith Striders logo features a male and female silhouette running in tandem on an asphalt road to the left of the aqua-blue ocean that is up tight to a forest-green outline of a mountain divided by a sloping line with the tag line "Hill Tamers" that represents the menacing hills of Ladysmith. Ladysmith Striders Running Group is spelled out in large text on the back. The shirts were manufactured by Sugoi Apparel in both women's and men's sizes with slight variations between the short and long sleeve versions.
Ladysmith Striders took delivery of their new swag in late March which provided plenty of time to sport the new design in the last three Frontrunners Island Racing Series events. Overall, the new shirts have been received well by both Ladysmith Striders and the Island Series runners who have been very complimentary of the design. The Ladysmith Striders are very pleased to now have some swag to represent their team spirit at the Ladysmith Food Bank charity event the Ladysmith Striders organize every year called the Cinnamon Bun Run Fun.


January 2, 2013 - John's Half-Fast Run Report - New Years Day Sashay -- Another beautiful New Year's Day in Saltair with the sun busy warming up the roads in time for the start of the Ladysmith Striders annual New Year's Day run. Again, Bala and Pauline Naidoo played host to a short 5K run followed by coffee and cakes.
The New Year's Day run is a family affair with some bringing their family and friends. Along with ten Ladysmith Strider regulars Mike Rowell, Steve Sharpe, Carole Van Acker, Pauline Naidoo, Chris Geen, Robin Billas, Maria Valekova, Lorne Gait, Denise and Lloyd, we were joined by Chris Geen's grandniece Joyce in her stroller, and Carol Van Acker's husband Brian.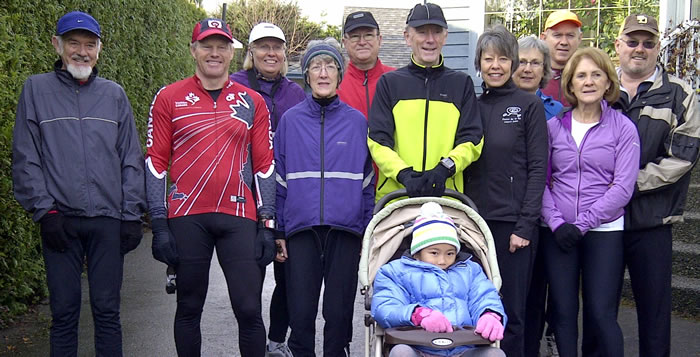 The New Year's Day run is a fun run with one runner regulating how far the more energetic runners advance ahead of the main group by using a ringing bell to yo-yo them back to rejoin the others. Taking the same route as the previous year, the group heads northeast on Olson Road to Seaview Crescent which gently curves down and around and up again to Sea Vista Road. Then up South Oyster School Road to Chemainus Rd and south past Byron's Food Market to Olsen Road. Left on Olsen, the group continues past the four-kilometer mark with a loop through the Princess Diana Park back to Olson Road again, and then north over the crest of the hill to Bala and Pauline Naidoo's residence for refreshments.
Ladysmith Striders consider themselves "hill tamers" and enjoy a thorough workout, but it's a good bet that anyone following would wonder what this dashing back-and-forth was all about.