Some Ladysmith Strider Regulars have offered up their favourite runs:

Runday@anytime Check out John's Favourite Ladysmith Running Routes. All runs start at my front steps, but your welcome to trot them off from yours as well. Enjoy!
---


Check out one of Bill Adair's Favourite Ladysmith Running Routes. This 9.1K loop starts and finishes at the FJCC and has its share of challenging "rises" thrown in for good measure. Trudge, trudge, trudge!!
Click the thumbnail image to enlarge >>>
---

John Mountain ventured out north of town for a trail and road run from Bush Creek to Timberlands Road a couple of Sundays ago on May 13th. I left from my place in the Rocky Creek neighbourhood and cut up to the TimberWest Logging Mainline and then over through the Fish Hatchery to

Timberlands Road before heading south near the airport. From the airport, I headed south on a narrow dirt road to the Cedar Road Junction and managed to stay completely off the main highway on secondary roads. At the Ivy Green Mohawk Station I ducked under the highway on a trail that leads to back to the TimberWest Mainline and home. This run is a 20k loop which can be completed easily within two hours at a 9 minute per mile pace. Click on the running route image to review the run details on Google Maps.
---

Ladysmith Striders can now post Running Stories. If you have a fun story that you would like to share with others, send in your running stories and we will publish them with any supporting pictures.

---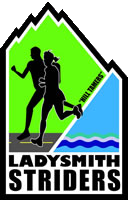 Ladysmith Striders is a organization of casual runners who are committed to promoting fitness and recreation in a friendly club environment. All levels of running is welcome! Our running group is located in the beautiful town of Ladysmith and include the surrounding areas of Saltair and Chemainus for regular exploration. Ladysmith is known for its hills... and the Ladysmith Striders are known as "The Hill Tamers"
---
HOME | CONTACT US | CLUB PHOTOS | FAVOURITE RUNS | TOP