Ladysmith Strider Archives 2007 | 2008 | 2009 | 2010 | 2011
---
2010 Ladysmith Striders News Headlines
---

December 7, 2010 - John's Half-Fast Run Report - 6th Annual Cinnamon Bun Fun Run -- Cool freezing temperatures and icy streets greeted walkers and runners to the 6th Annual Cinnamon Bun Fun Run on Sunday morning but didn't dampen their willingness to give to the Ladysmith Food Bank. While the entry fee for the 5K Walk, 5K Run & 10K Run was five non-perishable food items, many participants gave much more than the minimum requirement which resulted in an impressive display of goodwill that required two trucks to move the massive mountain of CBFR entry contributions to food bank shelves. The level of support this year for the CBFR was most welcome by organizers as nearly 350 runners and walkers stood at the start for the beginning of the event. A quick head count in the FJCC gymnasium tallied nearly 400 walk and run participants that seemingly included a substantial number of entire families, couples, support personnel, event organizers, and general spectators.

Opening comments of welcome from CBFR Event Coordinator Kim Judson preceded former Ladysmith Strider Bill Adair and Town of Ladysmith Mayor Rob Hutchins who both spoke about strength of community and lending a hand to those less fortunate at times of need. Bill Adair is an avid supporter of the Cinnamon Bun Fun Run and former resident of Ladysmith. Bill played a key role in dreaming up the idea of a predicted time event and together with Kim Judson and Bruce Youngren, organized the very first Cinnamon Bun Fun Run in 2005. Bill congratulated event organizers for their efforts to make the fun run an annual event and applauded the residents of Ladysmith for attending the event in support the Ladysmith Food Bank. Mayor Hutchins spoke about the strength of smaller communities and how they can quickly respond to and rally around worthy causes; he gave tribute to Ladysmith residents who find time in their busy lives to get involved in community events.
After an energetic warm-up routine guided by PJ Halliday, walkers and runners set forth onto the streets of Ladysmith heading south on 6th Avenue past the Fire Hall to Methuen. Both the 5K and 10K distances were over the same course with 10k runners extending the course with a second lap around. At strategic places along the course, the Ladysmith Ambassadors cheered participants and captured their enthusiasm on digital cameras. At the Dunsmuir and Bickle half-way point, volunteers and Ladysmith Ambassadors manned the water station to provide hydration to weary participants as they crested the steepest hill on the course. The steep hill gave way to a gentle one and a half kilometer downhill which provided nice recovery for a slight uphill on 5th Avenue and Buller and a right turn onto 6th Avenue for the finish. And thanks to the volunteer Course Marshalls who managed the somewhat slippery course, everyone made it safety to FJCC for a cinnamon bun finish.

Arriving at the finish, runners and walkers were rewarded with gooey cinnamon buns and hot chocolate, smiles and well-wishes from friends, family, and volunteers. CBFR Organizers took some steps this year to improve their event finishing time recording procedures by combining electronic event timing and the wireless transfer of finishing data to their event data center. Thanks to some remarkable Ladysmith Strider computer geeks, CBFR Organizers moved into the realm of cyberspace which provided participants with timely results and an elevated level of accuracy to the one hundredth of a second. Using electronic technology, the event time-keepers were able to handle the rising tide of same day entries and manage the steady inflow of wireless finishing data effectively as participants passed through the finishing zone.
Heart-felt thanks to all the participants was delivered by outgoing Ladysmith Food Bank Director Kit Wilmot. In his address, Mr. Wilmot marveled at the pile of food already accumulating at the back of the hall and stressed the value of giving to others in need and how wonderful it is to have Food Bank shelves stocked high as the holiday season approaches. He thanked the CBFR organizers for their determination to present the event year after year in sometimes less than ideal conditions, and thanked the walkers and runners for turning out and supporting the food bank fundraiser.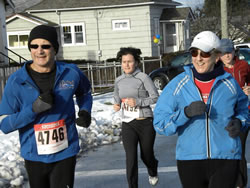 As a result of this new event timing technology, winners were declared soon after all the door prizes were drawn. Five featured prizes were reserved for the top five finishers and the closest predicted time finisher got to claim a featured prize of their choice. The 2010 Cinnamon Bun Fun Run winners were declared as Paula Galloway who basically zeroed her predicted time within four-hundredth of a second; Lorna Judson who walked to a second place finish within 2.7 seconds of her pre-race prediction; Sari Saunders in third place with a close 3.2 second brush with her predicted time; Rod Hartman in fourth with a fine 3.5 finishing effort; and in fifth place, Midge Smith who finished close to her predicted time at 3.8 seconds. Honourable mentions extended to tenth place are Michelle James, Jennifer Hall, Leaha Argue, Scott Lovely, and Lucy Davis who all finished within a four to five second range for their predicted times. Congratulations to the winners of this predicted time event and a round of applause to all walkers and runners that participated and made this event a success.
A cash box for monetary donations was also available for participants to give cash instead of food. A shake of the box after the event revealed the tell-tale sounds of tens and twenties just waiting to be turned into jars of peanut butter and packets of hot cereal. In addition to cash being plunked into the donation box by generous participants, there were two donations to the Ladysmith Food Bank of significant value. Local dentist Dr. Jim Guild is a huge Cinnamon Bun Fun Run supporter and Dr. Guild kindly donated a $1,000 cheque that event organizer received on behalf of the Food Bank with thanks. Event Organizer John Mountain - a member of the United Steelworkers Union - presented a $1,500 donation cheque on behalf of the Steelworkers Humanity Fund. Mr. Mountain explained in his cheque presentation that while the Steelworkers Humanity Fund regularly helps food banks right across Canada, it is international in scope and was created to assist those who need help as a result of crisis situations around the world. He says that many Steelworker members bargain provisions into their collective agreements that allow them to donate a portion of their hourly pay directly to the Steelworker Humanity Fund.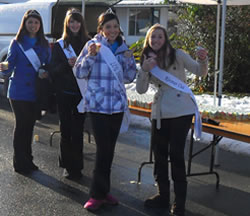 Volunteers provide the fuel that drives the Cinnamon Bun Fun Run engine and without volunteers the event organizers - volunteers themselves - would have never able to conclude this successful fundraising event. Through their generous offering of time and energy, a core group of volunteers makes this event happen by setting up the venue, sheparding participants through the registration process, marshalling the roads, dispensing water on the course, managing the participants event data, and finally by offering hot beverages and cinnamon buns to all. Volunteers who give their time to the Cinnamon Bun Fun Run provide the high energy that drives the degree of organization to higher levels accomplishment. CBFR Organizing Committee appreciates this fine volunteer work and has great deal of gratitude for all that volunteers achieve in their efforts.
For the record, the Ladysmith Food Bank received a couple of truckloads of food that weighed out at about 2,300 lbs and brought in about $3,900 in cash donations as a result of the generosity of walkers and runners who participated in the event. The 6th Annual Cinnamon Bun Fun Run was both a success and a learning experience; get ready for the 7th Annual Cinnamon Bun Fun Run as event organizers are already figuring our ways to both welcome more participants and improve their organizational performance. [top]


November 14, 2010 - John's Half-Fast Run Report - New York Marathon -- Sometimes it's better to start at the end in order to dispense with all the drama. Yes, there was some drama, and I did indeed finish. So let's pick up the performance on the Upper East Side as I neared Central Park on 5th Avenue. By the time I reached the entrance to Central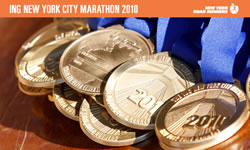 Park at 86th Street my lower legs were crying in pain having experienced cramping calf muscles after crossing the Harlem River Madison Avenue Bridge at Mile 21; where all the trouble began. Up until that point, the marathon had been uneventful and my plan of attack had been on target. But then something happened that left me with leg cramps that dogged me with increasing severity through to the end where the pain almost sunk my four hour finishing goal. On November 7, 2010 a Ladysmith Strider struggled to the finish of the one of the world's great road races - New York City Marathon - completing the 26.2 miles in 3 hours 55 minutes and 32 seconds.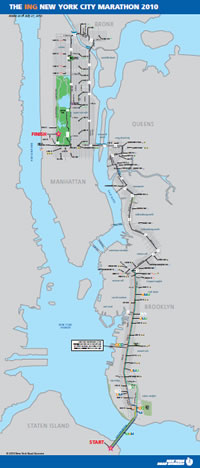 My story actually began with repeated NYC marathon lottery entries in 2008 and 2009. The usual routine for most who decide to enter the NYC marathon is to flash up the official marathon website and paying the $11 bucks administration fee to have your name added to the lottery barrel for a May draw. For two years I patiently waited for my name to be pulled but alas, it never did leave the confines of that distant dastardly barrel. Feeling frustrated, I looked to Running Room Canada or help and purchased one of their Dream Travel NYC Marathon packages that not only offered hotel accommodation and travel to the Big Apple, it included the guaranteed marathon entry, paid travel to the starting area on Staten Island, and a pass to the carbo-loading pre-event dinner. Finally, my desire to run another of the five World Marathon Majors was happening.

My wife Cindy and I arrived in New York on the Friday night before the Sunday event which didn't leave much time to acclimatize to a time zone that was four hours later than our own. We were whipped into Manhattan from LaGuardia Airport in a cab at break-neck speeds and deposited on 30th Street between Madison and 5th Ave - just a stones throw away from the Empire State Building. Checking into the Thirty-Thirty Hotel was uneventful and once our gear was stowed in the matchbox-sized room, we settled down for some well-needed rest. Yet while we were both tired, sleep didn't come easy - it may have been the time difference or it may have been the torrid pace of travel that we had just experienced. Most likely though, it was just the noise emanating from the streets below. New York City - as it turns out - never sleeps.
New York taxi cabs cry their mournful goose-call symphony corner to corner into the wee morning hours. In fact, I suspect that their honking never ends and is likely part of the background city sounds that remain constant. It's as if a whole new goose dialect of honks and squeaks is being recited or chanted and only the noisy yellow beasts understand what is actually being said. Sleep didn't come easy for neither one of us. And to make matters worse, the cocktail bar below our window jettisoned everyone out into the street at 2am much to the disappointment of a few bar patrons who simply lit smokes and continued their partying on the street. Quite disappointed they were, because you could clearly hear them question the bar owner's genealogical order of birth on his mother's side. But as the noise started to drift into dreams, the garbage collectors arrived. Early morning garbage collection - it turns out - is a team effort with a truck roaring its engine to a high pitch while seemingly square dancing the trash bins in and out of alley-ways. And all this while two dance-calling helpers holler "circle-right, al-a-man left, and doe-se-does" to the rhythm of the driver repeatedly thumping the empty trash bin on the pavement. This square dance takes place over and over as the partners "doe-se-doe" down the block stopping at every bin to lock-arms and circle-right. While both Cindy and I eventually fell asleep, it was only through the good luck of discovering earplugs in our carry-on which we thankfully squeaked into our ears for some needed peace and quiet.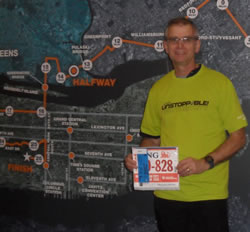 Not surprised that we slept late. But we were quickly over to the Jacob Javits Convention Center Race Expo after a few cups of coffee and a light breakfast. Lurching to a stop, the cab dumped us on 11th Ave in front of a looming modern glass monstrosity that pays tribute to Senator Jacob Javits. Jacob Javits was a liberal Republican politician who served as United States Senator from New York and was a force behind the creation of the National Endowment for the Arts, sponsorship of the act which guaranteed private pensions, and provided leadership in the passage of the 1973 War Powers Act. So New Yorkers loved him enough to name a building after him. But as far as convention centers go, nothing special here - it was just very shiny and very big. Keep in mind that my main focus for visiting the race expo was picking-up my race packet, not to moon over modern architecture. My purpose was to finally hold my official NYC marathon race packet bib number in my hands - to physically hold it in my hands because if I'd missed this last day of the race expo, there was no same day race packet pick-up which meant; I'd be done. Having traveled so many miles to simply watch the marathon from the sidelines would have been a real bummer. So I was very happy to hold bib number 29-828 in my hands and was finally able to breath a whole lot easier.
Marathon day began at 3:45am instead of 4:45am. I hammered the receiver back in the phone cradle and cursed hotel management. I had called down to the desk before going to bed and the night clerk had assured me that they would turn the clocks back for a return to standard time at 2am - virtually guaranteeing me an additional hour of precious sleep on a most important night before a marathon. I lay there for an hour - eyes wide open - until both my wrist watch alarm and bed-side alarm both chimed 4:45am. After a hot shower, Cindy wished me luck and bounced out into the street for a ten block walk to the New York Public Library and a twenty minute coach bus ride to the Staten Island marathon start line.

Mid-town Manhattan was awake with bib-adorned runners making their way to the public library and it wasn't long before I had close company. I paused briefly and thought on how small the world becomes in events such as these because joining me in the shadows of the Empire State Building were two gals from Vernon BC who appeared from a side-street and struck up a conversation just like we had all known each other for years. And there were others from Canada that I chatted with during the long wait for the race to begin which really confirmed that the NYC marathon was a real international road race; there were people from every continent on the globe. Upon our arrival at the public library, we wished each other good luck upon queuing into lines, and climbed aboard the first available bus that convoyed through the city into Brooklyn and then to the Verrazano Narrows Bridge and the start line on Staten Island.
Forty-five thousand runners were divided up into three "athletes" villages; fifteen thousand in each of the blue, orange, and green villages which were spread out among the shadows of Verrazano Bridge in Staten Island's Fort Wadsworth Federal Park. My athletes village colour was orange and it was almost hidden under the span of the bridge where you could see the first wave of the marathoners up on the bridge-deck bolt at the start. But it was also the furthest distance from the starting corrals which made you really focus on the clock. Time is of the essence when sequencing pre-race procedures such as lining up at the port-a-potties for a final drain of the lizard; downing pre-race nourishments; sluffing-off your warm over-clothes and checking them at the UPS van; meeting your starting corral assembly station requirements before they close the gates; and finally working your way to your starting position when the corral begins to move to the wave start staging area.
And speaking of managing time while waiting for the wave corrals to open, I noticed how resourceful some runners were to deaden the waiting period. Even though many runners simply found an open place to curl up in their warm clothes and snooze, others played cards and enjoyed boards games. Still others took advantage of the amenities offered in the Village and enjoyed free coffee and hot water for tea. There were also bagels, bars, gels, water, and Gatorade, as well as Dunkin Donuts reps handing out complimentary fleece hats in pink and orange. Many took full advantage of these free toques and managed to snag one of each colour for both warmth and as souvenirs.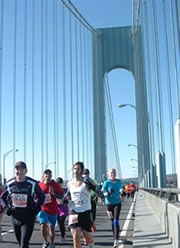 The second wave start of the NYC Marathon started at 10:10am - the first wave having dropped the hammer just after 9:30am. Sadly, after suddenly realizing that I'd lost track of time while talking with Claire from Edmonton Alberta, I stripped off my warm over-clothes and bagged them at the UPS collection vans before scampering to the staging corrals just ahead race officials closing the gates. At the prescribed time, the mass of fifteen thousand walked to the starting line on the toll-booth ramp and anxiously milled about and chatted with each other while waiting for the gun. I exchanged some idle chatter with a couple of guys from New York State who had run the marathon previously and cautioned me that I would enjoy the race so much that I will likely be back to run it again. I also chatted with the Running Rabbis Mike and Ben; two young men of faith from a group of rabbis that run marathons to raise money for charity. The weather gods were smiling on race day and I suspect the Running Rabbis had put in a good word with the chief. While the wind was very cold throughout the morning which caused many to huddle in blankets, sunny skies soon warmed everyone shoulders and allowed extra clothing to be shed and sun glasses to be donned.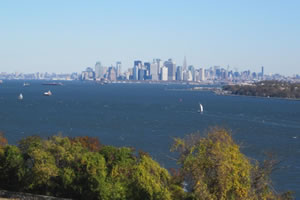 The first two miles of the NYC Marathon are on the decks of the Verrazano Narrows Bridge which takes runners from Staten Island into Brooklyn; obviously not an easy start as runners head straight uphill over the bridge. Runners were channeled into either the upper level or lower level of the bridge in accordance with your bib color and as an orange bib runner, I was on the upper level and enjoyed a spectacular mile-long mid-span view of New York harbour as I crested the center span. And while looking to my left to drink in the New York panorama, I had to keep an eye on cast-off articles of clothing that littered the bridge decks as runners peeled off t-shirts, free Dunkin Donuts toques, gloves, and even pants once their engines reached operating temperature. Once leaving the Verrazano Narrows Bridge, runners entered the borough of Brooklyn.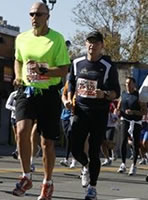 With the Verrazano Narrows Bridge behind, I was on firm ground again. Brooklyn brought the first spectators almost as soon as we entered and they lined the overpasses and streets shouting "Welcome to Brooklyn!" The further we ran into the Brooklyn, the more cheering fans we encountered. I really couldn't believe how many people came out to watch the marathon and this new energy helped me to find my desired pace and lock into it. And by the time we got onto Fourth Avenue, the crowds were several people deep and I'd already collected high fives from many enthusiastic little kids. In Brooklyn I also noticed a developing headwind so I had to find a mobile "wind-break" to hide behind in a hurry. Luckily I soon found a rather tall heavy-shouldered dude who could shield me from the wind and he unknowingly helped me over the next 16 miles. Although Russell Nelson; who behind bib number 14-250 was dressed in fluorescent green shirt and black shorts; he probably knew I was on his heels for a very long time, but was gracious enough to pull me along through most of Brooklyn, all of Queens, and much of 1st Avenue in Manhattan. Thank you to Russell and congratulations on your 3:46:52 finishing time.
Crossing into Queens on the Pulaski Bridge, I was still on pace and continued to shadow Russell who was pulling me along at a sub 8 minutes per mile. The Pulaski Bridge represents the half-way point and my half-marathon split of 1:46:28 was recorded about a quarter of the way across and confirmed in my mind that everything was going according to plan. I was firing on all cylinders at this point. Queens offered up some interesting and handsome neighbourhoods. As we headed up 44th Avenue away from the East River commercial area I was struck by the quiet beauty of the tree-lined streets and mused at what these streets must have been like when the trees were first planted. These shaded miles were 14 and 15 on the course and knowing that crossing the East River and Roosevelt Island on the Queensborough Bridge would be an elevation change, I took advantage of the gentle downhill on Queens Blvd. to suck-down a Power-Gel for some quick carbs which I hoped would propel me up 1st Avenue in Manhattan.

Some of the lads whose back teeth must have been floating took advantage of the absence of spectators by grabbing a quick pee from the center span of the bridge. It's likely that anyone noticing the golden showers would acknowledge that it would be prudent to never ever to eat fish from that river. Despite the tough going on the Queensborough Bridge, I faired better than most and can only chalk it up to my Ladysmith Strider hill training. Russell and I passed quite a number of runners on this fairly long speed bump and it provided me with much needed confidence for the late marathon miles. This was the only spot in the entire course without spectators, and my fellow runners and I took the opportunity to savor that quiet moment and brace ourselves for the wall of sound that we were about to hit on First Avenue. As the bridge met 59th Street, I prepared to be deafened. Maybe because turning this corner is the hallmark of the NYC Marathon and the part everyone talks about, but I was surprised it wasn't more intense. The crowds were huge, but the noise level was on par with Brooklyn. That said, First Avenue certainly didn't disappoint, and I ran this long stretch up 1st Avenue with a smile on my face and wings on my feet.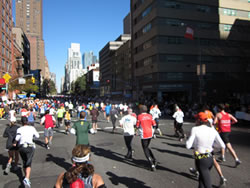 First Avenue was full of undulating ups and downs and by mile 19, I sensed that something in my cadence was not quite right. The Harlem River and the Bronx lay ahead and the prospect of crossing yet another bridge was not appealing at all. I put my head down and drove the steep bridge ramp hard and welcomed the downward sweeping off-ramp back to level ground on Willis Avenue. Mile 20 lay just in front of a large Jumbotron and I championed my best loping run for the video camera. While I could see myself on the Jumbotron for only a quick glimpse as I passed through the capture point, what I saw confirmed what I sensed earlier; my pace had slowed and there were slight traces of discomfort in the rhythm of my cadence. All this happened within a two mile stretch while in the Bronx. While Russell Nelson inched ahead of me and managed to maintain his pace and finish ten minutes in front of me, I worried all the way across Madison Avenue Bridge back into Manhattan.


I was now back in Manhattan on 138th Street and with a left turn was onto 5th Avenue. The Madison Avenue Bridge approach that I just put behind me seemed to have suddenly kicked the crap out of my pace and once into Harlem, I started to feel a cramping vice-grip hold in both legs - left leg more severe than the right. I had faithfully replenished my electrolytes with both Gatorade and water in accordance with my running plan and yet still the frustration of leg cramps in the last half-dozen miles. Surely there must be something else going on that I am not aware. I reviewed it all over again in my mind; proper training mileage - check!; proper number of 20 mile runs - check!; proper training hydration - check! But now at 22 miles as I loop around Marcus Garvey Memorial Park, the cramps are coming and going more frequently and with more intensity.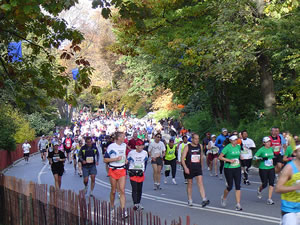 Fifth Avenue stretches out ahead of me for almost two miles before making the turn into Central Park. I focus on a more compact stride and minimal arm swing which pulls my pace on rising grades down to almost 11 minutes per mile. Jaw slightly sagging, I feel the the faint presence of the bonk trying to grab hold. The edges of my vision are now blurring and watching the gray pavement in a forest of running shoes and legs is of any interest to me; foot strikes, over and over and over. My mind drifts inward and demands a coherent answer on why the joy of absorbing all the exciting sights and sounds of New York City is gone and instead feel a growing sense of pathetic disinterest; steel daggers begin to stab at my calves again and I quickly snap back to reality. I take my first break to walk the knot out of my left leg when passing 96th Street and know that my battle has begun. I grit my teeth and begin running after 20-30 seconds but my pace is bad. I quickly do the math for what seems like the thousandth time to confirm that the four hour mark is still reachable if I argue strongly with my legs for the upper hand.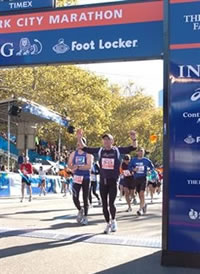 At 86th Street, the marathon course swings into spacious Central Park and it seems to bring some relief to my legs and psyche which allows me to think straight; alright now, lengthen your stride and increase the pace slightly. The bonk is behind me now and I am thinking clear enough to develop a plan to get me across the line. I decide that only stern discipline will get through; a disciplined approach on stride length and a disciplined 20 second walk break every three to four minutes which I'm sure will provide enough rest to flatten the intervals of pain that gnaw at my calves. At the 25 mile mark I encounter a hill that shreds my calves again and I'm forced to limp most of the way to the top. The hill is really nothing but a small bump but it seems at the moment to be as high as Mount Everest. I continue my disciplined approach to careful pacing and walk-breaks through miles 25 and 26 and welcome the mobs of people who line 59th Street who cheer runners through the final two turns near Columbus Circle. Spectators at point are five and six deep on the barriers and hysterically scream loud encouragements to everyone that passes; even hobbling gimped-up gamers who take walk-breaks to stretch out their uncooperative calf muscles. Only half a mile to go so I prepared for the finish as best as I can by timing my walk-break intervals so I won't explode when crossing the finish; nobody wants a disaster in front of the official marathon recording cameras. And the plan pays off.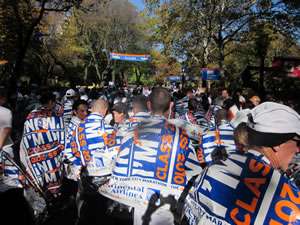 On November 7, 2010 a Ladysmith Strider struggled to the finish of the one of the world's great road races - the New York City Marathon - completing the 26.2 miles in 3 hours 55 minutes and 32 seconds. But the finishing officials kept us walking. Once across the finishing line, a marathon volunteer draped a finishing medal on your shoulders, handed you a bag of food and drink and basically kept you moving. They kept us moving all the way up Central Park Drive to the UPS vans were parked so you could pick up the gear that was checked on Staten Island. My sore legs figured it must have been miles but in reality it was only about a half mile. Other volunteers sat on the side of the road in elevated chairs looking out over the weary marathoners for those who might be in trouble and called on First Responders to lend medical assistance to those who needed it. I was very pleased that I finished the New York City Marathon in under four hours and happy to be with other marathoners of like mind. The New York City Marathon course is not the most difficult that I've run. I can say with certainty however, that it's one of the biggest races that I've ever run. But I've never run a race where so many different kinds of people have been among the faces in the crowd. This marathon wasn't just a chance for a bunch of folks to laze around with a beer in their hand and cheer for a bunch of crazy runners. This was about the entire city coming out to help 45,000 strangers overcome physical and mental obstacles to get across the finish line, no matter how long it took. This my friends, was a cool marathon.
With the completion of New York City Marathon, I now find myself a few miles closer to my goal of running all five World Marathon Majors. Having already chalked up Boston in 2004 and Chicago in 2007, I will be looking forward to planning a holiday with Cindy when we set our sights on either the London Marathon or Berlin Marathon. These two European marathons are my final two challenges for the marathon majors and if everything goes according to plan, I will have by then smoothed the kinks out my dodgy legs and will be yelling my lungs out over a spectacular 3:30:00 finish. I guess you'll stay-tuned for that!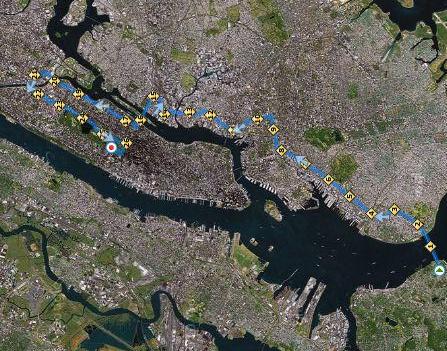 July 15, 2010 - John's Half-Fast Run Report - Mystery Run 2010 -- Forest service roads can often provide respite from blustery wind-buffeted paved highway shoulders and if you can get past the possibility of wrestling bear-clawed bruins for a trail right-of-way, then running forestry roads can be both relaxing and enjoyable. This was the case recently when a nine-pack of Ladysmith Striders pounced on the chance to loop out behind Cassidy for a mystery run on a forestry road that links Timberlands Road with Spruceton Road. It was immediately apparent to anyone watching this band of adventurers that they have a love for running - you could see it in their eyes and almost see it their hearts. On this warm and sunny mid-July morning, all nine friends were in love with the sport and eager to get out on the road.
"The urge to run is an individual thing. Before you really give it up, give it as many chances as you can. Learn as much as you can about it and yourself, and make it something easy and comfortable. But if you begin a running program and later quit, even that becomes a learning experience."
-- Excerpt from running great Bill Rodgers book, "Marathoning"

The pack headed west on Timberlands Road and ran steady on the paved shoulder up past the Ronda-Lynn Campground to the forest service. With David Van Horne leading, the group steered off the asphalt and onto an undulating 2.5 kilometers track of gravel that boasted of a single-lane bridge over Haslam Creek and a long hill ascent strategically placed to sweat the runners for a subsequent deposit of dirt from a long dusty straight-away. Mountain Runner, along with Bruce Youngren and Harvey Khun Khun, soldiered over the bridge well behind the pack and pulled the hill last in an effort to sweep the roads clean of any stragglers.
"I can be completely alone out in public if I want to. I can run through the woods, up a mountain, or on an old country road. There is such a peace about running where nobody else is."
-- Excerpt from website, "Aim for Awesome"

Nearing the junction at Spruceton Road, the happy runners counted heads and moved back onto the hard-surface pavement. Phil Howard, Dave Van Horne, Dolly Brown and Chris Geens fancied an up-tempo express pace and started ripping off the kilometers eastward on Spruceton, while Mike Rowell and Bala Naidoo, and Bruce and Harvey formed the a back-pack of wanderers who rear-paced the quicker group with casual conversation. Mountain Runner scampering back and forth between the groups like an ass-smacked pony eventually giving up the absurd exercise after the lead pack started shredding the straight-stretches leaving him for the most part sucking wind.
"I'm running towards inner peace. I'd like to think I get there a bit more with each run."
-- Excerpt from Angela Liddon website, "Oh She Glows"
Ladysmith Striders nine-pack reached the Island Highway and caught their collective breath on the Haslam Creek footbridge that connects to Angus Road on a trail that parallels the busy highway. Pausing briefly to hydrate and drink up the scenery from the footbridge, runners stowed their water bottles and continued through the woods to Angus and Vowels Road where they turned right near the Vowels Road Store and proceeded westbound past the Jehovah's Witness Church. By this time the morning sun had climbed high enough in the sky to soak everyone's shoulders with sweat and upon turning left at the corner onto Hallberg Road, most darted for the shaded side of the road to gain respite from the building heat. After a zig and a zag for a little extra distance on the streets Mancia, Bossetti, and Pelter Place, three-square of runners happily drifted into a comfortable pace for the final three kilometers back to the car park on Timberlands Road.


Left to right: Harvey Khun Khun, Bala Naidoo, Mike Rowell, Phil Howard, Dave Van Horne, Bruce Youngren, Dolly Brown, Chris Geen.
Photographer: Mountain Runner
Some say that running is the gateway drug of the fitness world. Others say running keeps them centered and poised to handle anything that comes their way. This nine-pack of Ladysmith Striders seems to have adopted Forrest Gump's mantra: "All I wanna do is run" and act it out by running together as a group on a regular basis. Individually?.. well, I'm convinced that in their running minds they're singing the songs of love; love to get out in the fresh morning air; love the feeling of sweat dripping from their face; love the feeling of their breath as it becomes easy and rhythmical when they get into a groove; and they especially, love the high they get after they're done. Of all the reasons the Ladysmith Striders choose to run, probably the most important one is that it makes they feel more alive.


May 13, 2010 - ANNOUNCEMENT: Oceanside Running Club Association Presents Oceanside 10K -- How about a nostalgic runs with old friends and new faces! The Oceanside Running Club Association (ORCA) is excited to host the 2010 Oceanside 10K Running Race ("the old Island Series Oceanside 10K")on Sunday, June 27th at 11:00 a.m.

The race starts at the Parksville Curling Club (Parksville Community Park) and runs through beautiful Rathtrevor Beach Park! With ocean views, a mostly flat loop and enthusiastic volunteers, this run is an energizing summer sun kick off! The course is BC Athletics certified.
The cost is $15.00 and includes awards for the top three finishers in 10 age categories, draw prices, post-event refreshments, and smiles from our volunteers!

Registration is as easy as following the link provided below!

http://orcarunning.ca/contrib/Oceanside_10K/Oceanside_10K_Entry_June_2010.pdf

Please don't hesitate to contact Barry Carr (barrycarr@telus.net) for more race information.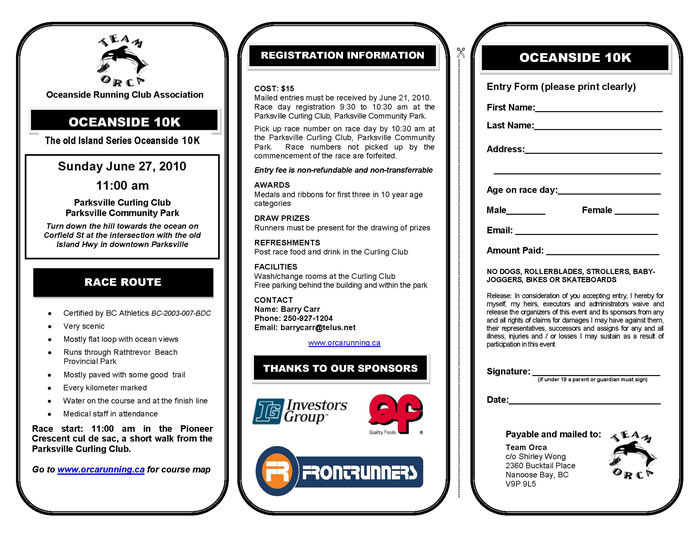 April 18, 2010 - Sooke River 10K Striders Race Report -- As runners and walkers, the Ladysmith Striders enjoy the four unique endowments or gifts that all human beings find within themselves; that is of course, self-awareness, conscience, independent will, and creative imagination. Not only do these four endowments separate us from the animal world -- that's gazelles and antelopes and cheetahs in case of the Ladysmith Striders -- they also help us to distinguish between reality and illusion on the racecourse, to allow us to transform the clock into a compass to provide directional guidance, and to generally align our lives with the extrinsic realities that govern quality of life. After seeing all the Ladysmith Striders compete in the Sooke River 10K final race of the Frontrunners Island Race Series, I'm convinced the Ladysmith Striders are having the times of their lives and are taking pleasure from their running successes. And in doing so, they have raised their level of physical fitness and demonstrated their willingness to living a pro-active lifestyle which is evident when their Sooke River 10K finishing times were posted. This past Sunday morning, seventeen Ladysmith Striders stood for the 11am start with 445 other like-minded runners to enjoy the final ten kilometers in this racing series finale.
"Self-awareness enables us to examine our paradigms, to look at our glasses as well as through them, to think about our thoughts, and to enlarge the separation between stimulus and response. Self-aware, we can take responsibility for reprogramming or rescripting ourselves out of the stimulus-response mode."
-- Stephen R. Covey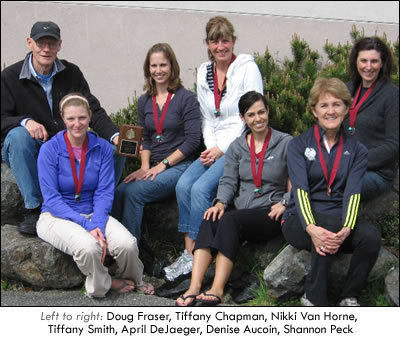 Some people say that when two bamboo trees grow close to one another their roots intertwine under the soil to become one. As a result, the intertwined roots are able to support the combined weight of both trees far better than if they stood separately. In a sense, this is a truth that the Ladysmith Striders have come to know. The Ladysmith Striders are actually two core groups of Ladysmith area runners that have joined together as one group for community charity work and competitions and have really stood together in strength with roots that reach back a number of years. Together, they have combined their running strengths in an interdependent way that allows for a competitive and strong team for the Frontrunners Island Race Series. One group of Ladysmith Striders enjoys running and routine regular training under the leadership of Doug Fraser's and his core training and learn to run programs, while the other Ladysmith Striders are a loose group of recreational runners that share the similar values that reside with their cross-town twin. It should be noted that both groups have their beginnings in Doug Fraser's annual Learn to Run programs that are routinely offered every spring at the Frank Jameson Community Center in Ladysmith.
"Conscience puts us in touch with something within us even deeper than our thoughts and something outside us more reliable than our values. It connects us with the wisdom of the ages and the wisdom of the heart. It's an internal guidance system that allows us to sense when we act or even contemplate acting in a way that's contrary to our deepest values and "true north" principles. Conscience is universal."
-- Stephen R. Covey
Edward Milne Community School is road race central for the Sooke River 10K and it provides a great location from which to stage the final Frontrunners Island Race Series race. Participants press up to the start line in front of the school and thunder downhill 500 meters before turning right onto Sooke River Road which provides a hard surface for running on an out-and-back course. The main feature of the Sooke River 10K is a hill that occurs two and a half kilometers on the outbound legs and then jumps up again on the return at seven and a half kilometers. The challenge for participants in this race is to reserve enough fuel to climb the nasty little bump on the way back and still have energy to finish strong on the slight uphill in last 500 meters. And judging from the finishing times, Ladysmith Striders had plenty of fuel reserves and all finished well.
"Independent will is our capacity to act, the power to transcend our paradigms, to swim upstream, to re-write our scripts, to act based on principles rather than reacting based on emotions, moods, or circumstances. While environmental or genetic influences may be very powerful, they do not control us. We're not victims. We're not the product of our past. We are the product of our choices. We are "response-able," meaning we are able to choose our response. This power to choose is a reflection of our independent will." -- Stephen R. Covey
Veteran runners Simon Timmer and Garry Vermette lead all Ladysmith Striders to the finish with rocket-powered times inside forty-two minutes while Tiffany Chapman and David Van Horne followed a few minutes with after-burners fully engaged at forty-five and forty-six minutes respectively. It should be pointed out that Tiffany Chapman placed well in Frontrunners Island Race Series overall individual points statistics and she finished out front of all Ladysmith Striders with a racing series average score of 677.8 points; in addition, Tiffany placed fourth in her age group in this race. Grunting it out in forty-seven minute warp-speed finishes were Dan Howard and Brian Reiber who provided onlookers with a super-charged sprint to the finishing chute. Dan Howard decided earlier this year to join the Ladysmith running community and has not only had a very successful Island Series, but has challenged his fleet-footed father Phil Howard for family bragging rights. Phil Howard finished just a minute in behind which will likely provide some lively dinner table banter.
"Creative imagination empowers us to create beyond our present reality. It enables us to write personal mission statements, set goals, plan meetings, or visualize ourselves living our mission statements even in the most challenging circumstances. Imagination is infinite; it deals with the present and the future, with potentiality, with vision and mission and goals with anything that is not now but can be."
-- Stephen R. Covey
Nikki Van Horne, Denise Aucoin, April De Jaeger, Tiffany Smith, and Shannon Peck have toed the starting line in the majority of Frontrunners Island Race Series races and the Ladysmith Striders owes much of their club standings success to the perseverance and dedication of these athletes. All of these ladies placed in the top-ten of their age group for the Frontrunners Island Race Series and finished strong in the Sooke River 10K finale. Sincere congratulations to these athletes for a high-octane Frontrunners Island Race Series.
Pauline Naidoo and Bala Naidoo continue to log some extremely favourable miles in the Frontrunners Island Race Series. For the 2010 Frontrunners Island Race Series, Pauline Naidoo set age-group course records in seven out of eight races and placed first in her age group in each race. Bala Naidoo has made his mark as well this year by positioning himself in the top-ten in his age group in all eight races and pounded out top-three positions in three of those at Hatley Castle 8K, Bazan Bay 5K, and on Sunday's where Bala broke the tape in third place. The Naidoos garner alot of respect within ranks of the Ladysmith Striders and it's no wonder because they are so well-regarded as individuals and they both model the behavior of true athletes who train hard and run well.
This last road race of the Frontrunners Island Race Series was a special event for the author of this race report - special because I was able to run with my son-in-law Brant Dame. Brant joined me for the Sooke River 10K in order to fulfill his goal of running both his very first organized road race and his first Frontrunners Island Race Series road race. Brant and I ran together the entire way and showed great form throughout the distance. While I had to caution him not to kick too early as we passed the nine kilometer mark, he sprinted away from me in the last 500 meters and finished his first race in under one hour - a very respectable 58 minutes. I offer Brant Dame my sincere congratulations for finishing his very first 10 kilometer race in under one hour and wish him much success in his future running endeavours.






Click Photos to Enlarge for Viewing
The post-race food provided by the Island Road Racers was both plentiful and delicious. Ladysmith Striders appreciate the time and effort that the volunteers and race organizers take to offer snacks after the race and to all of those others who looked after the runners and walkers, the Ladysmith Striders offers your club our gratitude.
Ladysmith Striders results are outlined in the table below. Click the participant names to view individual statistics which will open in a separate browser window.
This was the final road race in the Frontrunners Island Race Series. The Ladysmith Striders would like to thank all of the individuals that worked to make this road racing series a success.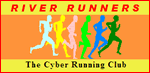 April 4, 2010 - Merville 15K Striders Race Report -- For some runners, the fast and fairly flat Merville 15K feels like sweet music on a warm spring morning - music that sets your mileage mind at ease and your heart-rate at peace. For others, if the Merville 15K were truly made of sweet music, it would be an opera and would likely be called the Runners of Merville. And looking at the finishing results of Sunday's road race, it's worth noting that the leading roles in such an opera would have undoubtedly be given to Ladysmith Strider leading lady Tiffany Chapman who easily played the part of lightening-quick soprano Racina Mennimyles; whereas the male lead would have been awarded to Ladysmith Strider Phil Howard who provided a shining example in the leading man role playing a much-improved and dedicated middle-distance baritone runner Figaro Gofasta. In fact, one might contemplate that if the Merville 15K really were put to music it would be a operatic extravaganza of very fast and capable runners with a cast of Ladysmith Striders belting out the lyrical mileage with Con Brio and Con Expressione. And just as most modern musical Librettos are written in the two-act format, so the challenging Runners of Merville opera is true to form with Act Two being the more difficult part of the performance as it is found to be evilly encumbered by a build of elevation making it quite arduous and difficult to achieve a negative split.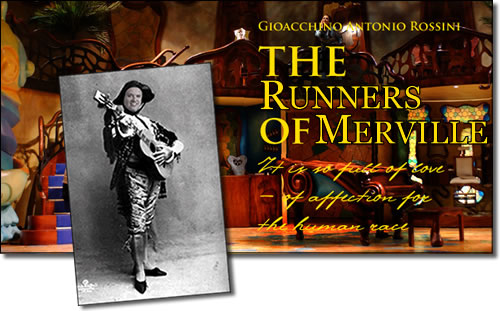 Act I
Act I begins with the Race Director tapping his baton on the starting podium as he beckons an eager cast of 273 participants to stand ready to run forward Prestissimo from a staging area and start line at Poulton and Merville. With the drop of the baton the music of pounding feet begins the first movement as runners shoulder their way out onto the first few straight-stretches of Merville Road in search of fifteen full kilometers of Frontrunners Island Race Series operatic bliss. Hard-surfaced roads invite applause from all those gathered for the Opera Seria and cheer as runners build speed Rinforzando on a slight downhill and continue Scherzando where the public carriageway levels off. At the first major intersection, the troupe veers right on Headquarters Road and settles into their Martellato pace. Many runners are hitting the Cadenza high notes by the five kilometers mark as they prepare for the sharps and flats of Tsolum River Road. From this point in the performance, talented ensembles trumpet their speed-play for a Pomposo position in Act II.
Act II
Act II is where the real drama unfolds. Tsolum River Road bends and weaves through tunnels of over-hanging cedars and firs that seem to reach down from their heights and sweep weary runners forward who have gone out too fast and now fallen off their pace. It is here that the road snakes it's way back through a gradual elevation change and it's here that the road lures participants to press forward unknowingly into the soreness that lies in the hills ahead where the race course rejoins the southern reaches of Headquarters Road. During this medley of closely-paced miles, those in tune with their race plans find the energy to engage this high point on the course and finish Vivace; those that Sincopato find Lentando in a measure that they disturbingly observe as Andante. Act II in it's final stages then reprises Merville Road for a slight climb to a finishing Crescendo back on Poulton Road.
Eight Ladysmith Striders began this excellent 15K performance and eight Ladysmith Striders received respectable finishing times. As noted above, Tiffany Chapman and Phil Howard played leading roles in the Runners of Merville with Tiffany achieving a podium finish and Phil taking bows for a top-twenty effort in their corresponding age-groups. Congratulations are offered to a supporting cast of Ladysmith Striders finishers with David Van Horne, Bala Naidoo, Nikki Van Horne, and April DeYaeger with their top-ten achievements in their respective age groups. Flowers were thrown onto the stage for both Daniel Howard and Pauline Naidoo who took curtain calls for their magnificent first place performances.
The Ladysmith Striders would like to acknowledge the race organizers and volunteers of the River Runners of Campbell River for all their hard work in presenting this wonderful and lyrical road race.
Ladysmith Striders results are outlined in the table below. Click the participant names to view individual statistics which will open in a separate browser window.
The final road race in the Frontrunners Island Race Series takes place on April 18th in Sooke. The Sooke River 10K starts and finishes from Edward Milne Community School and post race activities include awards and acknowledgements for the entire Frontrunners Island Race Series.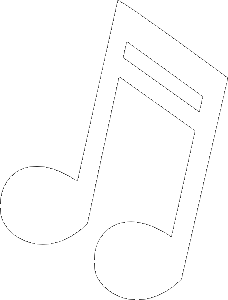 Musical Terms Key
(in the order that they are found)
Librettos: the text or words of an opera
Con Brio: with brilliancy
Con Expressione: with expression
Opera Seria: A serious opera where the usual characters are gods, goddesses or ancient heroes.
Prestissimo: as quick as possible
Rinforzando: with additional force
Scherzando: playfully
Martellato: struck with force
Cadenza: A passage of singing which shows off the singer's vocal ability
Pomposo: pompous and grand
Vivace: with extreme briskness and animation
Sincopato: forced out of time
Lentando: slower by degrees
Andante: somewhat slow
Crescendo: gradual increase in volume of tone



March 21, 2010 - Comox Valley Half Marathon Striders Race Report -- The Comox Valley Half Marathon route is punctuated with local history. From a snapshot-in-time perspective, a refocus of the historical lens would bring the forth shadows of lumbering logging trains that used to trundle parallel to much of the half marathon course on Condensory Rd. In the mind's eye of a runner, the log trains might be keeping pace with participants as the heavy cars hissed, squealed and swayed their way down to waterfront Royston to jill-poke and splash their valuable loads into the chuck. All this might come to mind for those who know the history of the Comox Valley and might otherwise feel a thread of connection with the log train shadows. They might know that the Comox Valley Half Marathon hugs the adjacent rail beds of some old logging railroad grades as the course winds its way through second-growth and into the higher reaches up on Burns Road. Runners will find these traces of times-past on the first real straight-away once they've left the terminal on Anderton and crossed the first kilometer bridge and climbed the rise onto Condensory Road; maybe it wouldn't occur to them to listen for the whispers of big steam and rumbling ties of the old broad gauge ribbon that brought prosperity to the Comox Valley.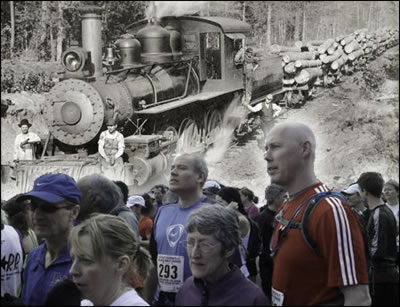 But remnants of old rails still peek over at half-marathoners as the run by and the old iron speaks of that previous era when nearly every man or woman in the Comox Valley had some connection with taking big timber. The Comox half marathon race pays tribute to the difficult forgotten times and the gargantuan efforts that local folks put forth everyday to transport harvested timber from the hills to the water's edge, and it purposely places the half marathon runners on the same tracks dealing with the same hills and dealing with straight-aways as the old-timers once did. And it makes them sweat like old timers did too!
Finding rhythm in your stride and keeping control under power is the key to challenging this far-from-flat Comox Valley Half Marathon. Ignoring the signals for even-steady power as you pull away from the yard is runner's folly and can easily cause a wreck on the return if you haven't taken on water before steaming back downhill. Many runners discovering the Comox Valley Half Marathon for the first time learn a cruel lesson and fall victim to the long slightly inclined grades that bait them into over-stoking the firebox and leaning too hard on the Johnson which often results in the pitiful wrecks of best intentions and broken dreams that are found littering the ditches over last few kilometers of the course. Those that heed these words and fire steady-steam do well in this race - those that do not; crash and burn.
The wheels didn't come off of the Ladysmith Striders train with five hot-steam enthusiasts joining almost 600 other finishers to charge-up some super-heated finishing times. David Van Horne and Phil Howard were heavy on the throttle and brought the Van Horne-Howard Express back to the terminal in roughly an hour and a three-quarters with Bala Naidoo was swinging the lantern off the Baldwin's tail deck in 1:52:08. There was no wheel-slip for Pauline Naidoo as she whistled up another half-marathon course record and punched her super-charged ticket in at 2:01:23 shunting a three full three minutes off the Comox half-marathon record for her age-group. Shannon Peck who is never far off the mainline, steamed into the station with a hard-fought steady time and posted a determined 2:10:16 finish.
The Ladysmith Striders would like to thank the Comox Valley Road Runners race organizers and their tireless volunteers for their commitment to organize this road race and appreciate the time and effort it takes to hold this popular event.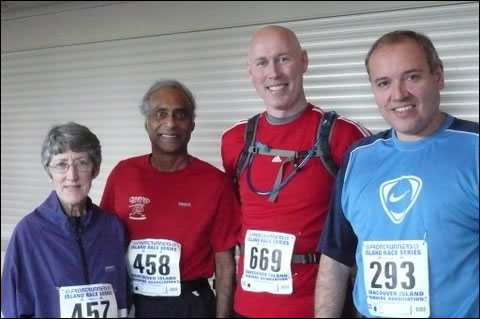 Left to right: Pauline Naidoo, Bala Naidoo, David Van Horne, Phil Howard. Absent: Shannon Peck.
Ladysmith Striders results are outlined in the table below. Click the participant names to view individual statistics which will open in a separate browser window.
Two more races left to run in the Frontrunners Island Race Series. The next race is the Merville 15K and Ladysmith Striders will be traveling north again to a fabulous location between Courtenay and Campbell River. The fast and flat Merville 15K is sponsored by the River Runners of Campbell River whose race organizers and volunteers will be ready to drop the starting flag at 11am sharp on Sunday, April 4th. The race starts and finishes from the Merville Community Hall.



March 14, 2010 - The Ladysmith Striders offer their sincere condolences to family and friends of fellow runner Karl Klein. He was a dedicated Frontrunners Island Race Series runner and the Victoria Times Colonist Bruce Mackenzie story below provides an account of Karl's passing.
Runner Had Smile for All - Karl Klein Passes Suddenly -- A lifelong athlete and outdoorsman, Klein was known for his positive outlook and his willingness to take on any challenge. Among runners, he was known as a tough, but always cheerful, competitor. Klein, 67, collapsed and died of a heart attack a few minutes after the start of last Sunday's Bazan Bay 5K. He had driven down from his home in Campbell River with his friend Dr. Larry Ness and Ness's son.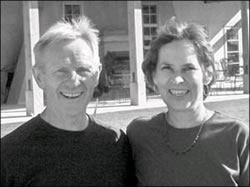 Family and friends recalled a man of deep Christian faith who was interested in others and in the stories of their lives. "I don't think there was a person he didn't like," said his wife Judy, looking back on 40 years of marriage. Klein and Judy met as youngsters in Barrhead, Alta. He was the best friend of Judy's older brother, but they didn't click until after Judy's family moved to Campbell River and Klein came out to visit.
What drew her to him? "He was a very gentle man, who loved nature," she recalled, but that was not all that made him unique. "One thing that I really loved about him was that he didn't drive a car. That made him different from all the other men." She eventually taught him to drive, but he always had a fondness for going places under his own steam: hiking, running or cycling.
Not surprisingly for a man who taught physical education at Southgate and Carihi schools in Campbell River for 32 years, Klein was often the fittest guy in any group. "The shape he was in was incredible," said eldest son Paul, recalling a hike into the Stein Valley 10 years ago. "He was in way better shape than any of us."
The family, including younger sons Ehren and Kurt, laughed to each other that if any task looked like smooth sailing, Karl wasn't interested. He wanted a challenge, like the one several years ago when he and friend Bruce Wood took a bike tour of Asia. They arrived in China, bought bikes without any of the gear normal to Canadian riders, strapped rice sacks to the bicycles to carry their equipment and spent five months riding through China, Kyrgyzstan, Pakistan and India. "I just couldn't believe that he did this," Paul said.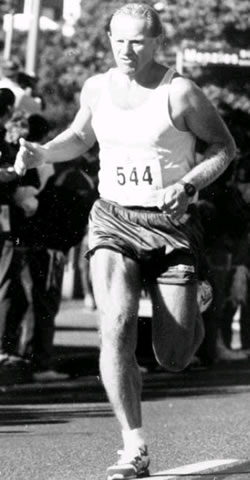 Although Klien's days were active, Judy said they started with a quiet routine, when he rose early to make coffee, which he loved. With the mug close to hand, he would spend time reading or in prayer. "He had a thirst for reading," Judy said. His favourite topics were history and theology. He even took summer school courses in theology through Regent College at the University of British Columbia.
After coffee, it was out for a run or a ride on his bike. The rides were usually fortified with more coffee en route; on Saturdays, he took two of his granddaughters on a relaxed outing that included Starbucks, the library and the park. That laid-back style was the hallmark of his teaching, too, said fellow teacher Doug Puritch, who met Klein more than 30 years ago at Southgate school and thinks of him as a mentor. "He was very accepting of all students," Puritch said, and was always upbeat.
"He loved teenagers," Judy said. He did a lot of extra work with young people, including leading hikes into Strathcona Park, coaching basketball and volunteering with the Young Life Christian outreach organization. Puritch said students always knew that in Klein's classes they were likely to end up running, because he loved to run.
And he was good at it, clocking a personal best 2:52 marathon at the age of 46 and frequently finishing first or second in his age group. He will be missed by his friends in the River Runners club, said Shelagh Germyn, who knew him for 25 years and enjoyed countless training runs with Klein over the years. John Crouch, who was two years older than Klein, first met him during a race in Comox in the early 1980s, when Klein had just moved up into a new age group. Crouch was expecting to lead his group, but he got a shock. "All of a sudden he was right there beside me." It was the beginning of a friendship and a rivalry that lasted over decades. "We were great combatants," Crouch said.
Victoria runner Mike Ellis said, "The thing I remember most about Karl, besides his strong running, is his big smile. I had a chat with him just before the race on Sunday and he was in good form; I couldn't believe what happened a few minutes later." Judy said there were no warning signs before last Sunday. "I wish there had been, so we could have done something," she said.
Paul said the family is grateful to those runners who stopped to help his father, and to Ness and his son, who went to the hospital. "We were happy they could spend his last morning with him," he said. Paul said he will remember his father as a man for whom no challenge was too great. "He was a real inspiration to me."
Karl John Paul Klein was born Aug. 3, 1943, in Brigidau, Poland, and died March 7, 2010, in Sidney.



March 7, 2010 - Bazan Bay 5K Striders Race Report -- The earth shook this past weekend and the epicenter of the quake was Sidney where 610 worthy and well-trained runners thundered over a flat 5km race course. The Synergy Health Management Ltd. Bazan Bay 5K is the fifth in the eight event Frontrunners Island Race Series and is by far the most popular as many first-time runners turn out for this well-supported run.
And so it was that another Frontrunners Island Race Series record was cracked and a new champion for the woman's 65-69 age group emerged. Pauline Naidoo sent a shock wave through the field and definitely triggered the Richter scale with her 21:15 effort that fractured the existing course history for her age-group by subducting two minutes off the record. If the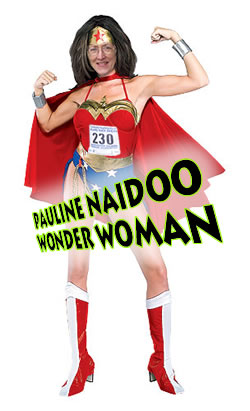 foreshocks from Pauline's previous road races are any indication of the ground swell of raw running power, then the Frontrunners Island Race Series running community will likely continue witness a human compression wave of untold magnitude rumbling through the last three road races. Obviously, the crush of tectonic running mass grinding the earth's mantle to rubble was no match for the sheer seismic strength of this Ladysmith Striders Wonder Woman. Congratulations to Pauline Naidoo on another earth shattering finish.
For a race overview, local triathletes recorded seismic moments for the top spots at the Bazan Bay 5K in Sidney. Simon Whitfield was victorious this year in 14:36 - having lost out in a sprint finish last year – clocked in one second quicker than 12 months ago. Kyle Jones- who was third last year - improved to second this year with a time of 14:38. On the women's side, Magali Tisseyre recorded her third victory in this years Frontrunners Island Race Series in 17:03, as did top master Lucy Smith who claimed second place in 17:21. And then there was Maurice Tarrant who recorded another unofficial Canadian M80 record of 23:37 for the five kilometer run.
All ten Ladysmith Striders participants provided bedrock performances to keep their club at pace with the Westwood Lake Running Club who remain only three points ahead in club standings. This was only due to a monumental ground motion exhibited by the Ladysmith Striders team - the aftershocks will be felt for weeks to come!
A review of the seismograph shows an eruption of massive pace improvements for some Ladysmith Striders. Going with an accelerated flow were Tiffany Chapman and Daniel Howard who were just shy of grinding out a 40 minute 10k pace. In addition to Pauline Naidoo's magnitude nine performance, substantial harmonic tremors were recorded by other Ladysmith Striders. A tsunami of accolades to Bala Naidoo, Nikki Van Horne, and Shannon Peck for their top-ten achievements.
Ladysmith Striders results are outlined in the table below. Click the participant names to view individual statistics which will open in a separate browser window.
It's up-Island for the next race. The Comox Valley Road Runners sponsored half-marathon in Courtenay is on March 21st and it features the longest run in the Frontrunners Island Race Series. The Comox Half Marathon is known for its long climb up into the back country and should produce an abundance of negative-splits as runners make the turn at the top and thunder downhill for the return. Get ready Ladysmith Striders, it's time to live up to your "Hill Tamers" name!!
Aftershock: A runner in Sunday's Bazan Bay 5K in Sidney died after he appeared to go into cardiac arrest. The 67-year-old man from Courtenay collapsed shortly after the 9 a.m. race began. Several runners rushed to his aid and found he was not breathing. One runner began doing chest compressions, while another did mouth-to-mouth resuscitation. They continued with the resuscitation attempts until B.C. Ambulance paramedics arrived. The man was taken to Saanich Peninsula Hospital, where he later died. The Ladysmith Striders offer their sincere condolences to the family and friends of this dedicated runner. More...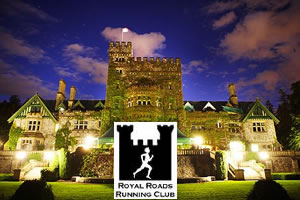 February 21, 2010 - Hatley Castle 8K Striders Race Report -- All able lads and lasses turned out in bristol fashion as they toed the line on the good ship RRRC Hatley Castle. Moored securely on the shores of Esquimalt Lagoon, RRRC Hatley Castle is a fully found ship with a beamy eight kilometers and is well-rigged for running hard. Frontrunners Island Race Series runners regularly sight the hilly beast as a threat to their endurance and throwing all caution to the wind, they catch her square for a gangway start and send over 640 odd straight up into her rigging. The bark of the gun ran the mob down onto the narrow decks into the sulfurous bogs and around by the boathouse and straight up the mast -- a strong-hearted bunch intent on steeling themselves for the climb ahead. No favourable winds are offered for those who tackle her rigging and with a heel to the right she comes about with a long out-and-back. This fairly level keel is the quiet before the storm.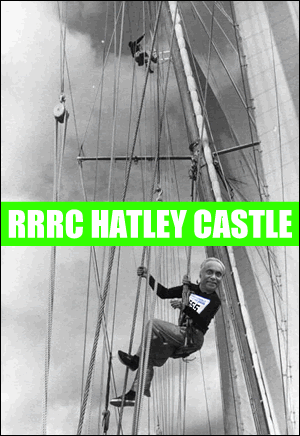 A punch of wind rights the vessel and whips lads and lasses down towards the foredecks and back on course. But the urge to weather this hearty incline is relentless for the ragged soles and it's a grab for the ropes as the mob veers uphill again for a real test of endurance. With a great deal of grunting and wheezing, the ascent causes much eye-bulging and lower lip chewing as the rigging strains to loosen and cast-off any and all fair-weather runners. Thighs and calves extend out for the highest yard-arm for it's only from this lofty perch that these incredible running scallywags can steal a seaward glance over a broad headsail before settling down onto the level rail and dashing out around the amidships. Amidships are drawn out through the gunwaled brightwork and tease the weary forward for a port-side plunge into the soggy bowels of the bilge. From here troubled runners throw up their gollywobbler with hopes that it will catch some favourable windage and push them over little-bugger and home to safe harbour. Alas, the RRRC Hatley Castle 8K was but a mild annoyance for the Ladysmith Striders who generously offered fourteen scallywags to climb into her rigging and by all accounts, finished the dastardly course with truly incredible times.
Weather-wise, the day presented tender on the helm as the sun warmed the shoulders of runners who waited in the gangway for voyage commencement and was quite comfortable in minimal gear of short-sleeves and shorts. There is no doubt that the Royal Roads Running Club are a hearty bunch of seafarers and the Ladysmith Striders wishes to thank the organization and their volunteers for providing a fun and challenging environment for running. There was lots of great food and drink for all runners after the race and Ladysmith Striders wish to thank the Royal Roads Running Club for presenting another fine Hatley Castle road race.
A touch-of-the-cannon salute is offered to all Ladysmith Striders who clubbed and scratched their way into some really fine performances. Again, repeat top ten finishes in their respective age groups for seven Ladysmith Striders and nearly all had top twenty finishes which garnered a treasure trove of club points allowing the Ladysmith Striders to retain seventh place overall in the battle for club standings. A booming acknowledgment for sensational runs is directed at Vincent Johnson and Pauline Naidoo for touching the tape in first place for their age group categories. And a respectfully touch-of-the-forehead salute to Tiffany Chapman, Afton Halloran, Daniel Howard, Denise Aucoin, and Bala Naidoo for their top-ten achievements.
Ladysmith Striders results are outlined in the table below. Click the participant names to view individual statistics which will open in a separate browser window.
Next race is back on the Saanich peninsula where the Synergy Health Management Ltd. Bazan Bay 5k will commence in Sydney on March 7th at 9am. This is by far the fastest road race in the Frontrunners Island Race Series and the Ladysmith Striders are sure to be there.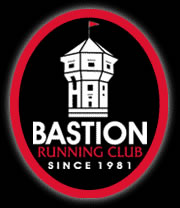 February 7, 2010 - Cedar 12K Striders Race Report -- For years the Nanaimo Bastion Running Club has wrung out a number of challenging routes from the ribbons of back roads and as a result of the determined testing - involving much poking and prodding and exploring of the surrounding countryside - the club has stitched together a formidable running event that come to be known as the Frontrunners Island Race Series Cedar 12K Road Race. The Cedar Road Race has been staged on a number of different routes in the past and credit must be given to Nanaimo Bastion Running Club for settling on a running route that challenges the hearts and minds of both serious and recreational runners. The fabric from which the Frontrunners Island Race Series Cedar 12K Road Race course was cut provides a challenge for every level of runner. There are nicely pressed straight-aways with thin yellow creases centering the middle to keep running flesh from being burned by passing motorists. There is a slight gathering of hills that are folded strategically into an elevation change a quarter of the way out which weighs heavy on runners as they know their mettle will be tested on the return. And stretched out changes in grade which develop over long sight lines can tease out doubt and furrow the brow of even the most experienced road racer. This course is intended as an "out and back" contest with only some of the wrinkles smoothed down and it is for this reason that many runners in the Frontrunners Island Race Series pull this road race off their "Perhaps List" and plant it firmly on their "To Do List".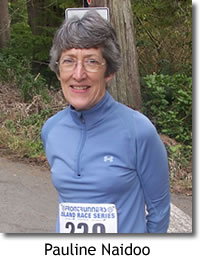 Ladysmith Striders are always ready to challenge any road race that involves folds in fabric and a number of them entered this years event. And again - like the first two events in the Frontrunners Island Race Series - twelve Ladysmith Striders participated the event and placed very well in the standing. Seven Ladysmith Striders placed top-ten in their age categories and one Ladysmith Strider broke the course record for her age group. Congratulations go out to Vincent Johnson, Tiffany Chapman, Afton Halloran, Daniel Howard, Nikki Van Horne, Bala Naidoo, and Pauline Naidoo for their sensational finishing times. Special recognition is extended to Pauline Naidoo who crushed the Frontrunners Island Race Series Cedar 12K Road Race course record for the F6569 age group by a whopping four minutes. Pauline's finishing time was an incredible 1:05:08.
Congratulations to the Nanaimo Bastion Running Club for both sponsoring and presenting the Cedar 12k road race. Nanaimo Bastion Running Club has again done a great job of organizing this annual event and special thanks are directed to their troop of dedicated volunteers that hold the key to success of the event.
Ladysmith Striders results are outlined in the table below. Click the participant names to view individual statistics which will open in a separate browser window.
Next race is a Royal Roads Running Club sponsored Hatley Castle 8k race in Colwood on February 21st that takes place on the hills of the castle grounds... get ready!!!... should be no problem for the Ladysmith Striders Hill Tamers!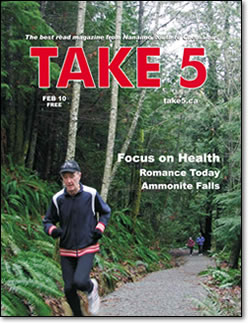 February 4, 2010 - Ladysmith Striders Run on TAKE-5 Cover -- From out of the forested trails onto the cover of TAKE-5 Magazine, Ladysmith Strider Chris Geens sprints ahead of Ladysmith Strider running-mates Bala and Pauline Naidoo providing a photo opportunity for the January cover of Ladysmith's own community publication called TAKE-5.
The January edition of TAKE-5 Magazine trumpets the value of embracing a healthy life-style with their Focus on Health issue and no better illustration of this life-style would be the running activities of the Ladysmith Striders who regularly meet on Sunday mornings at Esquires Coffee. Ladysmith Striders is a organization of casual runners and walkers who are committed to promoting fitness and recreation in a friendly club environment where all levels of runners and walkers are welcome. The Ladysmith Striders regularly explore the surrounding areas of Saltair and Cedar and is always looking to enlarge their group of running friends.
Ladysmith Strider regularly meet at Esquires Coffee in Coronation Square at 7:30am. (Click here or image on the right to read feature TAKE-5 story)


January 24, 2010 - Cobble Hill 10K Striders Race Report -- While the weather forecast called for rain, it was sun warming the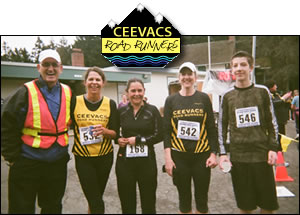 shoulders of 563 participants that gathered at George Bonner School in near Mill Bay for the Cobble Hill 10K. Beginning on a dead-end road near the school, runners kicked and tossed their warm-up gear aside for an 11am start in the second road race in the eight race Frontrunners Island Race Series on a ten kilometer course that has become a favourite for runners both up and down the Island. Runners tackled the fast and challenging course that combined an early out-and-back leg that was straight as a gun-barrel with a loop later on in the contest that drew runners over some rolling hills that were guarded the whole way by a protective canopy of Island conifers. While the course was not closed to traffic, all runners managed to safety dodge the rogue vehicles and return to the finish thanks to the care and good nature of the Ceevacs Volunteer Course Marshals and Traffic Directors.
Ladysmith Striders were keen to race on Sunday with fourteen individuals making the drive down Island to Cobble Hill from the Ladysmith/Saltair area. The Ladysmith Striders again took the bit between their teeth and placed very well in many age categories. In fact, the Ladysmith Striders placed top-ten in seven age categories which really rung up the points tally for club standings. Congratulations to all Ladysmith Striders as their great effort has secured their position in the top-ten in club standings for the second race in a row. And for the second week in a row there is special mention of Strider participants Simon Timmer, Tiffany Chapman, Afton Halloran, Denise Aucoin, Daniel Howard, Bala Naidoo, and Pauline Naidoo who all broke top ten in their age divisions. Go Striders!
Ladysmith Striders results are outlined in the table below. Click the participant names to view individual statistics which will open in a separate browser window. Special congratulations go out to Pauline Naidoo who cracked number-one position in her age group with a 10K finishing time of 53:59.

Photos Courtesy of Don Carson - Click to Enlarge
Next race is a Nanaimo Bastion Running Club sponsored Cedar 12k race on February 7th. Hope to see a good contingent of Ladysmith Striders there.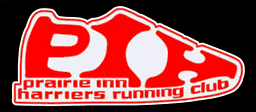 January 10, 2010 - Pioneer 8K Striders Race Report -- A mild winter day brought out a crowd of 674 runners to the Central Saanich Fairgrounds for the 2010 Pioneer 8K road race. The Frontrunners Island Race Series kicked-off on Sunday with club representation from not only the greater Victoria area, but up Island all the way to Campbell River. The road race is part of the BC 8K Championships which brought out some keen competition. Congratulations to the Prairie Inn Harriers for offering up another great road race.
Ladysmith Striders were well represented at the road race with 16 individuals participating. The Frontrunners Island Race Series is a much anticipated event for the Ladysmith Striders and judging from the results a number of Striders have set the bar pretty high. Congratulations to all Ladysmith Striders as they have placed the club at sixth position overall in club standings which is sensational considering there are 62 clubs registered this year. Special mention goes out to Afton Halloran, Denise Aucoin, Bala Naidoo, Simon Timmer, and Pauline Naidoo who all broke top ten in their age divisions. Go Striders!
Ladysmith Striders results are outlined in the table below. Click the participant names to view individual statistics which will open in a separate browser window. Special congratulations go out to Simon Timmer and Pauline Naidoo who cracked number-one positions in their age groups with finishing times of 32:44 and 42:55 respectively.

Next race is a CEEVACS sponsored 10k race on the Bonner School course at Cobble Hill on January 24th. As a friendly reminder to Ladysmith Striders, the Cedar 12K is coming to our area on February 7th and it would be tons-of-fun to make that road race out Sunday morning run. Hope to see you all there!!


January 3, 2010 -- It's that time of year again when many runners begin to gaze into the new year and ponder the running calendar challenges that lie ahead. No doubt there will be some Ladysmith Striders that include themselves in this group as many Striders participated in the Frontrunners Island Race Series last year. For Ladysmith Striders that are considering the fun again, the Frontrunners Island Race Series begins on January 10th so I think it appropriate here to provide a friendly reminder to take advantage of some cost savings by entering early. And when entering, don't forget to record that you are from the Ladysmith Striders.
For your further awareness, runners who complete all eight races in the 2010 series, or eight races and volunteer at their own race, will receive a gift certificate from Frontrunners entitling them to 50% off the series registration (without shirts) for the 2010 series. Check out the schedule below.
Frontrunners Island Race Series 2010 Schedule
Race

Date

Start

Timex Series

Info

Results

Prairie Inn Pioneer 8k
Saanichton

Jan 10

11am

Yes

Cobble Hill 10k
Cobble Hill

Jan 24

11am

Cedar 12k
Cedar

Feb 7

11am

Hatley Castle 8k
Colwood (Royal Roads)

Feb 21

11am

Mar 7

9am

Yes

Comox Valley 1/2 Marathon
Courtenay

Mar 21

11am

Yes

Merville 15k
Merville

Apr 4

11am

Sooke River 10k &
Series Awards - Sooke

Apr 18

11am
Click here to register online.