Ladysmith Strider Archives 2007 | 2008 | 2009 | 2010 | 2011
2008 Ladysmith Striders News Headlines
---

November 30, 2008 - Ladysmith Striders Organize 4th Annual Cinnamon Bun Fun Run -- Low ground fog and wet streets greeted walkers and runners to the 4th Annual Cinnamon Bun Fun Run on Sunday morning but didn't dampen their willingness to give to the Ladysmith Food Bank. While the entry fee for the 5K Walk, 5K Run & 10K Run was five non-perishable food items, many participants gave much more than the minimum requirement which resulted in an impressive display of goodwill that required three pick-up trucks to move the massive mountain of CBFR entry contributions to food bank shelves.

The level of support this year for the CBFR was most welcome by organizers as nearly 350 runners and walkers stood at the start for the beginning of the event. A quick head count in the FJCC gymnasium came in at nearly 400 which included walk and run participants, support personnel, event organizers, and general spectators. The survey confirmed the event organizer's suspicions that it was the biggest crowd ever to attend the CBFR since it was first organized four years ago as Ladysmith Food Bank fundraiser from a base of operations at Coronation Square.
Opening comments of welcome from CBFR Event Coordinator Kim Judson preceded both Town of Ladysmith Mayor Rob Hutchins and Ladysmith Food Bank Director Kit Wilmot who both spoke about strength of community and lending a hand to those less fortunate at times of need.
Mayor Hutchins spoke about the strength of smaller communities and how they can quickly respond to and rally around worthy causes; he gave tribute to residents from the Town of Ladysmith whom find time in their busy lives to get involved in projects like the renown "Ladysmith Festival of Lights" and soon to be renown "Cinnamon Bun Fun Run".
Heart-felt thanks to all the participants was delivered by Ladysmith Food Bank Director Kit Wilmot. In an emotional address, Mr. Wilmot marveled at the mountain of food waiting to be delivered to the food bank and stressed the value of giving to others in need and how wonderful it is to have shelves stocked high as the holiday season approaches. He thanked the CBFR organizers for their determination year after year for presenting the event in what is usually less than ideal conditions, and thanked the walkers and runners for turning out and supporting the food bank fundraiser.

After an energetic warm-up routine guided by PJ Halliday, walkers and runners set forth onto the streets of Ladysmith heading south on 6th Avenue past the Fire Hall to Methuen. Both the 5K and 10K distances were over the same course with 10k runners extending the course with a second lap around. At strategic places along the course, the Ladysmith Ambassadors cheered participants and captured their enthusiasm on digital cameras. At the Dunsmuir and Bickle half-way point, Cassie Judson and family manned the water station to provide hydration to weary participants as they crested the steepest hill on the course. The steep hill gave way to a gentle one and a half kilometer downhill which provided nice recovery for a slight uphill on 5th Avenue and Buller and a right hook onto 6th Avenue for the finish.
Runners and walkers were rewarded at the tape with gooey cinnamon buns and hot chocolate. But as a result of the huge numbers entered, event officials were scrambling to match up predicted times with finishing times as participants files through the finishing chute. Event officials struggled in the cyber-surf all morning and were never quite able to keep up with the tsunami of information flowing from the finishing area. It seemed that just as one wave of numbers were entered, another wave would knock them back down into the foaming cyber-surf; in the end the winners were not declared until well after the draw prizes were awarded and many of the participants had moved on to other Sunday activities.

The winners were declared at 12:30pm after all the data was entered. The first prize digital camera was awarded to winner Annette Hiom of Nanaimo with a predicted 10K finishing time of 00:57:57. The second prize of dinner for four at the Yellow Point Lodge was claimed by winner Leanne Lovely of Ladysmith with a predicted 5K finishing time of 00:29:30. Because both these finishing times were exactly on their predicted times, their prize order was decided by a coin toss as it is difficult to chose the first out of equals. The third prize of a Running Room running jacket was winner Catherine Chorney of Nanaimo with a 10K predicted finishing time of 01:06:00 and a finishing time of 01:06:01.
Six participants were tied with one second differences from their predicted times so the third place prize was selected by a random process from these six participants. Special mention goes to Kyla Becia, Rory Andersen, Jenny McNeil, Tracy Welsh, and Jerek Postuk who were the other five participants that clocked in spectacular performances and all tied at second place. Congratulations to the winners of this predicted time event and to all walkers and runners that participated and are winners as well.
Volunteers provide the fuel that drives the Cinnamon Bun Fun Run engine and without volunteers the event organizers - volunteers themselves - would have never able to conclude this successful fundraising event. A core group of volunteers through their generous offering of time and energy made the event happen by setting up the venue, sheparding participants through the registration process, marshalling the roads, dispensing water on the course, managing the participants event data, and offering hot beverages and cinnamon buns to all. The volunteers in the 4th Annual Cinnamon Bun Fun Run really rose to occasion to battle adversity in numbers. Event organizers had no idea that the support this year for the Ladysmith Food Bank would be so tremendous and owe the success of the event solely to those volunteers that came out and didn't shy away from adversity. And for that the CBFR Organizing Committee feels a great deal of gratitude for all the event volunteers.
For the record, the Ladysmith Food Bank received three pick-up loads of food for their holiday season shelves and about $2300 in cash donations as a result of the generosity of walkers and runners who participated in the event. The 4th Annual Cinnamon Bun Fun Run was both a success and a learning experience; get ready for the 5th Annual Cinnamon Bun Fun Run as the event organizers are already figuring our ways to both welcome more participants and improve their organizational performance. [top]



October 15, 2008 - John Half-Fast Run Report - Challenging the Distance -- For many runners the summer months are high mileage months; training for September or October distance runs typically start in the last weeks of July or early August and some of these dedicated runners will incrementally build mileage to 40-50 miles per week in order to prepare physically for their the fall season half marathons and/or full marathons. In addition to preparing physically, runners also take time to focus on preparing mentally for the race which for some can be just as daunting as actually running the distance. This is why Ladysmith Striders dedicate one day a week - Sunday morning - to run together as a group in each others company to develop their physical endurance and mental skills to take on and tackle each of their preferred race distances.
"Running is a complex and coordinated process that involves the entire body. Every human being runs differently, but certain general features of running motion are common. " -- Wikipedia
For the Ladysmith Striders, Sunday morning runs provide time to discuss a number of race issues. We talk about interesting things like... oh yes... race strategies; how about the experience of pre-race jitters and how to calm them; or which running mantras work the best when approaching the "wall"; and our favourite topic, hydration principles and/or what it feels like to "bonk". Well... not really, but we do talk alot. From this perspective, running with a group of your best buds can better prepare you both physically and mentally for your fall season distance runs as it provides you the opportunity to tap into the knowledge and experience of the more veteran (some call them crazy) runners; to pass on knowledge and experience that may be helpful in moving you closer to your desired running goals. During the summer and early fall of 2008, Ladysmith Striders met regularly on Sunday mornings at Esquires Coffee where a few of us had some specific running goals in mind and we worked on them together to prepare for running events in early October.
"Running is executed as a sequence of strides, which alternate between the two legs. Each leg's stride can be roughly divided into three phases: support, drive, and recovery." -- Wikipedia
In my case and as noted above, my training started with a structured 12 week program in mid-July. But let me back up and explain a bit about the goal-orientated running landscape that I managed to paint myself into this fall. I make running goals of varying degrees of significance throughout the year and they usually consist of a number of minor running goals and one major biggie; eight to ten races per year is just about right for me. But my running biggie this year was to complete my ninth marathon which is part of an even larger, bigger-than-biggie promise that I made myself about eight year ago when I decided to run one marathon every year with my sights set on at least ten. So in order to prepare properly for an October marathon I had to start early... and early was mid-July where I built mileage incrementally. Even though I had been running 100 mile per month for last ten months, I really had to focus on an incremental effort which would build distance slowly in order to maximize my endurance for the marathon run. I think it worked. Goal-wise for this year, I am right on track as I just recently completed the Portland Marathon in 3 hours 42 minutes and 48 seconds.
"Support and drive occur when the foot is in contact with the ground. Recovery occurs when the foot is off the ground. Since only one foot is on the ground at a time in running, one leg is always in recovery, while the other goes through support and drive. Then, briefly, as the runner leaps through the air, both legs are in recovery." -- Wikipedia
I looked forward to running the Portland Marathon for number of reasons; my sister Jen lives in Portland (see John's Half-Fast Run Report - Portland Shamrock 8K) and she planned to pace me for a few miles during the marathon, my wife Cindy, who is a super supporter of my running endeavours, decided to join me on this trip and cheer me on, and of course, running in Portland was fun earlier this year and it seemed nature to come back to run the big event in the fall. And the thing about the city of Portland and surrounding area, there are alot of folks that run and I figure just about all of them would probably participant in the upcoming event.

I was up early for my normal pre-race routine; big glass of water, cup of coffee, a cinnamon-raisin bagel, and a hot shower to loosen up the muscles. And all my gear was laid out the night before; another pre-race routine to ensure you don't forget anything... like your race bib or your timing chip. Jen shot me into the downtown in her trusty Honda Civic with enough time for a final porta-potty call before taking my place beside the 3:40 pace banner. After some nervous chatter with runners fidgeting next me, the starting countdown commenced and we were off at a walk - all 6200 of us in three waves - where the pace only picked up to a run only after about fifteen seconds. The roads were dry with the air close and cool; crowds of spectators were enthusiastically waving and urging us on with mighty cheers - and even though it was still dark all indications pointed to what seemed like a perfect conditions for a marathon. We thundered through the downtown on a parade route of the city hoping the weather would hold. It didn't. Check out the Run Oregon Live video below for their run report.
Runners pound pavement in Portland Marathon
It started with a light rain about the 8 mile mark on a long out-and-back straightaway next to the Willamette River docks. It actually had a cooling effect which in a way felt good on the body. But I still hoped that it would peter out and fade away. When the rains came at the 11 mile mark I was running through the older residential neighbourhoods of stately craftsman homes that over time have inched up onto the lower slopes of renown Forest Park. Through the drizzle above the houses I could see magnificent Forest Park whose canvas of earthy greens and early autumn browns stretched out into the distance on a back-bone ridge of trees that was eventually captured in the sky beyond. A beautiful scene indeed... even running in the rain that was slowly finding some intensity.
The half-way point at mile 13 brought even more rain. Roads began to puddle which produced mini rooster-tails that licked up the calves of runners that I was pacing and it provided a temporary distraction from thinking about the upcoming killer hill. As the marathoners approach the St. John Bridge they are greeted by a kilometer-long four-percent grade; a miserable hill that already seemed to be eating runners by the dozen by inflicting major pain. Many huffed their way as best they could to the top while others drifted into a funeral procession that had formed about half way up. I plowed through the walking dead and pumped my fist in the air in triumph before turning onto the bridge fully appreciative of the Ladysmith hill training that is part of my everyday runs back home. Once over the mid-span arch a recovery downhill begins which provides runners with some relief for the quads but not from the rain. As I break into the neighbourhoods that cling to the northwest ridge above the river I realize that I've somehow unhitched from the group I was following and that I seem to be slowing. Arrrgh!! That miserable hill preceding the bridge has somehow chased me down and my legs are starting to rot in agony. By mile 19 I am beginning to bonk.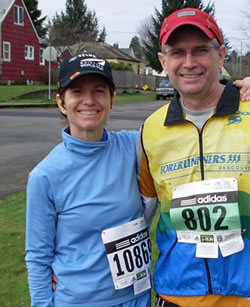 But help arrives just in time. There she is!!... it's my sister Jen... smiling ear-to-ear looking fresh and energetic as ever. Jenny greets me with a huge hug-slap and tries to lie about how good I look; I know the truth and I need help to bust through the wall. And she has come to the rescue with her verve and her boundless energy... and it's working... I'm feeling it... I'm picking it up... grabbing all the energy she's offering. We run together to the 21 mile mark and sends me on my way with the hopeful feeling that the wall is behind me. And it was literally all downhill from there... really!
Mile 22 gave way to the a gentle long downhill slope that provided my legs the rest that they craved. By opening my hips at bit and swaying my shoulders in a gentle synchronized rocking motion back and forth... I was able to lengthen my stride somewhat which ever-so-slightly generated a downhill boost of speed - a little boost of speed that was very welcome both to my body and mind. Thanks to Jenny's timely intervention, I wasn't done yet and thankfully that new found energy carried me back over the river onto Naito Parkway and the final two miles.
Naito Parkway is both wide and long street and is straight enough that you can see the second to final turn way off in the distance. So why is it that when finishing under such grueling mental fatigue and physical stress that the finishing line never seems to get any closer? And why is it that all of a sudden your in the chute and your done? Why is that? Is it the howling cheers of the wonderful residents of Portland that lined the final two miles two and three deep both yelling and screaming? Is it their cheering that distracts a runner so he forgets where he is and why he is there? I don't why it happens but I'm guessing it's a result of being totally out of power with no gas in the tank. You're so done that you arrive in the chute having burned up all that there is and then the line comes at you in a blur... people are screaming your name... now your laughing... and you finally made it... you try to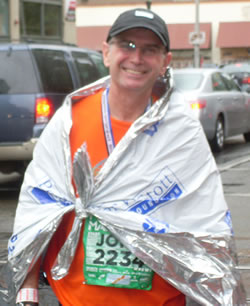 hit the timing pad with both feet if you can... but you can't because you can't think straight... and then its over! And if your lucky, you remembered to throw your arms up in the air for the finishing photo and click off your stopwatch. It was awesome!!... really. That was my Portland Marathon finish... I conquered the course and lived to tell about... and have no regrets. Sure glad that Jenny showed popped onto the course at mile 19 otherwise... wow, the result could have otherwise been a real bummer!
On this cool and somewhat damp Sunday morning in Portland Oregon, thousands turned out to participate in the marathon, the marathon walk, and the 5-mile run. John Ngigi of Glide, Oregon won the race in a time of 2 hours 31 minutes and 22 seconds whereby defeating more than 9,200 runners. Kami Semick of Bend won the women's division in 2:45:24. She won the 2004 Seattle Marathon, but is better known for running ultra-marathons. Interestingly, I was struggling at mile 20 when John Ngigi crossed the line. Wow... what an experience.
For more on the 2008 Portland Marathon, check out the excellent account of the run by first-time marathoner and blogger Krazy Kit-Kat Katie who calls from the fine state of Oregon her home.


August 20, 2008 - Runner's World Shoe-Pedia -- Runner's World Magazine September 2008 -- The body naturally dissipates shock by rolling the foot inward, or pronating, just after impact. But too much (or too little) pronation can cause injuries. While you can't change how much you pronate, you can buy shoes optimized for your biomechanics. Three ways to do this: Identify you arch type by doing the barefoot "wet test", study old shoes to see how the tread has worn down, or ask your specialty running shop to analyze your gait.
If you have a normal arch, you're likely a normal pronator, meaning you'll do best in a stability shoe that offers moderate pronation control. Runners with flat feet normally overpronate, so they do well in a motion-control shoe that controls pronation. High-arched runners typically underpronate, so they do best in a neutral-cushioned shoe that encourages a more natural foot motion.
Below are three videos that explain what pronation means; good information to know when selecting the right shoe.
For more running related videos from Runner's World, click here.


July 18, 2008 - John Half-Fast Run Report - Forces of Nature -- While I might consider myself a force of nature at times -- mostly while experiencing what I think might be gobs of dopamine coursing through my veins -- I feel that I could run forever. But that's nothing compared to the real forces of nature -- forces of nature to which results I witnessed on a recent run along the Nechako River in Prince George. The City of Prince George Heritage River Trail follows the shores of the Nechako and Fraser Rivers and is used frequently by the locals for recreation as it's a nice tidy loop that is easy to access. This 11 kilometer route connects all of the riverside parks and during the last winter an ice-dam formed where the Nechako meets the Fraser and backed up the water which reportedly caused extensive damage to the park, nearby homes, and businesses. I have run this trail many times over the last ten years and I was keenly interested in seeing for myself how the trails faired now that water levels have receded.
Hydraulic erosion happens when water traveling at a high speed enters the line of weakness in rock when it hit against these rocks at the side of the channel. The force may cause the rock to break and the broken pieces of rock are swept away. -- ThinkQuest, ORACLE Educational Foundation
My run starts in the middle of town on the Hwy 97 bypass at the Sandman Hotel on the frontage road called Central Avenue. I start off by meandering northward through blocks of 1950s-60s style bungalow homes handsomely placed in a quilt-like grid in the Nechako Flats neighbourhood and paying special attention while crossing the busy intersection at 10th and 5th Streets. I end up on Carney running north over the CN rail yard and down onto the Nechako riverside trail for my first exposure to any remnants of damage that may have left behind by the Nechako River ice-dam. Running along the trail with the river on my left, I didn't notice much suffering until I had gone about a kilometer.
The trail is a hard weather-beaten asphalt surface and it has been laid down long enough ago that cracked ridges have formed across the pathway as the roots from nearby cottonwood trees have burrowed under the hard asphalt toward the river in search of a drink pushing up through surface at times to correct their bearings -- you would think these large trees would have had their fill as the ice-dam would have the raised the level of the river to at least their waists last winter. At the one and a half kilometer mark the asphalt trail simply gives way and disappears into the river.
Abrasion erosion happens when rocks that are carried in the river grind and erode the river side and bed. Some of the rock at the sides and bed of the channel are washed away. This type of erosion widens the channel through lateral erosion and deepens the channel by vertical erosion. -- ThinkQuest, ORACLE Educational Foundation
At low water in the summer, vast gravel bars dominate the junction where the Nechako and Fraser links hands. Looking back over time, the gravel bars have morphed into wetlands and with years of silt piling up -- they have have become islands of rich loamy soil supporting billowing grasses, leafy bushes, and an abundance of fairly large cottonwood trees. While some gravel bars still exist at the convergence of the rivers, the City of Prince George has dedicated this lowland brush and trees as parkland and named it Cottonwood Island Park. The Heritage River Trail threads its way throughout this park and it is dotted with a number of foot-bridges that span the seasonal flood channels that help drain the park in times of high water. While exploring the park for damage, I was astounded by the number of bridges that had been swept completely away during the flooding.
There are four flood channels footbridges to Cottonwood Island and everyone of them have been either washed away or lifted out and placed out of harms way in the bush. The bits and pieces on one bridge litters the underbrush and is an example of the force of nature -- the force of water that can lift a bridge from its abutments and then crushes it against the trees that normally stand guard on these normally silent and dry water courses. Upon reaching one bridge and finding it missing, I had no option but to take to the underbrush rather than return all the way back the way I came for an alternate route. Emerging from the forest near the park boat launch, I continue with the trail in search of other examples of the forces of nature as the trail sweeps southeast around bend under the historic black train bridge to Fort George Park on the Fraser.
Solution/Corrosion erosion happens when river water dissolves the minerals in the rock and carry them down the river. Limestone may be dissolved quickly in the river water, especially when there is high concentration, to form soluble calcium hydrogen carbonate -- ThinkQuest, ORACLE Educational Foundation
Fort George Park overlooks the mighty Fraser River and is one of the oldest parks in Prince George. The park is kind of a gateway to understanding local history as it is home to the Fraser Fort George Regional Museum. Being a bit of a history hound, the museum is a great place to kill time because it houses artifacts and stories of the early European pioneers who settled to the region.


HWY 16 Bridge over the Fraser River with CN Rail Bridge and pulp mills in background
There is also a small First Nation Cemetery named the Lheidli T'enneh Burial Grounds. Lheidli tenne means "people from where two rivers flow together" and the cemetery was once a main village site until the early 20th century. Luckily the ice-dam was on the Nechako River and there was no flooding in Fort George Park.
Attrition erosion happens when materials in the water collide with one another, they break and become smaller particles. These particles become smoother and rounded. -- ThinkQuest, ORACLE Educational Foundation
Leaving Fort George Park, the Heritage River Trail crosses a slough and weaves through a grove of poplars where it leaves the riverfront and continues up to Queensway Street. Across Queensway the trail saddles up on the south side of Hudson's Slough under the protection of rustling poplars whose branches reach down their fingers to mark your shoulders and you duck back and forth in an effort to dodge the swaying branches for the fun of the game. Once past the slough, the trails follows a wide and well-sheltered drainage ditch in a south westerly direction that eventually gives way to the open soccer fields framed by busy Uplands Drive and Victoria Street in South Fort George. Hugging the edge of the soccer fields, I'm lost in the rhythm of my foot strikes and find my mind drifting from pace to thoughts of how grateful I am to be enjoying such a fine day in such a fine place. I take my endorphins-gorged self through the Victoria Street tunnel and get ready for the moderate climb of the Carney Street hill that will greet me once I get past the ball fields that now appear on my left.


CN Rail Bridge over the Fraser River
I puff up the hill and go left on a shortcut through to 20th Street and then cross over to Gillette Street. My pace is steady and I recover quickly. This part of the city is classic 60s with post and beam architecture and flat roofs and mature landscaping. I skip over the curb halfway up the block turning right and duck into an alley that winds its way uphill again where I know it will deliver me onto Harper which is one street above. This wooded area is a refuge from busy streets and it is one part of Prince George that has not been hit hard by the pine beetle kill and still retains many of its native conifers. Breaking out of the backstreets, I take 18th street for one block and I arrive right at the back door of the Sandman Hotel.
A final word on the ice-dam and the erosion damage that it left behind. During my sawmill visit this week I was chatting with office staff at Lakeland Mills that is located right next to Cottonwood Island Park and I noticed on their office wall a large aerial photo of the area from 1963 -- specifically a photo from above of the area around the junction of the two rivers. I was astonished to see how much land had been reclaimed since 1963 -- land reclaimed where industry was now firmly anchored -- land that had been flooded recently by ice-dam -- land that I now realized had probably been flooding naturally for a long time in the past. Seems that the city has encroached on the river and the forces of nature have hit back.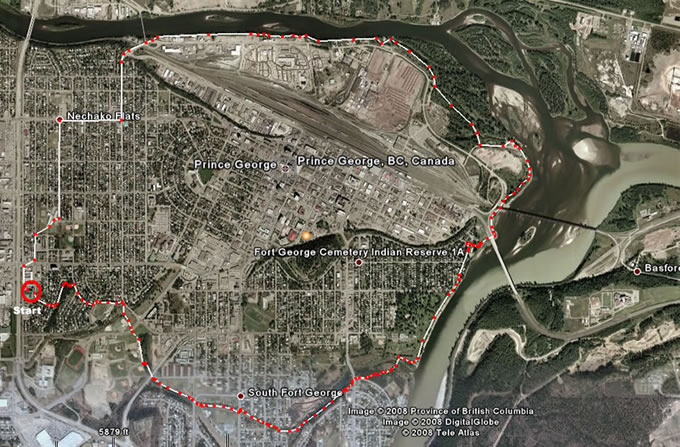 June 27, 2008 - Phedippidations Worldwide Half Marathon Challenge -- Anyone running the Phedippidations World-Wide Half Marathon Challenge? Hey... this half-marathon would be just the thing to finish up this year's running season. Why don't you consider joining the Ladysmith Striders and others from around the world... yes, that's right... from all around the globe... for the 3rd Annual Phedippidations World-wide Half Marathon Challenge which takes place on the weekend of October 11-12th.
"Think Global, Run Local?"

The World Wide Web, and the Internet have drawn people all over the world together, and dissolved barriers to communication and isolation. Runners, are by nature, social creatures who seek to share their experiences on the road, compete with each other, and establish friendships that transcend their individual beliefs, cultures and localities. The sole purpose of the Phedippidations World Wide Half Marathon is to remove the barriers to camaraderie, with the intention that like minded athletes who harbor this passion for running, could share a single experience of competing in a world wide event. The Phedippidations World Wide Half Marathon is a free, non-commercial event where everyone is invited to register, train and run with us in the spirit of friendship.

This unprecedented event is for runners of all abilities. New runners who are just starting out are invited to sign up, train and run a five kilometer event called "Kick the Couch 5k" with new runners all over the world who may never have thought it possible to rise off the couch and experience an active way of life. Through this website (www.WorldWideHalf.com) you will be able to register for the event (Half Marathon or Five Kilometer races), choose and follow an online training schedule (through www.BuckeyeOutdoors.com) and run your choice of an official road race, or your own personally organized event on or about the weekend of October 11th and 12th. As you participate, you will feel that you are part of a community of friends all over the globe, who will support you, encourage you, and are sharing this experience with you as you run your event locally.

Join us in this exciting and real global event. We look forward for you to share your piece of the world. From every continent, all over the world at the very same time, someone will be running with you! Join a truly global community of fellow runners in a free, non-commercial event that celebrates the joy of running, with the challenge of a race! Share your local experience with a world-wide audience of fellow runners in the Phedippidations World Wide Half Marathon and "Kick the Couch" 5K road race!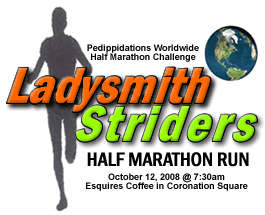 The Ladysmith Striders version of this year's Phedippidations Worldwide Half Marathon Challenge will be the inaugural Ladysmith Striders Half Marathon Run. The course has been set at 21.1 kilometers using Google Earth measuring devices and will take participants from Esquires Coffee at Coronation Square in Ladysmith on a picturesque out and back route through the seaside communities of Saltair and Chemainus . This unofficial, loosely-organized October half-marathon will have some structure but really leans towards a fun-run with a bunch of running-buddies, new-found friends, and neighbours. A Ladysmith Striders Team has been already been established on the Phedippidations Worldwide Half Marathon Challenge website and Ladysmith Striders are invited to join up and "think global and run local" together.
To learn how to register and to access half marathon resources, visit the frequently asked questions webpage.

Click for Larger Images of Half Marathon Run
Course Description for Ladysmith Striders Half Marathon Run
Map 1 - As usual for our Ladysmith Striders Sunday morning runs, the start will be at 7:30am in front of our favourite java stop Esquires Coffee at Coronation Square. We begin this 21.1k run by crossing the Trans-Canada Highway at the first opportunity and veering left to complete a loop through the neighbourhood in behind the old Arcady Auto Court where Pamela Anderson will soon be constructing her hotel, convention, and training center. Proceed south following Chemainus Rd. all the way down to the Lagoon Bridge and uphill to South Oyster School Rd. Turn left on South Oyster School Rd. and run downhill until Seavista Rd. appears on your right. (0-5k)

Map 2 - Turn uphill on Seavista Rd. and then left on Seaview and follow the curving road onto Seaview Crescent and back up to Seavista again. Turn left on Seavista and continue past Bala and Pauline's home where Seavista become Olsen Rd. and follow Olsen Rd. all the way back to Chemainus Rd. Turn left on Chemainus Rd. and run the old highway for nearly 3 kilometers or until just before Cook Street. Just before Cook Street look to your left and take the paved pathway that goes through to the new high-bank sub-division that over-looks the ocean. (5-10K)

Map 3 - Proceed to the left around the paved streets onto Island View Close past the Cook Street intersection and run downhill to Daniels Street. As you turn right onto a new section of Daniels Street you will past the half-way marker about 10 meters up the street. Follow Daniels until you reach the Chemainus High School where you turn left on Elliot Street and follow Elliot all the way to the high-bank waterfront viewpoint. Sweep to the right past this spectacular ocean vantage onto Seaview Street and take the first left onto Esplanade Street and then right onto Cedar Street. Cedar Street crosses many Chemainus streets before it joins up with Chemainus Rd again and be sure to watch for traffic at the busy Oak Street crossing. Once back at Chemainus Rd., go right and run until angling to the left onto Old Victoria Rd. Run the full length of Old Victoria Rd until it joins back up with Chemainus Rd. in Saltair but be sure to enjoy views of the Gulf Islands as it is probably the highest point on the half marathon run. (10-15k)

Map 4 - Shift gears here when rejoining Chemainus Rd. and take her downhill past Jared's Corner and on out to Byron's' FoodMarket before running easy downhill to the Lagoon Bridge again. Hope you saved some energy for the next few kilometers as it is an uphill grind for kilometers 18 and 19 for some real elevation. Once on top it is all downhill to the finishing line which is just short of the traffic light where Chemainus Rd. intersects with the Trans-Canada Highway. All that's left now is a cool-down walk and maybe a stretch before sauntering over to Esquires Coffee for a well deserved Cup of Joe. This course was measured by Google Earth and may be a few meters out in either direction. I consider this course a real "hill-tamer's" run and it's typical of the general terrain traversed by the Ladysmith Striders on a weekly basis. (15-21.1k)
The Ladysmith Striders joins Phedippidations in promoting the Worldwide Half Marathon Challenge for the weekend of October 11-12. There is also the Kick the Couch 5K Run and a run promoted by the Another Runner Adam Tinkoff called the Zen Runner 10K. The point is that the running community will be hitting the trails and pavement with runs of varying distances and there is nothing that excludes runs of other distances. Take for example the recent dialogue that fellow Ladysmith Strider Bruce had with Phedippidations Podcaster and Worldwide Half Marathon Challenge Administrator Steve Runner. Bruce shared some thoughts...
"about increasing speed and racing distances less than 15 km and wondered if running an 8k race on the Worldwide Half Marathon Challenge would be considered participation in the challenge?"
Steve Runner offered the reply...
"Bruce! Of course you can run an 8k for the Worldwide Half Marathon Challenge! The main purpose of this event is to share your training and experience with everyone... I've had a lot of emails asking if it would be okay to "walk" a 5K or "bike" the Half Marathon... and the answer is yes! Of course! We just want to participate with you! I know it sounds a little "wacky" to those who don't understand the whole philosophy of building a social network of fellow runners and athletes, but it's not that big of a world anymore: and the Worldwide Half Marathon Challenge is all about using the Internet to "connect" everyone virtually, and for real! Run long Bruce! Best of luck in your training!"
So gear up for October fellow runners. The whole idea is to get active and get together doing the same thing at the same time with other runners from all over the world. We can run any distance we want so let's give the Phedippidations Worldwide Half Marathon Challenge a chance. Let's think global... run local!


June 11, 2008 - Edge2Edge Marathon Team Relay - Striders Race Report -- Pulling the window drapes back revealed a drizzle of sunshine when the Ladysmith Striders marathon relay team readied themselves on race morning - that is, sunshine of the liquid wet-coast variety. Words of disappointment fogged up the window glass on the B&B basement suite that had become home-base for the relay team which added more grief to the mood of the running ready. The rain drizzle was most-like a heavy mist that one might encounter when stepping out of a hot shower or even a rainbow mist in the vicinity of a waterfall where up close the heavy air is cool to the skin. This is typical June weather on the west coast and local weather channel reports did not give much comfort as the area seems to be receiving 100% of the 20% chance of precipitation that the meteorologists were calling for. And copious amounts of coffee and slump-shouldered staring did not seem to make a bit of difference.

Five Ladysmith Striders made their way to Ucluelet to run the team relay of the 2008 Edge2Edge Marathon. The event consisted of three events with the full marathon and team relay starting at Tofino for a point-to-point course, and a half-marathon starting at Ucluelet on an out-and-back course that captured the Wild Pacific Trail on the windswept side of the peninsula, and enjoyed huge support from both communities. The marathon course was also very unique as participants take to the firm sands of Chesterman's Beach near Tofino for a kilometer or so which was topped only by the breath-taking scenery of Pacific Rim National Park.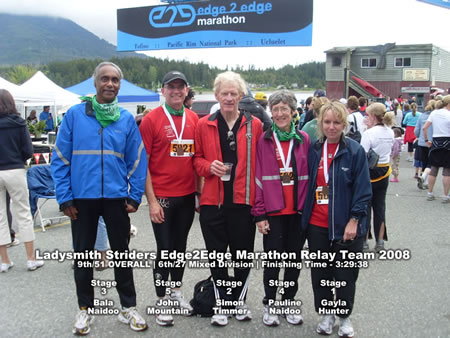 By the time the first and second stage runners Gayla and Simon were dropped off at the 7am Tofino shuttle bus, weather had started to change for the better. Gone was the mist, gone was the drizzle, gone was the slumped shoulders, and gone was the treachery of the weather channel. Bala, Pauline, and John took later shuttle buses which deposited them at their targeted staging areas.
Another Ladysmith team brought our friendly mid-island contingent to ten. Todd and Eliina traveled over with friends Cory and Gwen from Victoria, and Lori Ann from the northern BC community of Vanderhoof. Their "Runner Up Relay Team" finished in a respectable time with Lori Ann starting them off followed by Eliina, Gwen, Corey and Todd bringing them home of the finish. While there were some challenges encountered along the way, it was all cheers and smiles at the finish line.

Gayla lead-off the Ladysmith Striders relay team with an up-tempo trot out of Tofino. Gayla drew the high-light stage by both participating in the gala start event and by running the beach portion of the marathon course. The team checked out the beach the day before the race and found a number of surfers valiantly carving the rollers into less damaging size waves as a measure to protect the beach course from the pounding surf. While their efforts were appreciated, there were no apparent lasting results. Gayla ran an impressive stage and reached the stage two transition area under her predicted time and handed off to Simon.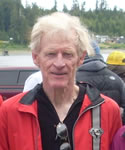 Simon left the transition area like a scalded cat and was soon over-taking the field. Stage two was the longest segment clocking in at ten kilometres of rolling hills that culminated with a gradual downhill to Long Beach. This part of the marathon course was designed to shake up the participants as the highway rocks'n'rolls it's way through the Pacific Rim National Park boundaries in a series of dips and darts and then a number to straights that a runner can really put the hammer down. Even though Simon was over-dressed for the quickly changing weather, he flashed over the ten kilometers and arrived at the stage three transition area in a very respectable and truly world-class time of forty minutes.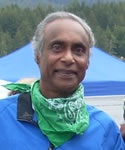 Bala took the high-fives from Simon and released his own hounds to the only really formidable hill on the marathon course. Pulling down the two kilometer stretch that preceded the hill, Bala had a chance to gather his wits and prepare himself for pain. The hill begins on the flats adjacent to the beach and leaves behind the sound of the surf and then climbs up on top of a plateau that provides a base for a ribbon of highway that stretches all the way past the stage five transition area to the foot of Ucluelet inlet. It is the shortest segment on the course but can be quite punishing for those that don't heed the kilometer long uphill and reserve some fuel for the long straights beyond the summit. Bala was soon past the aircraft-guidance antenna towers for the nearby airport and through the a broad chasm that dips the road below the tree-line before giving way to the fourth stage transition area at Landfill Rd. Bala wisely ran a conservative pace on the fourth stage and arrived almost on the second of the time he predicted which allowed wife Pauline to be completely prepared and ready for the hand-off.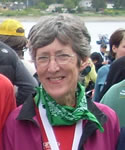 Pauline launched into stage four where in past years menacing wild-life had been regularly reported. In previous marathon events, race organizers had cautioned participants about the presence of bears that had occasionally lumbered out onto the road looking to feast on Lycra and shoelaces. Like visiting a supermarket, bears had been known to approach the road and treat it like a snack-food aisle by examining the marathon runners and simply "check-out" the more meaty ones. Thankfully for Pauline, the dine-and-dash bruins have been put back onto a salmon and huckleberry diet and weaned off the Edge2Edge Marathon variety-paks, and despite the thought of outrunning any furry forest-dwellers - not that she would provide much of a meal for any bear with shopping on his mind - Pauline shaved three minutes off her predicted time and received a hug from John when she arrived at the stage five transition area.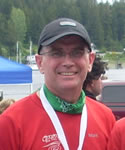 A few minutes after John's warm-up run, Pauline was spotted threading her way through the approaching marathoners with power to spare and within minutes the two had touched sending John into the last stage of the event and on to Ucluelet. The final stage is a series of hills and hollows stretched out over 9.8 kilometers of twisting highway which John is familiar with and he wasted no time in gunning it to create a gap between himself and the following runners. Over the first four stages Team Ladysmith Striders has set the table for a 7th place overall finish and it was up to John to bear-down bring it all home. It would have been such a great ending if it had in fact played out that way, but it didn't. Two teams of young men had saved their thoroughbred horses for last and in no time they were reeling John in with the first to lope past him after two kilometers and the second to challenge him with two kilometers to go. The first young man literally blew by John with foot strikes that seemed to be six-to-seven feet apart - the young man was literally gobbling up real estate two meters at a time - very impressive. The second challenger slowly closed the gap over the last few kilometers and kicked his way past John just as they were racing into town towards the last imposing hill. John actually closed the gap a bit on the uphill grade but by the top was pretty-well spent and running on petrol-fumes. This gamble allowed the younger lad to re-capture the gap on the Larch Street section.
At this point the marathon course at Peninsula and Matterson is at its highest elevation on the Ucluelet end and it is here that the fun begins with a one-half a kilometer of downhill all the way to the finishing chute. And what a downhill it is with varying inclines that drive your tender feet down hard into the toe-boxes of your shoes. In the end, youth won out as the faster man held John off and scampered to an eighth place finish in the relay overall with the pursuing Ladysmith Strider running really hard right up to the tape. John finished up with a 43:27 time for 9.8 kilometres giving the Ladysmith Striders ninth place overall in the marathon relay with a 3:29:38 finishing time which was good for sixth place in the mixed marathon team category.

The Ladysmith Striders Marathon Relay Team wish to offer congratulations the organizers of the 2008 Edge2Edge Marathon for providing runners with a world-class event and to the many residents of Ucluelet, Tofino, and surrounding area who volunteered their valuable time to assist the organizers in bringing it all together. Again you have provided us runners with some weekend fun and showcased your community to participants that in some cases travel great distances to take part in the event. Congratulations!
Click Photos to Enlarge.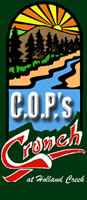 May 26, 2008 - COPS Crunch Adventure Run - Striders Race Report -- Congratulations to the Ladysmith Striders that participated in the 6th Annual COPS Crunch Adventure Run. And like a true adventure, runners seemingly descended into the depths of the Holland Creek abyss to steel themselves against both the perils sudden elevation change and inadequate traction of their foot strikes.

It was like moving into another world where the dark and ominous Lord of the Rings forest looms large and you are drawn forward like hunter's prey to be wholly consumed by its labyrinth of steep trails and shadowed hollows. When tipping into the forest off of Maki Rd a sense of danger filtered up through the trees as the hush of falling water filled cautious ears with dread and trepidation. Trail runners were greeted with the decidedly earthy fragrance of decaying forest debris and the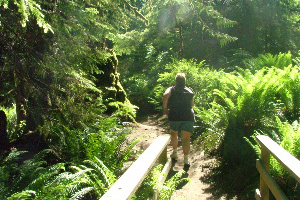 noticeable thickening of air that was apparently disposing off its heat and humidity through fading slivers of sunshine that weakly pierced the ever-tightening tree-top canopy. While making the descent it was too early in the race to enjoy the cooling effect that the air brings to the body yet still hoping that the heavy air would remain until faced with an ascend of the same hill when the course loop back to join again at this shaded junction.

Upon reaching the main trail and after a gentle ascent to a foot-bridge that frames picturesque Holland Creek, runners attacked middle-earth's steepest and most unforgiving uphill grade and worked hard against the relentless ankle pulling of mythical Wargs and Balrogs that covertly sucked the valuable energy out of the thighs of every runners that attempted to run the climb. For those who were able wiggled free from the awful grasp of these underworld-beings, the loud throbbing in their ears was not the rhythmic dissonance of their thumping heart but in fact was the whispering laughter of the Wargs and Balrogs who were happy to mettle in ever runner's race plan.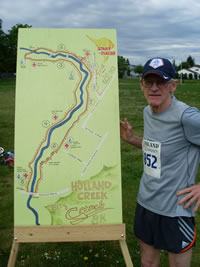 Now an interlude of recovery as the trail falls away for two kilometers of undulating hills of excavated pathways and rudimentary stairs. Down through muddy hollows with protruding roots and rocks which runners more or less just try to survive. And misery came in places where the trail seem to jump and come alive gobbling up runners in what appeared to be a calculated effort to consume both sweat and flesh, and then like spent gum spitting them down hard into the earth to taste the dirt of their demise.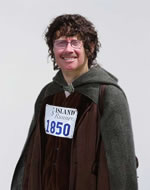 On this day it was not Hobbits Frodo Baggins or Samwise Gangee, or even pathetic Gollum that braved these middle-earth pathways, it was the Ladysmith Striders and others who pitted their bone and muscle against the dire consequences of elevation and gravity. For some, there was pain of shredded flesh and oozing blood. And for others there was the reward and sweet taste of victory over a daunting middle-earth race course from hell. Luckily, there were no wounds too severe and too long-lasting that won't heal in time for this Lord of the Rings adventure to repeat again in twelve months time. Reach out and touch the ring, Frodo... er... I mean Ladysmith Striders... grab the ring!

There were nine Ladysmith Striders that valiantly tackled this challenging adventure run. Congratulations to all Ladysmith Striders for their first-rate efforts to complete the ravenous course and thanks to the organizers and volunteers to the 6th Annual COPS Crunch Adventure Run for all their hard work and of course, for looking after us runners along the trails. Volunteers make this race happen and without the dedication of these folks we would not be racing. A nod of the head goes out to Phil Nichols who brought the Island Runner booth up from Victoria and who reminds us all that the Chemainus Twilight Shuffle is on a Tuesday Night this year on a brand new course. Scribble June 17th onto your racing calendar.
Special recognition goes out to Simon Timmer for his fine placing in the top five finishers and determination to finish, and to Dolly Brown for her finish in the top five female category. The unofficial list of Ladysmith Striders finishing results are outlined in the table below.
6th Annual COPS Crunch Adventure Run 8K - May 25, 2008

Position

Ladysmith Striders Results

OA

Group

Name

Time

Race Recognition

1

3

M6569

Simon Timmer

39:42

Top 5 Males; 1st/M6069

2

12

M5059

John Mountain

43:51

2nd/M5059

3

18

F4049

Dolly Brown

46:47

Top 5 Females; 2nd/F4049

4

22

M6069

Bala Naidoo

47:40

3rd/M6069

5

30

M4049

Philip Howard

50:46

6

32

F6069

Pauline Naidoo

52:14

1st/F6069

7

46

F4049

Deb O'Shaughnessy

55:50

8

49

M5059

Bruce Youngren

56:40

9

54

F5059

Gayla Hunter

60:09

2nd/F5059
Click to enlarge images found below.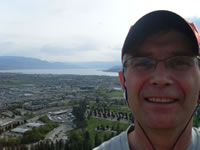 May 7, 2008 - John Half-Fast Run Report - Defying Gravity -- Maybe pencil me in under crazy because I decided to workout on hills today. And in case you didn't know, runners should mix some hill training into their workout routine. Furthermore if you didn't know that, you should be aware that it promotes the development of lower leg and quad strength, yes... that's why you do it. And even though hill training also strengthens you mentally, others might think you are a little mental for doing it. I know that completing these tough hill workouts will help you deal with the physical discomfort of racing, but if you must know the truth, gravity can be a punishing force. Not sometimes, but always.
I've been thinking about gravity lately because I had heard that there are some places on earth where up... is really down. Yeah, that's right. There are some places on earth where gravity is so strong that it can mysteriously pull a person uphill. I think of this while strolling out to the street from my hotel here in Kelowna and then gaze to my right up to the heights of Dilworth Mountain. I run here quite a bit. Kelowna is surrounded by hills on three sides so choosing a hill on which be punished is only a matter of deciding on the degree of difficulty you'd like and if from out-of-town, the proximity to your lodging. Dilworth Mountain is both close by and punishing. Where's a gravity hill when you need one!!
A gravity hill, also known as a magnetic hill (and sometimes a mystery hill or a gravity road), is a place where the layout of the surrounding land produces the optical illusion that a very slight downhill slope appears to be an uphill slope. -- Wikipedia, The Online Encyclopedia

This run happens to be a favourite of mine and it's just about 7 miles long beginning as a snake up Dilworth Mountain in a counter-clockwise direction. This approach to Dilworth Mountain is the steeper one of three possible routes and I chose this direction in order to get the vertical bit over first. I peeled out of the Dilworth Inn parking lot veering right and after threading the traffic light at Enterprise and Dilworth I warmed the legs with an easy pace for about half a mile. I began my assent by bumping over the railroad tracks that lie at its base and then steeled myself for the punishment ahead by trying to divert my

pre-occupation with pain with the expanding views of the city as I gained altitude. After climbing in this fashion for eight minutes or so, the road tips downhill at the one mile mark for a short distance and then tilts uphill with a vengeance at Summit Drive. It's a left turn on Summit and really folks, it's almost straight up. The road twists up through the trees as it reaches out for a saddle summit between two adjacent hills and from there it flattens out and provides a welcome breather from the unlawful grip of gravity. Another short downhill clouds your mind with wishes for the mysterious gravity road but alas, those thoughts are quickly forgotten as the running route requires a hard left uphill into the Chilcotin sub-division. It's onward up though the stately homes on Chilcotin Crescent in a counter-clockwise fashion until the cliff-edge residences of Chilcotin Villas come into view.
A car left out of gear on a gravity hill will appear to be rolling uphill. The most important factor contributing to the illusion is a completely or mostly obstructed horizon; without a horizon, judging the slope of a surface is difficult as a reliable reference is missing. -- Wikipedia, The Online Encyclopedia
The climb up through the Chilcotin Villas is as challenging as it gets. Homes in this four-year old gated community literally hang over the south cliff face of Dilworth Mountain and yield the most unbelievable views of the Okanagan Lake for who I

assume, must be very wealthy home owners. I have run this stretch quite a few times since construction began and I have learned that you have to just wrestle gravity to the ground by gutting it out to the top. It's a tough grunt on the way up but the reward once you get to the summit is well worth it. That is, of course, only if you have an appetite for a little assertiveness because once there, you must slip open the gate adorned with "DO NOT ENTER" and quietly jog between the last two houses on the street to claim your prize. But be careful to close the equally forbidding exit gate dressed with "NO ADMITTANCE" once you politely pass though the forbidden zone... well, I don't know what the consequences would be, but hey... they have to catch you, right? Even with my mind in a run-induced fog I'm puzzled why an obvious public access to a public viewpoint would have such intimidating signage. What for? To keep the riff-raff runners out?. Geez, it good thing I'm a respectable and trustworthy kind of guy!
When encountering a gravity hill, objects one would normally assume to be more-or-less perpendicular to the ground (such as trees) may actually be leaning, offsetting the visual reference thus tricking the eye. -- Wikipedia, The Online Encyclopedia
Views from the south facing summit are pretty awesome. In close Kelowna spreads out its patchwork quilt of homes and condo blocks with squares of industry stitched at intervals along many wide and well-traveled roads. Looking farther out orchards leak out of the distance hills and seemingly unroll like a carpet whose green edges lap right up through the Mission district and beyond. This late in the day, Okanagan Lake seems to hug the west-bank like a ribbon of expensive fabric whose silvery threads attract and then reflect the shimmering light of the late afternoon. As the sun begins its daily disappearing act, the light fades behind the rim of western mountains that I'm sure were formed eons ago to protect the Okanagan Valley from the vulgarities of the lower mainland. Looking north the slopes of Big White ski area are still visible behind the Rutland hills which show the broad scars of developers who have been carving its slopes up in reckless abandon as if the community of Rutland was racing Kelowna for the rewards of population. The sights of the city below from this little known viewpoint are quite incredible and worth seeking out. This place is really a Garden of Eden.
Click the images above to enlarge to photo size for viewing. Click the image below to view a Youtube.com video.
The grind of the assent lasted about thirty minutes and for the descent I intent to take a little extra time as I plan to explore one of the neighbourhoods below Dilworth Mountain - a neighbourhood that flanks the Kelowna Golf & Country Club. Tipping back downhill from Chilcotin Villas I pause to snap a couple of shots of the developing heights further back on Dilworth in the direction of Glenmore Rd. Here again, residential development seems to be shouldering out orchards that used to completely cover the upper reaches of the Glenmore Valley. Click the images below to enlarge for viewing.
With my feet pushed firmly into the toe-boxes of my new NIKE Structure Triax 11s, I continue my descent left on Bowron where I rejoin Summit Drive a few blocks below from where I turned off earlier. I lift my arms and hands somewhat and extend them out in front a bit in an effort to improve my downhill running form. I find this balances out my stride as it tips my weight onto the balls of my feet which then reduces the pounding heel shock associated with downhill running and when combined with a slight wind-milling of the arms, becomes fairly comfortable. I consider it an appropriate defense against the punishing force of gravity.
"Gravity is a force pulling together all matter (which is anything you can physically touch). The more matter, the more gravity, so things that have a lot of matter such as planets and moons and stars pull more strongly."
I leave Summit Drive behind and continue downhill. I cut strategically down through an old side-road and then along the edge of an apple orchard to an older sub-division lying well below Summit Drive. This residential area flanks the Kelowna Golf & Country Club and it is new to me. I have never run these secluded streets with their well-groomed yards of overly-mature landscaping and I can only suppose that it was a privileged neighbourhood of the rich and famous in an earlier time. It's a quiet neighbourhood that is tucked up close to the base of the Dilworth Mountain cliffs. This area is around the four mile mark on my map below. Click the images below to enlarge for viewing.
I notice the early evening commuter traffic is picking up when I arrive where Summit meets Spall. Spall not too long ago was a narrow two-lane road but in the last five years has become a wide four lane street that bisects the Glenmore area which is now mostly residential. This new and improved street now acts as a major conduit for downtown traffic and at Summit intersection it falls gently for a couple more kilometers to where it joins up with Highway 97. I slip into an easy gait and head downhill letting gravity work with me rather than against me. I get as far as the FortisBC Sub-Station where to my surprise I spot a new opening in the chain-link fence and I'm compelled to explore this new trail with possibly a new adventure attached to the end. The trail is dirt and seems well used and I suspect it's being used by cycling commuters who could might be linking up with the new cycling path build adjacent to the North Central Connector. I shuffle through the opening in the fence and after running through the sandy field of what must have been an abandoned orchard at one time, I found myself coming up on an expanse of deserted concrete. Part way across I realized the concrete expanse was once the employee parking lot of the Kelowna Western Star Trucks Manufacturing plant who are long gone now as they were purchased by an American truck builder and subsequently closed it down. So much for free trade.
Newton's gravity was replaced by Einstein's general theory of relativity early in the 20th century. Einstein suggested that matter and energy warp space-time the way that a heavy sleeper sags a cheap mattress, causing planets, basketballs and light beams to move in curved paths instead of straight lines.
One of my racing strategies is running tangents - that is, running the shortest distance between two points or in racing sense, the apex of corners. You might say that on this run I was replacing Newton's law of gravity with Einstein's theory of relativity when I bent that straight tangent line onto the curved path behind that FortisBC sub-station... or you might say that I was trying to warp space-time in favour of a quicker way between two points in order to find a shorter way back. Well... the exploring behind FortisBC ended up being a short-cut back to my hotel because once through the abandoned parking lot Hardy Street presented itself and I actually slashed a few blocks off my intended route. With a left onto Enterprise and I was back in my temporary lodging. Wow... in the space of about an hour I conquered the law of gravity and received a science lesson on relativity to boot... cool!
Click the map below to enlarge the image and check out the route.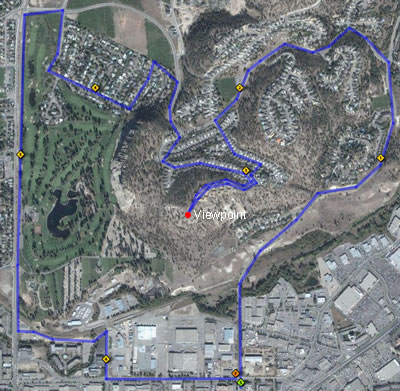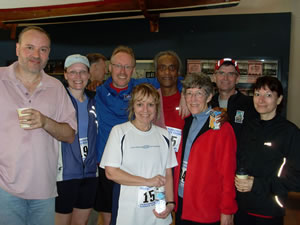 April 13, 2008 - Sooke River 10K Striders Race Report -- A huge contingent of Ladysmith Striders made their way upstream in the Sooke River 10K this year and netted themselves official recognition at the trophy ceremony. The Sooke River 10K is the final race of the Frontrunners Island Race Series and it turned out to be a fine catch for many that tested the water. Over 350 runners toed the line in front of Edward Milne Community School and rushed forward on the starting call seemingly swimming shoulder-to-shoulder for the first bend in the course; a colourful river of determined runners fighting for position in a stream of winners. The Sooke River 10K is the wind-up event for the entire Frontrunners Island Race Series and what better place to hold it but on a course that parallels the Sooke River on a winding road to the Sooke Pot-Holes and back. It's a great event that requires participants to commit to and execute their race plans with care - for to do otherwise is to chance being turned into lipless crankbait on the undulating hills.
And from the start, many runners noted the challenging course and picked the road's calmer channels to get ahead while still doing their best to reel in the front runners; like playing catch-an-release in real sporting fashion. The one daunting hill near the middle of the route caused much lip-biting and those who worked hard to pace themselves on through the elevation in accordance with their race plan were rewarded and able to enjoy a serge of welcome energy to fuel their second hill encounter on the way back. The nature of an out and back course allows predators to see prey as they approach and retreat from the turn-around point which can cause some to bolt hard on the return making the running game more competitive for some. In the end, there was a minimal amount of lipless crankbait casualties and a steady stream of runners and walkers returned to the finish to claim the times that they fought so hard for.

The race was a pleasure to run and on behalf of the Ladysmith Striders I want to congratulate the Island Road Racers Sooke River 10K race organizers for a success event and offer thanks to the volunteers who provide much of the grunt work to set up the course, supply the wonderful food, emcee the awards event, and provide traffic control. Thanks for all you do.
The Ladysmith Striders fielded a group of more than thirty individuals with two groups joining hands from the Esquires Sunday morning running group and the Town of Ladysmith 10K Learn to Run and 10K Walking Groups. Their efforts were greeted with much success as Ladysmith Striders were recognized in the awards ceremony as top-ten finishers no less than thirteen times in accordance with their corresponding age groups. The Ladysmith Striders were so successful on Sunday that they achieved the second highest total points gain overall and were only topped by the mighty Prairie Inn Harriers - an extremely significant result.
The Ladysmith Striders results are outlined in the table below. Click the participant names to view individual statistics which will open in a separate browser window. As a result of our huge gains - with a large nod to the Ladysmith Striders Town of Ladysmith Division - our club moved up to finish the Frontrunners Island Race Series in 12th position. The Ladysmith Striders was probably the most improved club overall out of 84 identified running clubs participating in this year's Frontrunners Island Race Series. Way to go Striders!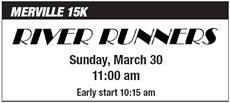 March 30, 2008 - Merville 15K Striders Race Report -- Congratulations to the Ladysmith Striders that braved the frigid temperatures at the Merville 15K. The weather turned cold in Merville on Sunday which resulted only the dedicated gathering in Merville Community Hall to pace out some awesome times in spite of the unusual weather and as a result, only 294 runners participated in this year's event which started just south of the community hall and was the feature race of the River Runners of Campbell River. Thanks to River Runners for organizing the event and to the volunteers that made it all possible. As runners, we really appreciate the time and effort that volunteers offer to make our sport possible.
There were four Ladysmith Striders that made the long trek up-island and special acknowledgement goes to long-time Island Series participant and Strider newcomer Simon Timmer took the field in his age group with a sizzling 4:15 pace resulting in a very respectable sixty-three minutes and forty-five second finish. Top-ten finishes again for the Naidoos who were also "cooking with gas" on Sunday and a fine running performance from Tiffany Smith rounds out the Ladysmith Striders participants. Special mention also for Tiffany Smith who has run in all island series races this year and has been faithfully racking up Frontrunners Island Race Series points for Ladysmith Striders club standings.
The Ladysmith Striders results are outlined in the table below. Click the participant names to view individual statistics which will open in a separate browser window. Our club is still holding 13th position out of 84 identified running clubs participating in this year's Frontrunners Island Race Series.
Merville 15K - March 30, 2008

Position

Ladysmith Striders Results - 4 Finishers

Club

OA

Group

Name

Club/Sponsor

Time

Pace

Points

Individual

Club

KM

Mile

New

Old

1

40

1/13

1:03:45

*

4:15

6:50

656

667

20

2

133

5/13

1:15:29

5:02

8:06

554

563

16

3

186

9/22

1:22:32

5:30

8:51

568

515

12

4

199

2/6

1:23:21

*

5:33

8:57

568

510

19
The final race of the Frontrunners Island Race Series takes place in Sooke. The Sooke River 10K is sponsored by the Island Road Racers and the event is accompanied by the Frontrunners Island Race Series awards ceremony. The course is a certified out and back along Sooke River road which is known for its scenic qualities and its undulating hills. This final race begins at Edward Milne School on 6218 Sooke Road at 11am.



March 30, 2008 - Chemainus Twilight Shuffle Extended to 5K for 2008 -- The 2008 Chemainus Twilight Shuffle will be held on Tuesday, June 17th. The course has been updated for 2008 and will no longer include hills! The distance has also been updated with a much requested change to a 5km race/fun run.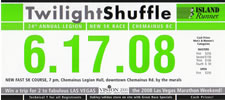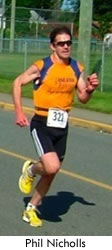 The Chemainus Twilight Shuffle was first held on July 1, 1984 as part of the festivities for the Canada Day celebrations and is one of the oldest races on Vancouver Island. The race has always be held on the main road in Chemainus with the start and finish lines at the Chemainus Legion. There were approximately 100 runners at the first race and it has now grown to the one of most popular run events with last year attracting nearly 1,000 participants. Over the years the Chemainus Twilight has seen Canadian Olympians, Commonwealth team members, as well as Kenyan athletes participating.

Phil Nicholls has owned and operated Island Runner Footwear for the past 20 years and is the original organizer behind the event. Phil grew up in Chemainus and he's proud to say the "Shuffle" has become a Chemainus tradition. Local Branch 191 of the Royal Canadian Legion has been an enthusiastic supporter since the beginning of the fun/run race and will continue for the 24th running of the race on June 17th, 2008.
For more information and online registration, go to the Island Runner website.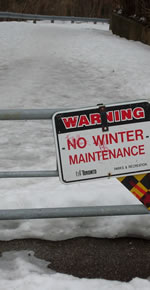 March 28, 2008 - John's Half-Fast Run Report - Junk Miles in Toronto -- I picked a route that would protect me. The hotel thermometer laughed zero degrees when I crossed over Mt. Pleasant Street which seemed to automatically cause an adjustment – not an adjustment in my intended direction for I had carefully planned the route to vantage every opportunity for cover – cover from the wind that is, as it sweeps up off the Lake Ontario with strength. No – I adjusted my jacket from the wind's penetrating cold hands that might at any opportunity lay its icy fingers upon my bare flesh – the reward a shudder, a huff, a gasp. In defense, I zipped throat-tight and latched my Velcro cuffs with a gentle pat while leaving only my exposed ears to a fearsome burn that would surely set-in once the thawing commenced upon my return. I made the adjustment and padded up Mt. Pleasant Street to my first turn at Erskine Avenue.
"Out of the bosom of the air, out of the cloud-folds of her garments shaken, over the woodlands brown and bare, over the harvest-fields forsaken, silent, and soft, and slow descends the snow." -- Henry Wadsworth Longfellow

The avenues provide protection and my plan was to run east/west on avenues in order to avoid the north/south streets that acted like funnels pulling the wind off the lake. Running the sidewalks proved to be a bit of an obstacle course however as many empty refuse containers from an earlier trash pick-up seemed content to gallop their windy way through lanes of traffic with little attention to whichever homestead they belonged; the whinny of flying lids and rattle of cans would certainly be a symphony of despair once rightful owners decide to match up this equine mess. I shielded my ears and threaded my way to Mt. Hope Cemetery at the end of the avenue.

Mount Hope Cemetery was the second Catholic cemetery in Toronto not attached to any parish and now is the only active Catholic cemetery within city limits. Lying near a ravine and tucked in leeward side of a hill, the cemetery with its meandering roads and massive crypts provided me convenient respite from the wind's handiwork - bone-cold fingers that were pawing my jacket fringes seeking a gasp of flesh - I cut the wind off at the elbows with a quick shrug.
The snow in the cemetery lay heavy on the north side of the graves - their headstones standing erect to catch the residual warmth left by the fading sky and seemingly unwilling to share any of it with the soil behind. The radiating results reflected forward onto the broad blanket of white that dripped its what was left of its life into the ditches and seeped into its final resting place in the earth with others. I picked up the pace and flew towards Bayview Street which was good because I sensed an eerie feather-light tug on my shadow as I passed through the heavy stone perimeter gates. I quickly crossed the Bayview and was onto Glendale Avenue in a flash.

"In the bleak midwinter, frosty wind made moan, earth stood hard as iron, water like a stone; snow had fallen, snow on snow, snow on snow, in the bleak midwinter, long ago." -- Christina Rossetti

Rolling down Glendale Avenue and to the left up Sutherland Street into the Sunnybrook Hospital grounds and then carefully half-running half-sliding downhill into the ravines of the West Don where the bulk of Sunnybrook Park resides. The melting trails were giving up bits of trash and debris that they must have been holding onto for the last few months and now with the waning winter weeks, were ready to spit the bits and pieces out for inspection and subsequent cleanup. Down the slippery pathway and across the West Don tributary and onto the cleared roadways that snake the valley floor. I veered off-road first chance I got to follow the water channel downstream through the wooded thickets and sloppy white trails which in my mind came right out of the Wuthering Heights thriller. Grotesque shapes masquerading as trees and gnarled

twisted branches leaned out to touch your shoulder as your dipped and weaved under the imagined book-legend forest. While missing only the ground mist, the sound of snow dropping from melting limbs was startling and unwelcome. I was with great relief when to burst forth onto Eglinton Avenue for the final two miles back to the hotel as I feared a dragon had been unleashed behind and was ready to inhale me. And if you suggest that I bend the truth, click the picture to the right and see for yourself.
"Whose woods these are I think I know. His house is in the village though; he will not see me stopping here To watch his woods fill up with snow." -- Robert Frost
Back into the traffic at street level, I trotted uphill on Eglinton Avenue past shopping malls populated with urban zombies and parking lots filled with the shiny transparent rewards for a full day's work. The scene contrasted sharply with the medieval world that I had just run through. It seemed like I was returning from a warp in time where I was greeted with the dripping of horns and the babble of tires; back to a world called Toronto where the lake wind blows. I shook off the funk and finished up-tempo to the hotel for a seven miler in one hour twelve minutes twenty-one seconds - good run, no regrets, nice sights, no burned ears.

Note of Interest: I took my digital camera along and snapped the photos above. I use my digital camera when running out of town for navigation purposes... and of course taking interesting photos. But to get around safely, I use the Google maps satellite imaging on my laptop where I look down at my proposed running route from space and then zoom in on the image of the section of city that interests me. Then snap a digital picture of my laptop screen to record the route and that way, I can review the image on my run to figure out where my turns are if I think getting off-course. Sometimes I have to take two close-up images of different laptop shots if I'm going any distance. And because my camera has a zoom feature on it, I can zoom in on the street names if I there are any problems reading them. Just made sure you toggle the labels checkbox on Google maps so it shows the street names. Isn't Google great!



March 16, 2008 - Comox Valley Half Marathon Striders Race Report -- The slopes of Mt. Washington must have been pretty quiet on Sunday March 16th as many active residents of Courtenay/Comox were out on the back roads running the Comox Valley Half Marathon. The local online paper described it as "an awesome turnout with great running weather" and trumpeted the success of the event with 498 participants breaking the tape on a rural course that has a reputation as one of the fastest in Canada. Among those nearly 500 runners that lined up for the start were four Ladysmith Striders who drove all the way up from Ladysmith to take part in the only 21K event of the Frontrunners Island Race Series calendar. Thanks goes out to the Comox Valley Road Runners for sponsoring the event and to all those many volunteers that gave up their morning to steer runners around the race course and cheer them on.
Joining three Ladysmith Strider regulars for the Comox Valley Half Marathon was newcomer Philip Howard who paced out a respectable half marathon finishing time. Hopefully Phil will be checking in with the Ladysmith Striders for their regular Sunday runs from Esquires Coffee in the future. Welcome Phil!
Congratulations go out again to the Naidoos for their fine running performance. The fountain of youth must surely be flowing freely in Saltair as both husband and wife turned in youthful half marathon performances of under two hours and it is absolutely amazing to see this pair pace out competitive time for their age groups. Looks like their training and maybe a little imbibing from the fountain of youth has proven very beneficial. Congratulations Bala and Pauline for their pair of gold medal finishes in the Comox Valley Half Marathon.
The Ladysmith Striders results are outlined in the table below with apologies to those whom I may have missed. Click the participant names to view individual statistics which will open in a separate browser window. Our club has now moved up a spot to 13th out of 84 for identified running clubs participating in this year's Frontrunners Island Race Series.
Comox Valley Half Marathon - March 16, 2008

Position

Ladysmith Striders Results - 4 Finishers

Club

OA

Group

Name

Club/Sponsor

Time

Pace

Points

Individual

Club

KM

Mile

New

Old

1

246

1/7

1:47:39

5:06

8:13

558

569

20

2

358

1/3

1:58:51

*

5:38

9:04

562

515

20

3

374

39/44

2:01:32

5:46

8:16

494

504

-

4

388

26/35

2:02:31

5:48

9:21

546

500

1
Next race is the Merville 15K which takes place just north of Courtenay on March 30th and the road race is sponsored this time by the River Runners of Campbell River. The course is a flat scenic panhandle loop with no turnabouts that begins near the Merville Community Hall. Travel north on the Old Island Hwy 15 kilometers past Courtenay and you'll find the run site and hall parking areas marked with signs. This run is the last long run in the Frontrunners Island Race Series.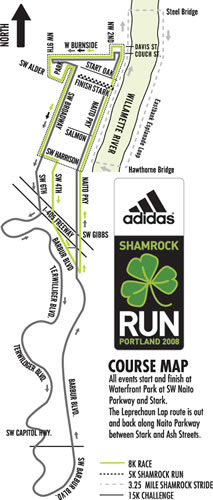 March 16, 2008 - John's Half-Fast Run Report - Portland Shamrock 8K -- Peel the wrapper off any weekend in Portland Oregon and you'll discover a city ready to party. But if you peel the wrapper off a mid-March weekend in Portland, you will find the city green... and its not the green you would associate with environmentally-minded folks that live and work there. No... in mid-March, it's the Irish green you get and you find it everywhere; for the green of St. Patrick's Day coincides with the annual Shamrock Run that has run alongside the St. Patrick's Day celebrations for years. This year was the 30th anniversary of the Shamrock Run and rather than put it on the long finger for another year, I decided to join my sister Jennifer who lives in the fair city and to take in the Portland annual event fairly lively and challenge the Shamrock 8K together.
There were four separate running events planned for the Shamrock Run this year and over 13,000 running leprechauns turned out for the annual event. The Shamrock 15K, the Shamrock 8K, the Shamrock 5K, and the 1K Leprechaun Lap were all run in support of the Doernbecher Children's Hospital Foundation and with so many runners in the Shamrock 8K event, race organizers were forced to seed them in three waves which was just the ticket as 3317 toed the line in the event's staggered start. (not staggering as in ossified, fluthered, in the horrors, langers, locked, or paralytic)
Jennifer and I approached the race on two fronts as we thought it best to spread ourselves throughout the starting field. I checked over my gear and hit the asphalt with the first wave just before oh-nine hundred with Jenny gunning it on the third wave twenty minutes later. And we were great crack to be wearing the green in St. Paddy's running army battling for Doernbecher Children's Hospital Foundation.
The army launched on Naito Parkway and rolled north alongside the Willamette River with a left pivot onto Burnside and double-stepped up to NW 9th with the Pearl on our right flank. Faster runners pressed forward and strung out the battalion among the tall building that guarded Alder and Park and once clear of the downtown paraded uphill on Broadway and Harrison. We charged down Harrison and wheeled right onto SW 4th with a quick-step to the summit at Barbur Blvd and once crossing I-405 we joined up with the 15K frontrunners at the apex of Barbur and Naito.

Runners welcomed the final two miles of sloping asphalt that now separated them from the finished and after the trudge uphill on Barbur I tipped over the hill crest and thundered down Naito Parkway barreling past green Leprechauns and Wee Fairies that were holding out offerings of green beer, shamrock martinis, and donuts. But giving no mind to the blarney they were selling I maintained formation with the rest of the regiment to the wails of the muck savage. And although I was starting to become banjaxed and knackered, the sound of finishing trumpets calling from the finish and a promise of Irish stew with a pint of cool draught was compelling enough to drive another shell into my breech and bravely rocket to victory.
By the time I rolled back into camp the party was in full swing. Imagine thousands of happy green leprechauns cheering each other on in congratulations and in appreciation of the effort. Jen and I finished by meeting out goals of sub 43 for her and top-ten in my age-group for me and we really enjoyed the company and camaraderie of the many runners that enlisted along the way. I met many of Jennifer's friends and work colleagues before and after the race, and I acknowledge them with thanks for sharing their time with me. And although I was de aul' fella, I look forward to stretching out for a few miles with them in Forest Park the next time I'm down to Portland.

A public word of thanks to my sister Jennifer. There is allot that I am appreciative and grateful… you crafted some wonderful meals that were taste sensations… you provided opportunities to explore the city and meet new people… and together we solved the world's problems through meaningful and worthy conversation. It was a great weekend that I will long remember. Thanks so much.



March 9, 2008 - Bazan Bay 5K Striders Race Report -- The beautiful seaside town of Sidney is located on the Saanich Peninsula and normally has a population in excess of 11,000 people. Those numbers swelled somewhat on Sunday as over 600 runners took to the streets for the Frontrunners Island Race Series Bazan Bay 5K Road Race sponsored by Synergy Health Management Ltd.
The Bazan Bay 5K is flat and fast and is known as a great event for first-time runners. It's main attraction is its shorter distance and given the fact that it is in very close proximity to a large population of runners in the Victoria municipalities, it's no wonder the race is so well attended. The Ladysmith Striders were pleased to participate again this year with seven runners making their way down Island for the 9am start - a start that was considerably early considering the switch to daylight saving time rolled over at 2am the night before which drove the start time down to 8am in real time. Even though the start time was a little early for those traveling from up Island, the Ladysmith Striders would like to thank the race organizers and volunteers for their commitment to organize this road race and appreciate the time and effort it takes to hold this popular event.
Congratulation to Pauline Naidoo for her gold medal finish by coming in first in her age group and to her husband Bala Naidoo for placing fourth for his age group. The Ladysmith Striders results are outlined in the table below with apologies to those whom I may have missed. Click the participant names to view individual statistics which will open in a separate browser window. Our club is currently 14th out of 84 identified running clubs participating in this year's Frontrunners Island Race Series.
Bazan Bay 5K - March 9, 2008

Position

Ladysmith Striders Results - 7 Finishers

Club

OA

Group

Name

Club/Sponsor

Time

Pace

Points

Individual

Club

KM

Mile

New

Old

1

247

4/17

23:08

4:38

7;27

562

568

17

2

324

15/43

25:19

5:04

8:09

589

519

6

3

339

1/6

25:32

*

5:06

8:13

584

515

20

4

391

14/37

27:20

5:28

8:48

545

481

7

5

448

18/37

28:45

5:45

9:15

518

457

3

6

472

12/22

29:13

5:51

9:24

510

450

9

7

481

23/37

29:35

5:55

9:31

504

444

1
Next race is a Comox Valley Road Runners sponsored half marathon in Courtenay on March 16th. This is the longest run in the Frontrunners Island Race Series which comes on the heels of Bazan Bay 5K just a short week earlier. The Comox Half Marathon is known for its long climb up into the back country and should produce an abundance of negative-splits as runners make the turn at the top and thunder downhill for the return. Release the Hill Tamers from Ladysmith! Get ready Ladysmith Striders, and good luck!!
Courtesy of Mark Creery Photography


March 5, 2008 - John's Half-Fast Run Report - East Kelowna -- There is nothing nicer than a run up into the rolling orchard lands of East Kelowna. While it is a little early to enjoy the intoxicating fragrance of apple blossoms, any opportunity to scope out this agricultural bench land within a stone's throw of Kelowna's growing urban sprawl can not be passed up. Clear blue skies and a cool snap in the air was all I needed to tuck into my New Balance 858 and head out for an evening run which was super rewarding as I witnessed my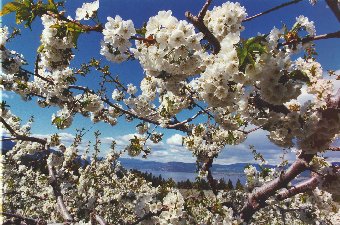 first memorable sunset of the year. There is a hint of earlier times around here that seems so close that you might expect a horse-drawn apple-crate wagon to all of a sudden creak out from between the sheltered rows of trees and bounce over the jade-carpeted boulevards that lap up to the road - boulevards that seem to press aside the rows of fruit trees in order to keep them from crowding together. And the trees grow so close to the paved edge of the road that their juvenile new growth almost reaches out to touch you as you pass by - which leaves you with a sense that nature is determined to begin the growing season sooner than our changing climate might allow. I certainly have no regrets for pushing away from downtown for this easy seven miler this afternoon and it's on runs like this that I really enjoy the sport the most.

Here's a description for my Mission Creek/East KLO Loop Run route for those that might want to knock it off the next time they have a layover in Kelowna. This run is a 7 miler that begins and ends at the Holiday Inn Express on Harvey Avenue. Start by heading out of the north exit of the Holiday Inn Express parking lot and go right onto Banks Rd and then left on Baron Rd. Run up one block and turn right on Spedding Crescent and follow it to the end. At the end you will find a paved pathway that seems to go nowhere, but take the pathway anyway and you will find a hidden narrow pass-through in the chain-link fence that borders the elementary school field. The pass-through is narrow but big enough to allow most of us running folk to squeeze through with room to spare. Now cross the grass school playing field out onto Ziprick St and head to the right towards the distant traffic light.
Follow Ziprick to Springfield and cross at the traffic light into Mission Creek Park where you will turn left and follow the creek-side trail upstream for about 2 miles. The trail almost immediately takes you back out onto the streets for about two long block and but then returns back onto the creek-side trail for the rest of the babbling way. You pass the one mile mark while you were halfway down this street portion before rejoining the trail. But now go all the way up the creek to where the trail crosses East KLO Rd. You passed the two mile mark just as you began that rough section of the trail back at the really sharp bend in the trail really close to the creek. Now leave the trail at KLO Rd and turn right on the road and cross the bridge. Watch for traffic here as the bridge is quite narrow and there isn't much room should you be crowded by a Kelowna SUV.
Alright... now get ready to do some climbing. The three mile mark is half-way up this hill but you won't be thinking about it, you'll thinking burning quads and calves. Bear down for a series of snake-like switch-backs that winds you uphill into the orchards of East KLO and once at the top why not kick it up a notch for the long straight-away that whisks you right across the heart of the orchard bench land. It's here during spring blossoms time that you will inhale an intoxicating fragrance that will burn a place in your memory forever. You passed the four mile mark half-way down that long straight stretch. But now you are at the end of the straight stretch so hook to the left at the corner and take the experience with you up to Neid Rd where you will turn right to begin your decent back to the city.
The five mile mark is at the bottom of the hill takes you back down to the city and it is there that you come upon O'Reilly. Stay right onto O'Reilly and follow the base of the bench land on O'Reilly over a rise and down to Johnson. Turn left on Johnson and go one long block past Johnson Road Park playing fields before turning right onto Hall Rd. Follow Hall Rd past the senior citizens residence and enter Mission Creek Park using a pass-through next to the steel gate that guards the park access road. Head out through the park on the access road and almost immediately drift to the left on the most well-beaten trail through some roller-coaster lumps which bring you to a place at the six mile mark where the trail tips into a steep downhill that leads to a rough log staircase that deposits you at the bottom to the creek-side trail and pedestrian bridge over Mission Creek.
Cross Mission Creek on the pedestrian bridge and veer to the right through the parking lot. Follow the roadway to through the parking lot to the traffic light at Leckie Rd where you will again cross Springfield. Follow Leckie for about a kilometer to Baron and turn right. Follow Baron for a long sweeping block to Banks. Banks is where we started so once you take two more lefts you'll be back to where you started in the Holiday Inn Express parking lot. Welcome Back! This is a great run when the apples orchards are in blossom... the fragrance is memorable. Cheers.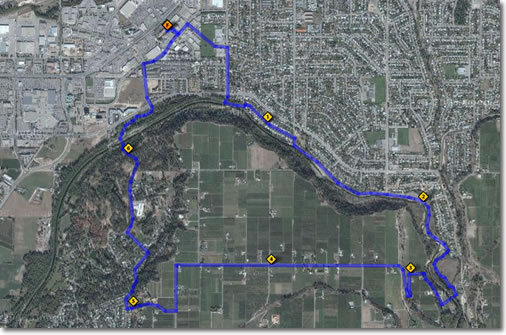 February 24, 2008 - Hatley Castle 8K Striders Race Report -- I continue to be amazed at the number of runners willing to show up year after year to "bag this Munro"... yes, that right... a "Munro". For those without a wee bit of Scot circulating within them somewhere, a "Munro" is a Scottish mountain of over 3000 feet in height and although we find this Hatley Castle "Munro" looming large over the bonnie banks of Loch Lamond... er, I mean Esquimalt Lagoon... it seemed too many that this asphalt energy-sucking hill was only a tad smaller than a "Munro" as many drooling and slobbering wrecks wheezed their way to the summit wailing that non-Gaelic refrain "aye laddie, that's one tough hill to climb". And for those that the "Munro" proved to be too much, a plaid box of Scotty tissues was available – unofficial tissue count was only seven however. The unofficial count for runners that may have been devoured by the hill was thankfully, nil.
This Munro-like course is really not for the faint of heart and as you may have noticed, the Frontrunners Island Race Series thins out somewhat on Hatley Castle 8K Sunday with many excusing themselves from the ranks of hearty sherpas and take this race day off for other timely and more important activities such as tidying up the backyard, cleaning behind the refrigerator, and/or otherwise wiggling back in the good books of their better half – as this reporter did. Yes, the Hatley Castle 8K is a formidable challenge and considering the aggravation and pain that is painted across the faces of finishers, it's a wonder that so many choose to race on slopes that somehow turn hi-tech footwear into furnace bricks. Finishers clocked in this year at a respectable 385.
The Hatley Castle 8K hills where but a mild annoyance for the Ladysmith Striders however as six members geared up for their assault on the summit and all finished with respectable times. Weather-wise, the day presented sunny and mild as the cool edge of morning burned off before the 11am start time. It was perfect running weather with many runners quite comfortable in minimal gear of short-sleeves and shorts - a choice of swag that is best defence for possible over-heating on a course that tips uphill in a big way. There is no doubt that the Royal Roads Running Club are a hearty bunch of highlanders and the Ladysmith Striders wishes to thank the organization and their volunteers for providing a fun and challenging environment for running.
The Ladysmith Striders results are outlined in the table below with apologies to those whom I may have missed. Click the participant names to view individual statistics which will open in a separate browser window.
Hatley Castle 8K - February 24, 2008

Position

Ladysmith Striders Results - 6 Finishers

Club

OA

Group

Name

Club/Sponsor

Time

Pace

Points

Individual

Club

KM

Mile

New

Old

1

222

5/12

41:06

5:08

8:16

522

528

16

2

286

2/3

44:07

5:31

8:52

551

492

19

3

302

16/25

44:55

5:37

9:02

542

483

5

4

346

12/16

48:19

6:02

9:43

503

449

9

5

353

13/16

49:21

6:10

9:56

493

440

8

6

354

14/16

49:22

6:10

9:56

493

440

7
Next race is a Synergy Health Management Ltd. sponsored Bazan Bay 5K race in Sidney on March 9th. In addition to being a flat and fast race course, many first time runner use this race as their inaugural run so the field tends to be quite large. And from past experience I know that parking is at a premium so I recommend that Ladysmith Striders get there early!!


RUNNER COMES FULL CIRCLE AFTER NEAR DEATH EVENT
Friends and rescuers celebrate finish of race that heart attack interrupted
Joanne Hatherly, Times Colonist
Published: Thursday, February 14, 2008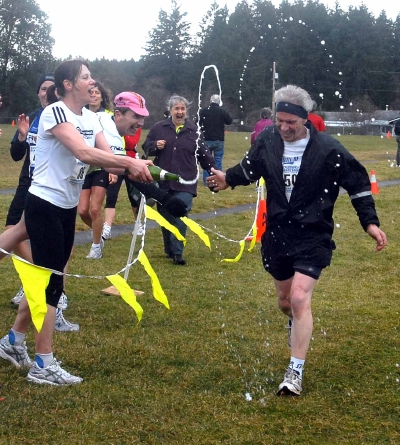 Last weekend, runner Ken Pungente finished a race that he started one year ago: a 12-kilometre event at Cedar, near Nanaimo. In the February 2007 event, Pungente's heart stopped and, as one of his rescuers put it, he dropped dead.
"I don't remember any of it, no pain, nothing," says Pungente, 65. What happened next has been described as a miracle. Three members of a hospital Code Blue cardiac resuscitation team were running not far behind Pungente that day. They were on him within minutes of his collapse, alerted by a nurse, Melanie Cunningham, who found Pungente lying pulseless in a ditch.
Leigh Walters, a respiratory therapist, described Pungente's condition in one word: Dead. Nevertheless, she and Rachael Merrick, a hospital respiratory unit nurse, immediately started working on him. Moments later they were joined by another Code Blue team member, Dominica Sweet. For more than 25 minutes, with Walters working double-fisted compressions on Pungente's chest, they kept blood and oxygen flowing to his body's vital systems and his brain.
Other factors played in as well. When Pungente collapsed, he landed head-down in a ditch, which meant that when his heart stopped, his blood flowed to his lowest body part, his head. Pungente subsequently underwent open-heart bypass surgery and started on the road to recovery. His story attracted media attention in stories that ran in Island papers, including the Times Colonist, and in this month's Reader's Digest. Finding himself the poster boy for cardio-pulmonary resuscitation was a little discomfiting for Pungente, even though he hopes more people will learn the technique.
He deals with it with his own brand of wit. The plumber who used to drive to his job sites in a flame-painted hearse changed his answering machine greeting to: "This is Ken, back from the dead, leave a message." Whenever anybody asks him about the incident, he shrugs off any praise for his survival and his willingness to tell his personal story in the hope of helping others. "All I had to do was die," Pungente says. "It was everyone else, the girls, the doctors, the rehab people, they did all the work."
With the help of people at the Royal Jubilee Hospital's Cardiac Rehabilitation Exercise Program, Pungente was back on the race course seven months after his heart attack. In September 2007, he ran in the CIBC Run for the Cure breast cancer fundraiser. Walters and Merrick were with him.
Halfway through the race, they decided to pass him. "It's hard to let go of him," Walters says. Pungente finished that race without incident, but the 12-kilometre Cedar race and its steep hills loomed ahead. This time, Pungente told all four women to run their own races. "No following me," Pungente said. He wanted closure, to return to a life lived normally, although with a cooled-down competitive edge.
When Merrick and Walters passed Pungente only 1.5 kilometres into the race, no one said anything. "It totally normalized a situation, where it hasn't been normal for a year," Merrick says. "It was fantastic to see everything just as it was." As Pungente neared the finish, a number of runners joined him to complete that unfinished leg. Wearing a T-shirt given to him by the four women that read "pulseless plumber" on the front, and "Drama in real life: Not dead last," on the back, Pungente crossed the finish line under a spray of champagne from well-wishers in one hour, 11 minutes and 26 seconds.
Then Pungente, Walters, Merrick, Sweet and Cunningham walked back to the spot where he had lain only a year earlier. Pungente struggles to describe his feelings as he looked down at the nondescript country roadside of naked blackberry bramble and tall grass. He planted a Sicilian garlic bulb that he brought back after buying a house in Sicily this year; he will divide his time between Sicily and his home west of Sooke.
Pungente hopes that by returning to running, he can encourage other cardiac survivors to live without fear. There's help available to get you back into your life. Go out and get that help and it will give you confidence to stretch your boundaries, to get back to being normal again." jhatherly@tc.canwest.com


February 10, 2008 - Cedar 12K Striders Race Report -- It was a "John Denver sunshine on your shoulders" kind of morning for the start of the Frontrunners Island Race Series Cedar 12k which turned into a "Neil Diamond raindrops keep falling on my head" kind of finish. Cool rain began to fall in today's contest just as the young front runners broke past the ten kilometer mark and it was dancing merrily on the weathered pavement by the time the rest of the field addressed the final straight-away and finished up with cross-country style dash across the soggy soccer field. The cooling sensation was welcome by most - those who were gutting it out for a PR and those who were starting to fade down the home stretch - and in the end didn't taint the otherwise great finishes that were recorded by many participants. Some of those great finishes were recorded by the Ladysmith Striders who chipped in with a total of eleven regulars competing for their best series showing ever. Congratulations to the Ladysmith Striders.
Congratulations to the Nanaimo Bastion Running Club as well for both sponsoring and presenting the Cedar 12k road race. Runners from all over the Vancouver Island look forward to this event as it is the most geographically central location for a road race in the entire Frontrunners Island Race Series and fairly easy to attend. Nanaimo Bastion Running Club has again done a great job of organizing this annual event and special thanks are directed to their troop of dedicated volunteers that hold the key to success of the event.
The Ladysmith Striders results are outlined in the table below with apologies to those whom I may have missed. Click the participant names to view individual statistics which will open in a separate browser window.
Cedar 12K - February 10, 2008

Position

Ladysmith Striders Results - 10 Finishers

Club

OA

Group

Name

Club/Sponsor

Time

Pace

Points

Individual

Club

KM

Mile

New

Old

1

156

13/21

56:36

4:43

7:35

583

592

8

2

195

8/27

59:02

4:55

7:55

629

567

13

3

231

5/12

1:01:13

5:06

8:13

539

547

16

4

267

3/5

1:04:41

5:23

8:40

574

518

18

5

307

11/18

1:08:31

5:43

9:11

542

489

10

6

327

20/21

1:12:00

6:00

9:39

458

465

1

7

343

22/26

1:14:30

6:12

9:59

498

450

1

8

351

9/11

1:16:47

6:24

10:18

483

436

12

9

354

23/26

1:17:40

6:28

10:25

478

431

1

10

355

24/26

1:17:45

6:29

10:26

477

431

1

11

360

25/26

1:18:09

6:31

10:29

475

429

1
Next race is a Royal Roads Running Club sponsored Hatley Castle 8k race in Colwood on February 24th that takes place on the hills of the castle grounds... get ready!!!... should be no problem for the Ladysmith Striders Hill Tamers!


January 27, 2008 - Cobble Hill 10K Striders Race Report -- A threat of snowfall the morning of the Cobble Hill 10K did not burden runners enough to stay bundled up at home. The weather gods were smiling as the day broke clear and cold which sent a clear message to those ready to lace-em up for race number two in the Frontrunners Island Race Series. The parking lots at George Bonner Middle School in Cobble Hill filled up fast for this Ceevacs Roadrunning Club sponsored event as over 450 individuals toed the line for this new 10K course.

The club run for this year was a departure from the Mill Bay 10K event which has been a mainstay of the Ceevacs Roadrunning Club club for many years and they to be congratulated for delivering a well-run and fun event right off the mark. Way to go Ceevacs!... Ladysmith Striders salute your event organizers and the many volunteers that made it all happen during an overnight cold snap which resulted in some icy patches on Wilkinson Rd. Events organizers made runners aware of the icy conditions on some parts of the road before "releasing the hounds" and as I understand it, no road-rash was reported.
Ladysmith Striders were represented at second race in the Frontrunners Island Race Series Cobble Hill 10K with seven entrants scampering the course which was a combination of out-and-back and loop segments from George Bonner Middle School to Cobble Hill Village and back. The course was fairly flat with some minor undulating hills (not significant to "The Hill Tamer" from Ladysmith) that gradually built in elevation to about 5.5 km at which time it was all downhill from there. This was a great race for negative-splits as I'm sure many enjoyed favourable results. Congratulations to Pauline Naidoo as she again placed top three in her age group and to her husband Bala Naidoo who moved up two places in the top-ten for his age group.
The Ladysmith Striders results are outlined in the table below with apologies to those whom I may have missed. Click the participant names to view individual statistics which will open in a separate browser window.
Cobble Hill 10K - January 27, 2008

Position

Ladysmith Striders Results - 7 Finishers

Club

OA

Group

Name

Club/Sponsor

Time

Pace

Points

Individual

Club

KM

Mile

New

Old

1

169

19/34

45:41

4:34

7:21

595

603

2

2

274

7/13

50:34

5:03

8:08

537

545

14

3

335

3/9

53:23

5:20

8:35

575

516

18

4

372

18/22

56:08

5:37

9:02

547

491

3

5

413

18/22

59:56

6:00

9:39

512

460

3

6

414

19/22

59:57

6:00

9:39

512

460

2

7

434

10/14

1:04:21

6:26

10:21

477

428

11
Next race is a Nanaimo Bastion Running Club sponsored 12k race in Cedar on February 10th. Hope to see a good contingent of Ladysmith Striders there.



January 23, 2008 -- There are many runners that favour the spring marathon over the fall marathon. For those that are training for the BMO Bank of Montréal Vancouver Marathon in May, check out the running blog Running Bébé and follow along as Bebe documents her training adventure. In fact, if a Ladysmith Strider could find a few minutes to spare in the day when they're not running, they might post out a comment of encouragement on her running blog in an effort to entice her to pad out that training mileage. You can find Running Bébé "One Runner's Honest and Boring Training Log As She Gets Ready For Another Marathon" at http://runningbebe.blogspot.com/


January 13, 2008 - Pioneer 8K Striders Race Report -- The residents of Central Saanich once again heard the gentle thunder of athletic shoes on their rural neighbourhoods as the Frontrunners Island Race Series kicked-off another season at the Central Saanich Fairgrounds. Over 500 participants gathered at the exhibition grounds in fairly decent weather conditions for the 2007 Pioneer 8K road race which took place under high cloudy skies and temperatures hovering around 7C which produced enough of a breeze to rattle the Pioneer 8K banner of the race sponsor Prairie Inn Harriers . The Prairie Inn Harriers have a great reputation for presenting a premium road races and this one was no exception. Well done Harriers!
The Pioneer 8K is first race of the Frontrunners Island Race Series is always well attended. I suspect the reason for the swelling attendance is that it gives participants their first look at how many "gazelles" have moved out of your age group and (biting your lip) provides a look at how many "cheetahs" who moved into your age group. It's the Frontrunners Island Race Series participants first look at the competition and it really brings focus to who you have to beat for the remainder of the races.
Ladysmith Striders are no strangers to the Frontrunners Island Race Series and a number of these casual Sunday morning runners drove down island to Saanich to scout out the competition for themselves. The Ladysmith Striders results are outlined in the table below with apologies to those whom I may have missed. Click the participant names to view individual statistics which will open in a separate browser window. Congratulation to Pauline Naidoo for her bronze medal finish in her age group and to her husband Bala Naidoo for placing in the top-ten for his age group.
Next race is a CEEVACS sponsored 10k race on a new course at Cobble Hill on January 27th. As a friendly reminder to Ladysmith Striders, the Cedar 12K is coming to our area on February 10th and it would be tons-of-fun to make that road race out Sunday morning run. Hope to see you all there!!
Courtesy of Mark Creery Photography


January 11, 2008 -- It's that time of year again when many runners begin to gaze into the new year and ponder the running calendar challenges that lie ahead. No doubt there will be some Ladysmith Striders that include themselves in this group as many Striders participated in the Frontrunners Island Race Series last year. For Ladysmith Striders that are considering the fun again, the Frontrunners Island Race Series begins on January 13th so I think it appropriate here to provide a friendly reminder to take advantage of some cost savings by entering early. And when entering, don't forget to record that you are from the Ladysmith Striders.
For your further awareness, runners who complete all eight races in the 2008 series, or eight races and volunteer at their own race, will receive a gift certificate from Frontrunners entitling them to 50% off the series registration (without shirts) for the 2009 series. Check out the schedule below.
Frontrunners Island Race Series 2008 Schedule
Race

Date

Start

No Shirt

With Shirt

Late Register

Info

Prairie Inn Pioneer 8k
Saanichton

Jan 13

11am

$20.00

available at race

$23.00 after Jan 8
$25.00 day-of-race

Randy Jones
250-474-6546

Cobble Hill 10k
Cobble Hill

Jan 27

11am

$20.00

no shirt

$23.00 after Jan 22
$25.00 day-of-race

Loni Dutton
250-746-6344

Cedar 12k
Cedar

Feb 10

11am

$20.00

no shirt

$23.00 after Feb 5
$25.00 day-of-race

Robert Cross
250-245-4690

Hatley Castle 8k
Colwood (Royal Roads)

Feb 24

11am

$20.00

no shirt

$23.00 after Feb 19
$25.00 day-of-race

Stephen Cook
250-474-4863

Mar 9

9am

$20.00

available at race

$23.00 after Mar 4
$25.00 day-of-race

Bazan Bay

Comox Valley 1/2 Marathon
Courtenay

Mar 16

11am

$20.00

available at race

$23.00 after Mar 11
$25.00 day-of-race

David Nowak
250-897-8484

Merville 15k
Merville

Mar 30

11am

$20.00

available at race

$23.00 after Mar 25
$25.00 day-of-race

Ron Fisher
250-286-1364

Sooke River 10k &
Series Awards - Sooke

Apr 13

11am

$20.00

available at race

$23.00 after Apr 8
$25.00 day-of-race

Bill Ethier &
Sarah West
250-479-9404
Click here to register online.
Click here to download the Full Series entry form.
Click here to send in your questions or comments.
Individual race forms are available by clicking the appropriate race name in the table above.