Ladysmith Strider Archives 2007 | 2008 | 2009 | 2010 | 2011
---
2011 Ladysmith Striders News Headlines
---

August 14, 2011 - John's Half-Fast Run Report - ET Full Moon Midnight Half-Marathon -- In mid-August, I traveled down to Las Vegas to attend my union's international convention. During my week long stay here, I had a great running adventure.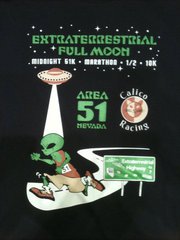 Knowing that I was coming to Nevada and Las Vegas, I decided to find out in advance of my travel if there was a running club located close to the city center with hopes that I could contact them... to become aware of any regular routine weekday runs that any Las Vegas running clubs or stores might offer... so I could maybe join them for an evening run. What I found on my Google search however, was a road race that was really unique... a unique road race was happening on the weekend that I would be in the city. And this road race was just so unique, that I had to enter and give it a go. I mean, hey... it's just a half-marathon... 13 miles... and I had already completed a half marathon in Comox in late March this year... and my time wasn't too bad. So I thought... let's do it!
I arrived in Las Vegas on Thursday evening and had a couple of days to acclimatized to the hot dry weather. The road race was on Sunday which allowed me a couple of days to rest up... but here's kicker, the race starts on Sunday... but at 12am midnight on Sunday morning. Yup... you heard it right... midnight. And guess where?... Area 51 in the Nevada mountains... starting 13.1 miles outside the small town of Rachel, Nevada... on the famous Extraterrestrial Highway Route 375. Can you believe it!!... I ran in the middle of the night... on the Extraterrestrial Highway... near Groom Lake military base... in the most renown area for spotting alien spacecraft.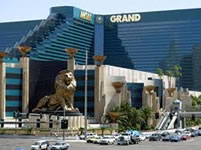 Let me stop here and back up a bit so I can frame my adventure properly. I checked into the MGM Grand Hotel on Thursday evening and my room number turned out to be the same number as my house number at home - 531. When I pick up my race packet on Saturday afternoon, my bib number turned out to be the same number as number on my office door at work - 337. (I should have by now, started sinking money into the slots!!) And yes... you're right... I'm feeling lucky. But alas, my luck did unfortunately begin to take a turn for the worse... quickly actually... starting with the 2.5 hour bus ride from Las Vegas to the start line up high in the Nevada mountains.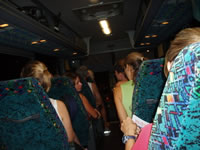 First of all, after marshalling at the Hard Rock Hotel parking garage, I got on the wrong bus. I was had decided to get on the "quiet" bus... there were 6 of them, but instead got on the "chatty" bus by mistake, there was only 2 of them. How could I have made the mistake!!... I really wanted to sleep part of the way and it really was an grave error because the bus got lost leaving Las Vegas and ended up on the wrong highway heading the wrong way out of town. Damn... and by the time the driver had figured it out, all us anxious runners were a full hour behind the other buses... the other seven buses who actually knew the way out of town... and most of the runners were all freaking that we would miss the start. That poor driver... he had so many "backseat drivers" on board... all telling him to "turn here" and "turn there"... it was so bad!! By the time he made his decision on where to make a direction correction... well, you guessed it... tried a short-cut to save us some time and ended up pretty well sitting... stopped for half hour in a construction zone boxed in by traffic... inching along to our destination... with all kinds of moaning and groaning just thrashing the driver's ears. It was so sad! Incredibly, we finally made it to Highway 15 East... and then onto Highway 93 North... and arrived at the starting line only ten minutes late. Luckily, race organizers delayed the start and the ultra marathoners and marathoners sighed a deep breath of relief.
Now to answer the obvious question... yes, there were four road races that night. This first start was for the 51K Ultra Marathoners (51k... get it, this is Area 51) and the regular distance marathoners who ran the 26.2 miler. The half-marathoners and 10k participants stayed in their seats and watched from the bus when the alien ray-gun sounded sending the first bunch of runners on their way into the night. All the drivers then fired up their buses and drove on up the road a few miles before kicking out the half-marathoners... that was me of course... and then the buses continued up even further to boot out the 10k participants at their starting point. All the buses then motored on to Rachel to await the runners at the finish line... and get this... at the Little A'Le'Inn restaurant. Yes, that's right... the finish line was at the famous Little A'Le'Inn motif spaceship restaurant where participants would finish the event with a hot breakfast and awards.
Back to describing my half-marathon run on the Extraterrestrial Highway. I ran well. Considering. What you ask?... considering what? Well, first of all, there was the risk of abduction by aliens. Then there was the risk of snake bites... and the risk of being chased by a cow. (it's open range up there... no fences... cows roam free and we were told they were meanies) And there was also the risk of altitude sickness... because what I didn't know and wasn't aware of... was that the road race started at an elevation of 1480 meters above sea level... an elevation which I have never come up against. So think of it... race starts at an elevation higher than the Coquihalla Pass Summit on Highway 5... and then climbs over 6 miles through the night to the height of the Highway 97c Okanagan Connector summit at 1700 meters... and then tapers quickly back down over another 6 miles to an finishing elevation of 1465 meters. The total elevation change is equivalent... to running over the Malahat!! Yes, the Malahat.
What a grind! The first mile was flat and then it started to tip up. Even in the dark with my headlamp shining, I knew the road was rising under my feet... which unfortunately caused runners who went out too fast to start drop behind me... and I could see the reflectors/flashing red lights on runners backsides curving in an upward arc ahead. It was difficult in the sense that... all you could really see was the few meters of visible road ahead of your headlamp, and you couldn't see any corners... or rises and falls in the road surface. It turns out that it probably wouldn't have helped anyway because there were very few corners... the road was gun-barrel straight for the most part. As the hill became more acute however, more runners started dropping away and I was surprised at how strong I felt... yet knowing, that I could be using it all up on the hills in just the first 6 miles of the race. So I paid very close attention to pace while taking quick peeks at my Garmin and focused on dropping no lower than 9.5 minutes per mile pace and hydrated very two miles. The pay-off for the steady pace was catching three runners that I thought were long gone.
As the space between runners stretched out, I found time to turn out my light and experience the high desert night in darkness. What I hadn't noticed was the clearing of overcast skies and the now bright full moon... bathing the desert in a serene glow that I'll never forget. I was a little like what I thought it might be... to run on the surface of another planet. Clumps of stunted grass cast shadows on bald barren rocks that seemed to move with the sand as I ran past... and moonlit scrub trees throwing long shadows against rocky knolls and a blanket of tiny stars attempting to smother the moon. This incredible nightscape was a nice distraction... turning my light off when running alone... and then turning it back on again when catching and passing slower runners. I reached the halfway summit feeling pretty good and once gulping some drinks through the aid-station, hit the power button for the trip back to civilization.
I found the downhills very welcoming and allowed my hips to open slightly and let gravity do the rest. By this point in the race, I had passed quite a few competitors... no doubt due to my training on the hills in Saltair and Ladysmith... thinking how very clever of me to have taken my hill training so seriously. By Miles 9 and 10, I was starting to reel in the dancing lights ahead of me. First a group of three 20 or 30 year-old young men who I thought I would never catch... I just kept throwing my feet out further to maximize my stride... at Mile 11, finally by them... and knew that they were not game to chase because I was soon moving out of the light-spray of their headlamps. Next... a guy with a glow-stick crown who indicated he was initially game for the chase by striding ahead as I came alongside. But it was easy to step close in behind on his heels to pick up his pace and draft... and he tired after a few hundred meters allowing me to come out of his slipstream into an advantage position. Just before 12 miles, I passed him and he let me go.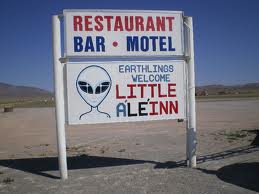 For two miles I could see the glow of the Little A'Le'Inn finish in the distance and it was a pleasing sight. And for some reason... maybe an optical illusion, or maybe aliens invading my brain... the lights in distant Rachel seemed not to move and did not creep any closer. Another dancing reflector caught my attention ahead and I wondered. At this point in the race I'm passing the 12 mile mark with a little over a mile to go and I wonder if it's possible to reach out and pull the reflector back. I press power to open my reserves and starting turning a more difficult pace and it begins to really hurt. But I know from experience, the hurt not my thighs... it's only in my mind... so I block out the discomfort and slowly draw the reflector back towards me.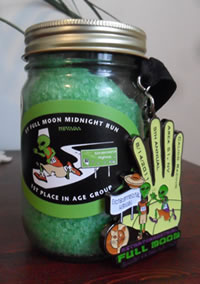 Mile 13 arrives and I'm past. The reflector was a young woman who I remember scampered away quickly from the starting area... one of those runners I thought were long gone. She's behind me with 80 meters to go. I turn into the parking lot at the Little A'Le'Inn and sprint the finish. It's over. I'm done. No... I'm really done!... but I'm really pleased. I have completed the ET Full Moon Midnight Half-Marathon... on the Extraterrestrial Highway... on a mountain near Groom Lake military base in Nevada... in the middle of the night... with no sleep... over an elevation change of 300 meters... in the most renown area for spotting alien spacecraft... in an excellent time of 1 hour 50 minutes 36 seconds. My finishing time was good for 23rd place overall and first place in the old fogies 50-59 age grouping. Looking back... I performed well under challenging circumstances... what a gas!!!
But my excellent adventure doesn't end here. I now had to choose between (a) staying for the awards ceremony... (I knew there was a chance of being close to winning my age grouping because I was paying close attention to the age of my competitors as I approached and passed them... and I sort-of knew the age of those who got out ahead of me at the start) or... (b) choosing to get the first bus back to Las Vegas for the 2.5 hour trip back. I had meeting Sunday morning at 10am and couldn't be late... so I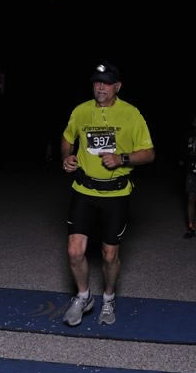 decided to forego the possibility of any glory and chose (b). I boarded the bus for a 5:30am Las Vegas arrival. Well... guess what.
The bus broke down on the first climb out of the mountains. Yup... and you should have heard the groans when the driver announced, "We'll have to wait here until someone discovers us missing... because (a) we have no radio, and (b) we have no cell phone coverage." Unbelievable... I should have waited for the awards!... think of it... lost bus driving up and broken bus driving back. And I thought the numbers 531 and 337... were actually going to be lucky for me! Well... they were in a way. After a half hour sitting around in the darkened bus with no light or nothing... two guys... they were runners... got out of their seats and asked if they could help. The driver of the bus... a older lady... said "fly at it"... and these two runners... who by the way, happen to be BUS MECHANICS!!!... fixed the bus! Turns out, it was electrical. These guys checked out the engine compartment... then came into the coach... open a couple of doors in the upper console above the driver's seat... looked like maybe they switched out a couple of fuses... and the bus fired up. YEAH BABY!
The bus limped into Las Vegas at 6:30am and I was into my room by 7am. After stowing my gear and a quick shower, I was asleep by 7:30. My alarm popped off at 9:30 and after another shower, made my meeting at 10am. I walked into the room with a smile... no one knew of my great adventure.



June 19, 2011 - John's Half-Fast Run Report - Mystery Run 2011 -- It was on short notice that the Ladysmith Striders Sunday morning running group learned of the Mystery Run and the thought of casting the running net into territorial waters yet to be explored gained immediate traction and seven runners immediately buckled into two vehicles. Car doors slammed and engines puffed back to life as the delighted runners coaxed eight wheels onto the Island Highway and pointed them south of Ladysmith to a yet to be announced secret destination.

Every year as summer approaches, the Ladysmith Striders welcome the Mystery Run. The Mystery Run is mapped and measured by Mountain Runner who runs the route beforehand to ensure that any domestic or native wildlife will not be snapping at the heels of those Ladysmith Striders that wish to participate. This year's run was a ten kilometer effort that began once the Ladysmith Striders arrived at the secret destination - Chemainus Lake.
After leaving the car park, the Ladysmith Striders enter the trail at the north-east corner and start reeling in the kilometers in a counter-clockwise direction around the lake. Here, Mountain Runner leads Dave Van Horne, Chris Geens, Phil Howard, Denise Aucoin, Bala Naidoo, and guest runner Donna (sorry Donna, forgot your last name) through the trail gate and in under a dense canopy of conifers that hide much of the trail in cool shadows. Thick tree cover seems only prepared to give way in places where small outcroppings of granite manage to muscle their way through the forest floor. These small openings in the forest canopy offer a natural invitation to the sun to bathe both the exposed surface of the rocks and the shoulders of passing runners with a warm shafts of sunlight. The morning air is crisp and runners pick up a hint of watery skunk-cabbage that lingers in the lower reaches of the trail that dips and dives around the mucky lakeshore. Looking south through a gift of small vistas, the lake is serene and smooth as glass. Focusing on the far side, the treed canvas on the opposite shore is picture perfect as the near photographic image is reflected back in the water's surface with little distortion. Running the Chemainus Lake trail at this time in the morning is a real treat.

After running the two kilometer trail around Chemainus Lake, Ladysmith Striders reassemble in the car park for a drinks and then push on to the west on River Rd and then quickly south on Smiley Rd. At this point, the group still doesn't know where Mountain Runner will be leading them. And while he is leading them at a comfortable pace, the group only knows that they will be out on a Mystery Run for a total of ten kilometers and are keen with the courage to follow.
"Taking the first steps towards long distance running takes courage and will often cause you to stretch outside your comfort zone. Your comfort zone represent things you're familiar with, short runs you know well, friends you're at ease with when you run, those short easy runs you enjoy doing. Your comfort zone is risk free. It's easy. It doesn't require any stretching. Within these boundaries we feel safe and secure." -- adapted from Sean Covey, 7 Habits for Teens
Smiley Road continues south and borders the west side of the Chemainus Industrial Park where it provides a perfect conduit to follow in order to move down towards Fuller Lake Park. Smiley Road moves the runners away from the morning traffic on the adjacent Trans Canada Highway for another two kilometers and offers plenty of room for the Ladysmith Striders to run two and three abreast for sharing friendly conversation and no doubt a few interesting running tales. At Henry Road, the runners use the traffic light control to cross the Trans-Canada Highway. Once past the four kilometer mark, runners thread their way along the west side of Fuller Lake on a lakeshore trail that is part of the trail network in Fuller Lake Park. The lake is stocked with fish and anglers are keen to bait their hooks every weekend. The Ladysmith Striders pass the boat ramp at Fuller Lake's south end and head up onto Fuller Lake Rd where they turn east and run past the five kilometer mark and Fuller Lake Arena towards Cottonwood Rd.

Cottonwood Road slopes downhill in a northward direction to Crozier Road and the pace is now nice and easy. Again, runners are two and three abreast enjoying the morning sun with Donna and Denise taking the soft shoulder as opposed to the hard shoulder which seems to be preferred by Bala, Chris, Dave and Phil. Mountain Runner continues to lead and scamper ahead in attempts to grab a pleasing photo or two. This gentle downhill propels the Ladysmith Striders to the 6.5 kilometer mark where Mountain Runner leads the runners left along the new section of the Trans-Canada Trail that is nestled between the Mount Brenton Golf Course and the E&N railroad tracks. It is here where the runners enter their courage zone for they are downwind and in-the-bite of the nearby fairway tee boxes.
"Choosing to run marathons, making a training schedule, committing to those early morning training runs, and standing on that marathon starting line are in your courage zone. Everything that makes us feel uncomfortable is found here. In this territory waits uncertainty, pressure, change, and the possibility of failure. But it's the place to go for opportunity and the only place in which you'll ever reach your full potential." -- adapted from Sean Covey, 7 Habits for Teens
The Trans-Canada Trail stretches along the edge of the golf course for about one kilometer and as the Ladysmith Striders arrive at Henry Road, they cross over using a short pathway on the edge of the tracks that leads to the MB Haul Road. Turning left at the MB Haul Road, the group begins the long climb back up to Chemainus Lake some two and a half kilometers away. The road is paved and the slope is moderate uphill with a few flat sections that are shaded from the sun to provide some respite from the grind. Some Ladysmith Striders find a slower pace that better suits their climbing mood while others continue unabated as if it were flat. While the runners begin to string out, Mountain Runner has some fun with fartleks and moves back and forth among the runners over the two kilometer climb. Upon arrival at the Trans-Canada Highway traffic light, the Ladysmith Striders are all back together and ready to cross the highway and finish the final 800 meters that remain. The group is back at the Chemainus Lake car park in no time.

Mystery Runs are lot's of fun and they provide a diversion away from the usual routes that are covered on a routine basis. The opportunity to be lead by someone that has explored a new route and then is willing to take everyone out and show it to them is always welcome. Ladysmith Striders are always game for a new running challenge - even it takes them a wee bit outside of their comfort zone.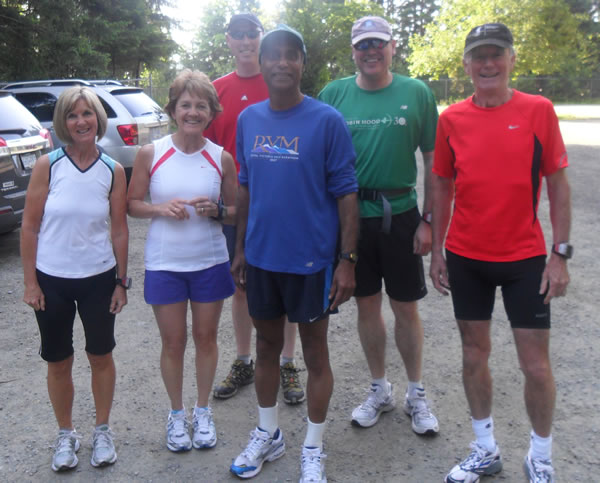 April 17, 2011 - Sooke River 10K - Striders Race Report -- Elevated pre-race anxiety levels greeted most up-Island runners even before they arrived in Sooke for Sunday's Frontrunners Island Race Series Sooke River 10K. The line-up -- it turned out -- was due to a road closure which delayed cars at the bottom of the Malahat Drive in Goldstream Park. For the early-birds who made their way to Sooke a little earlier that morning, the wait was manageable. But for others, there was hand-wringing anxious moments as they watched the clock seemingly race through the hours and minutes preceding the 11am start of the Frontrunners Island Race Series Sooke River 10K. Regrettably, three Ladysmith Striders who intended to make the final race of the Frontrunners Island Race Series missed the event as a result of this road closure.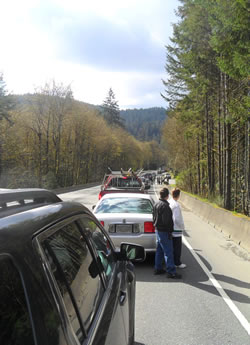 For an observer looking over the long line-up of cars, it seemed to be all about anxiety. Anxiety is a psychological and physiological state of mind characterized sometimes by emotional and behavioral components that in presence of stress, can create feelings of fear, worry, uneasiness and dread. Looking over the scene, suspicions were easily confirmed. There was such an abundance of fear, worry, uneasiness and dread emanating from the line-up of cars that were waiting for their turn to be guided over a single-lane mountain back-road to Victoria, that many runners simply took to the shoulder of the highway and began running 500-meter repeats back and forth on the sandy shoulder. This was obviously an effort to wear off anxiety of being late for the final race of the series, or even missing the event altogether.
While road closure caused the line-up as cars and runners to patiently wait their turn, the wait didn't generate the kind of stress normally encountered when runners line-up and wait for the beginning of a race. This kind of stress is normally anticipated and can be managed. Many runners waiting for a big race prepare themselves for those anxious pre-race moments by taking some pro-active steps beforehand. But there's little chance that runners would have been ready for this roadside delay and it's unlikely that any preparation in advance to deal with the onset of pre-race stress would have provided comfort for those waiting in a long line-up of cars.
Being prepared can lower pre-race anxiety levels. Many runners like to study the course map so they know exactly what to expect from the course terrain, but even if up-Island runners traveling three hours from Port McNeil or Campbell River were provided updates as they made their way down Island, they would probably still be disappointed with the line-up upon arrival at Goldstream Park. Even if they checked the Department of Highways Website for road conditions, they would have likely still hung their heads and any focus about pre-race preparations -- like staying hydrated along the way -- would have undoubtedly led to repeated trips into the roadside ditch to relieve themselves.
Preparing for the unexpected can also bring pre-race anxiety down to a manageable level, but practice your running in all kinds of weather: rain, snow, sleet, heat. Sadly, adverse weather would have negatively affected the speed of the road repair crews in their attempt to quickly reopen the highway.

Rather than trying to fight performance anxiety, some runners use pre-race rituals like listening to music on an iPod, or meditating, or even going through a specific warm-up. Whatever pre-race rituals one might have chosen on this day, there was no chance to "check out" of the situation when everyone was required to "check in" on how the line was advancing for fear of a chorus of horn honking from behind.
And there is always deep breathing to relieve anxiety. While it's true that anxiety causes shallow breathing, leaping over the highway curb and free-falling down a steep embankment just to take a leak in the bushes didn't even come close to controlling your anxiety because once you cleared the highway curb, the near-vertical drop into the bush below took your breath completely away in the form of a scream.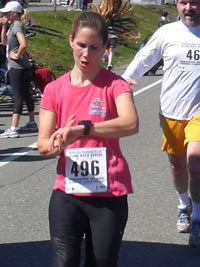 Another calming technique is visualization. This de-stressor is used by runners to improve their focus and reduce pre-race anxiety. Can you imagine how difficult it must have been for some runners to were faced with: a) visualize paying full price for next 2012 Frontrunners Island Race Series because you were deemed ineligible for the half-price discount as a result of missing the final race; b) visualize all the Victoria area club runners high-fiving across the finish line who joined the race because they heard about the up-Island clubs attempting to crash the race with 50-thousand extra runners in order to take hold of the club overall standing lead; and finally c) visualize missing out on picking up a medal for placing top-ten in the Series Awards. So picture what you would have be wearing, who would have been watching you, and how you would have felt if you would have been there to hear people cheering as you crossed the finish line. Naw... forget it!... hurts too much!
Setting too high expectations is one of the biggest causes of pre-race anxiety but hey... most people would expect that such a significant and important traffic corridor in and out of Victoria would have a little more resources available to assist with opening the road at the earliest possible time. Runners put a lot of pressure on themselves to meet certain goals in race performance and it was probably pretty difficult to put Frontrunners Island Race Series final race expectations aside. Even if runners were able to keep their emotions in check, it's unlikely that the delay of the event start helped to lower runners anxiety levels when they finally arrived at the event.
As indicated earlier, there were eight Ladysmith Striders that managed to make their way to the race start which was delayed 15 minutes by astute race organizers. In fact, organizers made some decisions that enabled them to adjust the event schedule and yet still adhere to the event time parameters which the Ladysmith Striders appreciated. All eight Ladysmith Striders were caught in the traffic snarl in one way or another. Congratulations to the Island Road Racers for delaying the start by fifteen minutes, and then providing another start 30-minutes after the first start that allowed many really talented up-Island runners to participate.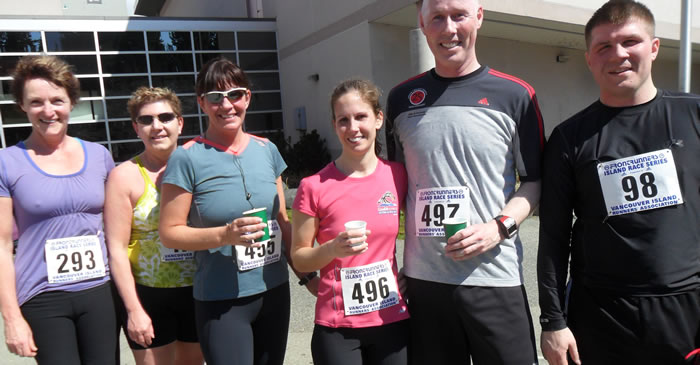 Ladysmith Striders are congratulated for not only their fine Sooke River 10K performances, but for their efforts in the entire Frontrunners Island Race Series. In addition to Sooke River 10K event recognition, Ladysmith Striders pocketed Frontrunners Island Race Series final awards as well. For Ladysmith Striders in the Sooke River 10K event, Tiffany Chapman placed top-ten in her age group by gobbling up the kilometers like mouthfuls of fast food and hit the line with a sensational 42:08 finishing time and without suffering any indigestion. David Van Horne dialed in a steady pace over the first few kilometers and then locked into a up-tempo charge to take the ribbon in 47:05. Brant Dame has been steadily improving his running prowess and grabbed high-gear in the latter stages of this race to complete the run in 50:37 and in doing so, put others on notice that if you "make him load it, he'll have to use it". Both David Van Horne and Brant Dame turned in top-twenty finished in their respective age groups.
Denise Aucoin, Jody Salway, and Nikki Van Horne all favoured the 51-minute mark with Denise at 51:00 even which was good for 3rd place in her age group and a repeat of her placing in Merville; Jody Salway was a couple seconds behind Denise with a solid 51:02; and Nikki Van Horne rounding off this group of three with 51:50. Both Tiffany Smith and Laurel Szasz crossed the line minutes later with finishing times of 54:09 and 54:36. All eight Ladysmith Striders participating in this event were inside top-twenty for their age groupings and they should be proud; as many of their family and friends are of their goals and accomplishments. As always, the Ladysmith Striders would like to recognize the event organizers and all the volunteers for their hard work and dedication at this road racing event.
Ladysmith Striders results are outlined in the table below. Click the participant names to view individual statistics which will open in a separate browser window.



April 3, 2011 - Merville 15K - Striders Race Report -- There was nothing but anticipation in the house when these seven brilliant Ladysmith Striders thoroughbreds paraded onto the track and readied for the Frontrunners Island Race Series Merville 15K event - an event that is neither a derby nor a stakes race; simply the seventh heat of road racing prowess for the Ladysmith Striders who challenged the field for a full eighty furlongs of horsepower. And with the time fast approaching... possibly, no assuredly is the better word here... assuredly, the greatest moment that this event may have ever seen!... these seven magnificent champions – three colts and four fillies – fidgeted in the starting gate at Merville Race Course while waiting for the bell to sound... to start the Merville 15K Road Race, the second to last heat of this Frontrunners Island Race Series racing spectacular!
The gray, come from behind demon, Mountain Runner goes into his stall easily and settles first at the rail. Pauline Naidoo is the pick of many broadcast analysts for another win in her age group is quickly into the second stall. Brant Dame, the choice of Esquimalt Fleet School, is well liked at 5 to 1 and now slips calmly in beside Triple Crown winner Tiffany Chapman who calmly waits in stall four. Money has shied away from Mathman in the final two hours of wagering as Dave Van Horne is now at 22 to 1, whereas Nikki Van Horne, who remains family favourite at 8 to 1 despite all the public outcry for better odds, is in next. As is the final Ladysmith Strider Denise Aucoin, the majestic chestnut filly from Saltair who is down to 2 to 1 as the second pick of the bettors, settles in the outside and final stall.
Speculation has swirled throughout the week as to whether Mountain Runner will run comfortably from behind, or whether he will be send out with the leaders. This could be the question of the day as followers of this racing series wonder if the Mathman will load routinely and stay steady. The Mathman has placed high in his age group throughout the entire series and will likely ease past Mountain Runner again in the final stretch. As the crowd tenses with anticipation, one can only wonder what's going on in the minds of these seven Ladysmith Striders who are entrusted with today's high-stakes run for glory and, yes, to wonder what's going on in the minds of the other 325 runners who will likely be focused on the question that has been asked for centuries: 'Who's the greatest of all time'?".
They are all in now, Tiffany Chapman still rocking nervously despite her proven winning record; Mountain Runner, the come from behind demon, who like a chameleon, tries best to blend into the background. With Mathman opting out of the Camelback hydration-pak, this thirty-something colt who is fairly-decent at numbers seems to be hinting that he will likely be among the pace setters. Now, the moment for which we've waited two full weeks...THEY'RE AT THE POST... the colts focused and hungry; the fillies a bit uneasy... And... THEY'RE OFF IN THE MERVILLE 15K ROAD RACE!
For the early lead... that's Tiffany Chapman in the center of the racetrack. Mathman Dave Van Horne is away well and goes to the whip right out of the gate. From the far outside Denise Aucoin has moved up and settled nicely on the rail by Nikki Van Horne who is away cleanly. Two lengths back is Brant Dame and Pauline Naidoo who are joined at the first corner three wide by Mountain Runner who has suddenly appears out of nowhere. Brant Dame and Pauline Naidoo are trapped early by that wall of runners and seem content to bide their time while Mountain Runner up and vanishes.
Back on the course, it's Chapman by a half length. Mathman is second on the turn by another half length. Then from nowhere it's Mountain Runner moving easily. Nikki Van Horne races up to be fourth as Denise Aucoin uncharacteristically drops back... the quarter was in 22 and 1 and the filly did it in Cobble Hill and her wire-to-wire potential must be respected here. To the backstretch Chapman holds it by three-quarters. Mountain Runner, the sneak, has pulled astride Mathman and he clearly wants to run early. Denise Aucoin is fourth and also moving up is Nikki Van Horne. These top runners are unwilling to concede early distance to a filly who's enjoyed much success this season. Nikki Van Horne, very wide around the turn, is in good position fifth and then it's another two lengths back to Brant Dame and Pauline Naidoo. Down the backstretch, Brant Dame holds by a neck over Pauline Naidoo. Still under a disciplined pace, Nikki Van Horne is now flashes a higher gear, self propelled if you will, as she ducks past Denise Aucoin and drives the rail. The pace is now wicked! Mountain Runner has now taken second as Mathman fades third.
There's a real log jam developing behind the lead pack. Nikki Van Horne seems to have found a hole and she races forth. Further back, Aucoin is also underway and holding steady while Brant Dame is full out and has moved up solid sixth. But, for this moment, the hushed crowd is seeing only Tiffany Chapman who's literally gliding over this racetrack and eating this course up with her gigantic strides. Mountain Runner struggles to hold second with untimely calf problems at the fourteen kilometer mark. Mathman is third and gaining. Nikki Van Horne moves to the inside for her run at the leaders. But these great horses... er... runners, almost seem to be standing still! Chapman is running away with it! This fabled beauty is moving like a runaway locomotive! In the last two kilometers, she has made a shambles of this road race!
Into the stretch now and the only thing preceding Tiffany Chapman is her elegant shadow. Mountain Runner goes to the limp and struggles on the rail while Mathman who is also on the rail second, plows on knowing that he hasn't a prayer of catching the leader Chapman. But he's full throttle, now third and moving magnificently on a line to reel in Mountain Runner. Nikki Van Horne is another length back in fourth who with Denise Aucoin in fifth, as this pair in tandem, try to reel in the Mathman, only a few seconds ahead. Brant Dame owns sixth and finally puts some distance between himself and veteran runner Pauline Naidoo.

There's less than half a kilometer to go! History doesn't often write stories this way – a legend is blazing her way to immortality! Tiffany Chapman leads all Ladysmith Striders by almost seven minutes with Mountain Runner in second trying to hold Mathman Dave Van Horne at bay. Nikki Van Horne, fourth, is pulling away from Denise Aucoin in fifth. Pauline Naidoo tries a valiant attempt to pass on the outside of Brant Dame who is under a heavy right-handed whip, but she can't get by!
Tiffany Chapman has left no doubt as to who's the fastest Ladysmith Strider of all! She's coming to the finish line now! TIFFANY CHAPMAN IS A WINNER!!! FIRST IN HER AGE GROUP!!! It's an amazing performance and the reality of her performance has left me and the scores of thousands who've witnessed her triumph totally numb! Tiffany Chapman has run the fifteen kilometers in 1:04:22! Savor the moment friends; we will never see one like it again!!!
In second, Mountain Runner holds off Mathman Dave Van Horne with 1:11:05 and ribbon for 8th in M5559 AG. Dave Van Horne is third in a thunderous 1:12:02 for 7th in M3539 AG; Nikki Van Horne squeezes time on the course into 1:16:28 which is good for 6th place in F3539 AG; Denise Aucoin rips up the course with 1:17:19 and 3rd in F5559 AG; Brant Dame finishes with 1:18:14 and chalks up 10 club points with 11th place in M2529 AG; and finally, Pauline Naidoo pulls in first place in her F6569 AG. Ladysmith Striders acquired a huge number of club points during the race that tallied 110 points. This allowed the Ladysmith Striders to hold off and maintain their lead over the River Runners who entered 22 runners in the event and are only 8 points behind. Congratulations to these Ladysmith Striders whose extra efforts paid off with improved times over their previous in this race. Special mention to Brant Dame who turned in a scorching pace of 5:13 per kilometer which equaled his pace in Bazan Bay 5K - great effort Brant!
Ladysmith Striders would like to recognize the event organizers and all the volunteers for their hard work and dedication at this road racing event.
Ladysmith Striders results are outlined in the table below. Click the participant names to view individual statistics which will open in a separate browser window.
Stay tuned for the final event of the Frontrunners Island Race Series everyone. The next race is the Sooke 10K and we urge all the Ladysmith Striders to attend as this will be the wrap-up event with series awards.



March 20, 2011 - Comox Valley Half Marathon - Striders Race Report -- Runners traveling from the southern reaches of Vancouver Island were faced with extremely foggy conditions when driving up on the Inland Highway and couldn't be more pleased with the sunshine when they drove out from underneath the fog upon reaching the Florence Filberg Center. It was high-fives at the starting line for seven Ladysmith Striders who soaked up the sun in preparation for the race to begin. The Comox Valley Half Marathon is the sixth of eight road racing events in the Frontrunners Island Race Series which drew just over 500 runners out into the sunshine.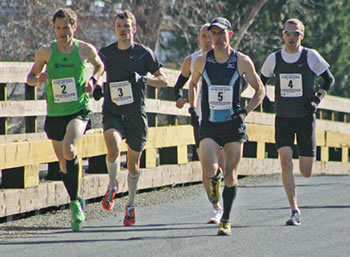 The big names battled it out at the Comox Valley Half Marathon with Simon Whitfield talking first place by a margin of three seconds. Whitfield, an Olympic gold and silver medal triathlete, broke the tape in 1:06:23 while Jim Finlayson was right on his heels, finishing second in 1:06.26. Jerry Ziak of the finished third in 1:06.36. Kyle Jones who has won three of the first five races in the series and has his sights set on the 2012 Olympics, took fourth in 1:07.35 while three-time Olympian Jon Brown was fifth in 1:07.37. Brown holds the course record of 1:03.57 which he set in 2005. Speaking of records, Ladysmith Striders have a couple notable runners of their own. Both Simon Timmer and Pauline Naidoo hold course records in their individual age groups - Pauline set her record in 2010 and Simon set his in 1997.
The Comox Valley Half Marathon is considered by some as a really challenging race. The half marathon race course is an out-and-back route that begins on Anderton Avenue in front of the Florence Filberg Centre and heads out on Condensory Road. The route turns right on Piercy for about 800 meters before it turns left on Dove Creek Road where racers - with the creek on their right - swing into the five-kilometer long uphill section that continues once across Condensory again. The hill peters out around 9 kilometers where runners can enjoy a bit of recovery as the road is fairly level just before reaching the halfway point at 10.5km. Racers then turned around and ran the reverse route all the way back to finish at the Filberg Center. This race rewards most runners with negative splits because the welcoming downhills on the second half of the course provide easy acceleration for those who decide to push hard on the way back.
Dave Van Horne lead the way for the Ladysmith Striders with a 1:44:30 finish. Van Horne rocketed past fellow Ladysmith Strider John Mountain with an impressive sprint over the last 800 meters that did not draw even a sniff of a response from the fatigued and out-of-fuel Mountain Runner. Mountain finished with a 1:44:43 and was able to hold off Terry Morrow who was only a few paces behind. Morrow who knocked off a noteworthy 1:45:21 half marathon which was a great effort when considering that he has been away from road racing for many years. Phil Howard was the next Ladysmith Strider to cross the line and while quite concerned with his finishing time of 1:53:13, had to reconcile his efforts with the fact that he was visited with a right-calf pull in the latter stages of the event. Real rotten luck, but hopefully Phil Howard will be ready rip up the Merville 15k event in two weeks time.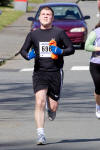 Brant Dame finished with an extraordinary 2:05:50 just ahead of record holder Pauline Naidoo. Dame faced the half marathon distance for the very first time and is congratulated for grunting out a pretty amazing time over a super-demanding 21km distance. Pauline Naidoo pulled into the finishing chute half a minute behind Brant Dame with 2:06:27 on the clock and confided to the cheering Ladysmith Striders that the hills seemed a little longer and steeper this time around. Michelle Fraser decided on the day the event to enter and challenge herself to the distance. Fraser decided on the early start and braved the hills with a good-looking and balanced 2:29:29 finish. Congratulations to the Ladysmith Striders for showcasing their "hill-tamer creed" at the Comox Valley Half Marathon.
As always, Ladysmith Striders would like to congratulate Leslie and all the other event organizers and volunteers for their hard work and dedication at this road racing event.
Ladysmith Striders results are outlined in the table below. Click the participant names to view individual statistics which will open in a separate browser window.
The next race is the back-country Merville 15K and we hope to see as many Ladysmith Striders as possible at this River Runners of Campbell River sponsored event.



March 6, 2011 - Bazan Bay 5K - Striders Race Report -- By mid-morning the clouds had finally expelled what little moisture that remained behind after a over-night deluge of rain leaving the Saanich peninsula dry and ready for the Synergy Health Management Ltd. Bazan Bay 5k road race. Once again, Team West Coast Triathlon Club hosted the 5th Frontrunners Island Race Series road race which managed to lure nearly 750 runners to downtown Sydney for the start of the largest and most popular series event. And while the race sold out earlier on in the week, runners still pestered event organizers in an effort to scoop up no-shows race bibs that became available after the 10:30am bib pick-up cut-off deadline. As a result, the starting line was jammed full of both Frontrunners Island Race Series veterans and first-timers who milled about anxiously waiting for the flag to drop. Within this huge contingent of runners were a number of Ladysmith Striders who were ready to touch their brush to the paint pot and splash a smidgen of creative colour into the racing landscape with hope that a masterpiece would emerge from their impressionist efforts. At the end of the event, a magnificent gallery of superb finishing times exhibited by the Ladysmith Striders.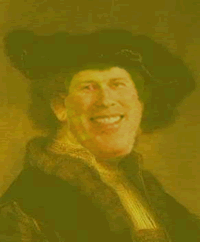 Dave Van Horne turned out to be the real landscape artist. Turning in the fastest Ladysmith Strider time, Dave Van Horne managed to produce a work of motion art that not only the captured a light-footed 21:20 time, he captured the effects of running with nature as Pierre-Auguste Renoir might have if he was a runner instead of a painter. And like Renoir who was close to his friend Claude Monet, Dave was very close time-wise to Phil Howard who used rather heavy impasto and some dark colours to sketch out a pleasing 21:55 Monet-like work of genius. Stretching the road canvas to his advantage was John Mountain who like the founder of modern expressionism, moulded and shaped a 22:11 Van Gogh finish while still retaining both ears. And like a beam of white light that is broken by a prism into all the colours of the spectrum, Nikki Van Horne brightened everyone's day with a laser-like 23:05 scorcher that most were certain caused a slight smoldering in the time clock.
Salvador "Bala Naidoo" Dali paced out an eccentric and exceptionally imaginative 23:53 as he tried to provide a runner's adaptation of Einstein's Theory of Time Bending Relativity. But no need to fiddle with physics Bala, your surrealism trumps the speed of light in this world of art. Another classic artist that covered the canvas on Sunday was Heather Howard who propped her easel and grabbed her paints and splashed out a fine work of art by running hot and racy colours together into a 23:57 original. And there was our new Ladysmith Strider Jody Salway who exhibited fine racing form by sculpting the flat-asphalt medium into a standup 23:58 finish that was just one second arrears of Heather Howard.
Ladysmith Striders presented a mosaic of efforts on Sunday this portrait of perfection will likely hang in the finest of galleries. The colours of speed and endurance were represented by Denise Aucoin and Pauline Naidoo with two top-ten age group finishes. Subtle hues of courage and energy were provided by Laurel Szasz and Brant Dame who brushed seconds off their PR race pace and added valuable club points. A warm palette of perseverance and determination were spread beautifully across our canvas by Michelle Fraser and Shannon Peck who gamely finished well ahead of other running artisans. Sincere congratulations to all the Ladysmith Striders for showing their primary colours and for providing others on Sunday a demonstration in the fine art of running.
Ladysmith Striders, who volunteer from time-to-time themselves, congratulate the event organizers and volunteers for presenting this popular Synergy Health Management Ltd. Bazan Bay 5k. Thank you to the Team West Coast Triathlon Club for your effort in organizing this event.
Ladysmith Striders results are outlined in the table below. Click the participant names to view individual statistics which will open in a separate browser window.
The next race is the long one up in Comox and we hope to see as many Ladysmith Striders as we can at the Comox Valley Road Runners sponsored Comox Valley Half Marathon.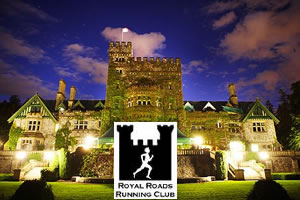 February 20, 2011 - Hatley Castle 8K - Striders Race Report -- It's that magic feeling that builds in your chest and spreads out to capture your arms and shoulders with a warm sense of well-being; that mysterious chemical reaction that magically transforms your body into a running machine that believes it could: run forever. It's known as runner's high and some claim it can produce auditory and visual hallucinations; others suggest it provides a sense of oneness with the universe. While the Hatley Castle 8K course likely failed to provide many runners on this day a sense of oneness with the universe, it most assuredly gave runners altitude sickness from the high elevation gains. And there is no doubt that these formidable hills invoked a few blank stares and little butt-dragging as well. Even though the Hatley Castle 8K course is known for it's physical and impossible-to-avoid "runner's high", Ladysmith Striders all experienced their own touch of magic in overcoming this dastardly vertical manifestation of required elevation.
The Frontrunners Island Race Series once again visited Royal Roads where the stately Hatley Castle looms over the grounds. There's really nothing that mystical about this place; it is simply the most lovely place to spend a family day wandering the wooded trails and cultured gardens. But for four hundred and sixty-five visitors who had other ideas for fun, it was time to raise the curtain on the Hatley Castle 8K road race and grunt their way over the formidable hills and through the dark-shadowed trails. There was however, some pixie-dust in the air for Ladysmith Striders who magically transformed the formidable and intimidating hills into mere knolls.
Alakazam!! Tiffany Chapman quickly vanishes into the wave of runners and appears seemingly seconds later at the ribbon clocking a 35:10 finish. Astonished spectators looked on and marveled at her fine performance and were dazed that she showed hardly any signs of fatigue. It's got-to-be magic! Sim Sala Bim!! People gasped! but it was no optical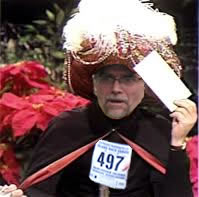 illusion as David Van Horne rifled over the final stages of the course apparently still enjoying traces of that mysterious magical runner's high feeling. Dave crushed the final rise at the finish and elevated himself to a 38:47 finish. Then Presto Chango!! Out of a puff of smoke arrives John "The Great Karnack" Mountain paying high homage to his running audience and reciting the most profound contemplations of most secret and magical things as he stumbles up through the chute in agony all the while searching for both a breath of air and his 39:15 finishing time. Abracadabra!! Philip Howard appears out of the mob of finishers to take pleasure in a reflective sense of oneness unfortunately off-set by a pair of extremely sore thighs - no doubt he'll be looking forward to pulling the slight-of-hamstring trick again at the next Hatley Castle 8K road race. And Viola!! the show gets better! Appearing around the final corner almost one behind each other in quick succession is Nikki Van Horne and Bala Naidoo who both reveal a stupendous kick over the last few meters. There's no hocus pocus here, these two Ladysmith Striders have worked extremely hard for their 42:52 and 42:55 finishes. There was a touch of the supernatural to Pauline Naidoos' finishing time as she skipped through the line for a 45:32 first place in her age group.
Huge Houdini-like appearances at the finish line were provided by Ladysmith Striders Denise Aucoin, Ruth Malli, Brant Dame, Laurel Szasz, Jody Salway, and Shannon Peck. Six Ladysmith Striders revealed themselves as top-ten finishers in their age groups, and three more materialized to round out the top-twenty. Points-wise, Ladysmith Striders are holding all-the-cards for 8th place in club standings and are just two jacks shy of the 7th place Victoria Flatliners. Congratulations to all Ladysmith Striders for their fine performances on a very challenging course. As always, the Ladysmith Striders would like to congratulate the event organizers and volunteers for the time that they dedicate to presenting the Hatley Castle 8K to the Island running community. Thank you Royal Roads Running Club.
Ladysmith Striders results are outlined in the table below. Click the participant names to view individual statistics which will open in a separate browser window.
Next race will be on the Saanich peninsula where the Synergy Health Management Ltd. Bazan Bay 5k will commence in Sydney on March 6th. This is by far the fastest road race in the Frontrunners Island Race Series and the Ladysmith Striders are sure to be there.
* Special Note: Ladysmith Striders Ruth Malli and Jody Salway were incorrectly registered as a Ladysmith Hilltoppers and Lady Smith Striders. In an effort to correct this error and to be recorded as Ladysmith Striders, it is recommended that both Ruth and Jody contact Mark Nelson at Race Day Timing Services.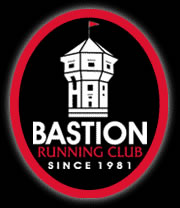 February 6, 2011 - Cedar 12K - Striders Race Report -- The third blockbuster of the Frontrunners Island Race Series premiered on February 6th just south of Nanaimo in the community of Cedar where four hundred and seventy-eight excited participants queued up on the red-carpet for an eleven o'clock start. Nanaimo Bastion Running Club presented another episode of the Cedar 12K Road Race to some of the most passionate runners on Vancouver Island who hit the mark with a number of academy award winning performances. Jim Finlayson took the top Oscar in his sixth Cedar victory in the Mens overall category with a new course record of 37 minutes and 11 seconds. On the Womens side, the Oscar goes to Care Wakely of Frontrunners Westshore with a first place finish at 45 minutes and 17 seconds. Jim Finlayson laces them up for Apex Runners.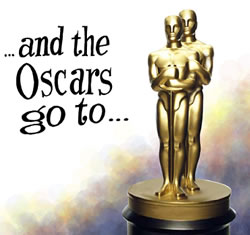 Ladysmith Striders gave a command performance and scripted a number of master shots with roadshow starlets Tiffany Chapman and Pauline Naidoo taking bows from the podium. Pauline accepted gold worth a wicked 20-points in her division and Tiffany repeated a top-three bronze finish worth 18-points in her division - both girls turning in fast motion flicks for the Ladysmith Striders. Also playing in this high-powered thriller were top-ten finishers John Mountain, Nikki Van Horne, Bala Naidoo, and Denise Aucoin. When the credits rolled David Van Horne and Michael Rowell were noted for a double take of top-twenty points in supporting roles, and Phil Howard, Steven Sharpe, Brant Dame and Shannon Peck accepted acknowledgements for fine performances in a reoccurring road race. Kudos for improvements in pace were accepted by both Phil and David in their remake runs of last year's Cedar 12K, and by Brant Dame for pace improvements over the previous Cobble Hill 10K road race on January 29th. Congratulations to all Ladysmith Striders award nominees.
Ladysmith Striders wish to shout out to Bastion Runners John Durkin and his Cedar 12K event organizers and volunteers who staged another fine event. The Ladysmith Striders appreciates the time and effort that it takes to hold this event and make it a success. Thank you Nanaimo Bastion Running Club.
Ladysmith Striders results are outlined in the table below. Click the participant names to view individual statistics which will open in a separate browser window.
Next race is a Royal Roads Running Club sponsored Hatley Castle 8K race in Colwood on February 24th that takes place on the hills of the castle grounds... get ready for the punishing hills everyone!!!... hills are like home turf and should be no problem for the Ladysmith Striders!



January 23, 2011 - Cobble Hill 10K - Striders Race Report -- The second Frontrunners Island Race Series event for 2011 was staged from a base camp at George Bonner School on Cobble Hill Road and even though heavy rain threatened the race launch, mission control gave the thumbs-up for lift-off at 11am. Runners siloed up for the Ceevacs Roadrunning Club Cobble Hill 10K count-down in front of Ecole Mill Bay Elementary which provided ample room for 560 participants to light-it-up for a quick start to their 10K journey. While time and space were likely on the minds of every one of the eager Frontrunners Island Race Series runners, it was clearly the young at heart that rocketed into the lead and set the pace for early separation which occurred between one and two kilometers on the Wilkinson Road out-and-back straight-aways. For the rest of the time space cosmonauts who gradually stretched their efforts over the length of the course, runners probed the threshold of their own maximum boost and returned personal record setting performances that will stand until they endeavour to reach for the stars again in two weeks time at the next Frontrunners Island Race Series event in Nanaimo.
Ladysmith Striders deployed some of their own rocket science with thirteen Striders locking onto the local telemetry and roaring off some superb times. Generating top-ten vapour trails in their respective age groups were Tiffany Chapman, John Mountain, Bala Naidoo, Niki Van Horne, Pauline Naidoo, and Denise Aucoin. Touching down for age-group top-twenty finishing times were David Van Horne, Ruth Malli, and Laurel Szasz. Other earth-bound performances that favour mentioning is a jet-fueled 50-second improvement for Phil Howard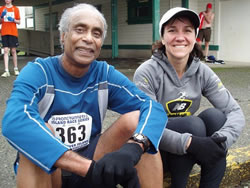 over his previous 2010 Cobble Hill 10K time; a stellar forty-seven and a half minute effort by Steven Sharpe who only seven days earlier landed a three-hour forty-two minute Arizona Rock-n-Roll Marathon mission in Scottsdale; Brant Dame who notched up his Frontrunners Island Race Series pace for a minutes per kilometer improvement; and Gillian Sharpe who re-entered the atmosphere and finished at just over an hour and who had recently grounded a half-marathon effort in Scottsdale Arizona with her husband Steven. Ladysmith Striders lift their club standings up one stage into ninth position with the close-to-home Cedar 12K almost in sight. Go Striders!
Ladysmith Striders wish to thank event organizers and volunteers to have staged this event. Without your dedication and willingness to give your time and efforts, this event would not be as successful as it could be. Thank you Ceevacs Roadrunning Club.
Ladysmith Striders results are outlined in the table below. Click the participant names to view individual statistics which will open in a separate browser window.
Next race is a Nanaimo Bastion Running Club sponsored 12k race in Cedar on February 6th. Hope to see a good contingent of Ladysmith Striders there.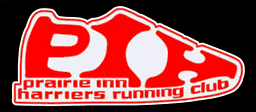 January 9, 2011 - Prairie Inn Pioneer 8K - Striders Race Report -- The threat of snow wasn't enough to stop the first road race of the Frontrunners Island Race Series from happening as 648 runners took to the sometimes frosty roads to participate in the Prairie Inn Pioneer 8k. Held annually at the Central Saanich Fairgrounds, this race was no different from past events where the road race draws a very large field to kick off the new year. The Frontrunners Island Race Series attracts club representation from not only the greater Victoria area, but up Island as well reaching all the way to Campbell River. The Prairie Inn Pioneer 8k road race is not just the first event of the Frontrunners Island Race Series, it's also the first event in the 2011 Timex BC Road Running Series and the first event of the 2011 BC 8K Road Racing Championships. The 2011 BC 8K Road Racing Championships is a Run Canada Certified 8K course and boasts race records for men's division at 22:58 (Carey Nelson) and for women's division at 26:08 (Debbie Scott) - records that were set in the 1980s on the Prairie Inn Pioneer 8k course and records that remain today. Congratulations to the Prairie Inn Harriers for offering up another great road race.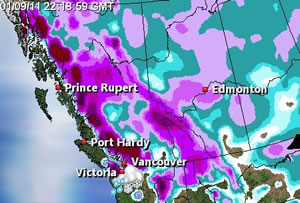 Even though up-island locations received a dump of snow overnight, ten hearty Ladysmith Striders braved the icy Island Highway to participate in the event. Congratulations to all Ladysmith Striders for not only taking on the snowing driving conditions, but for taking on the Prairie Inn Pioneer 8k and pounding out some sensational results. Given the crisp road conditions, some Ladysmith Striders managed to not only gain great traction, but were able to gain a time advantage as well. As a result, Tiffany Chapman shaved three off her 2010 result. Other Ladysmith Striders who improved on their 2010 times were Phillip Howard, David Van Horne, Niki Van Horne, and Laurel Szasz. Excellent performances that rounded out a great team effort were offered by John Mountain and Ruth Malli after their two year and three year Prairie Inn Pioneer 8k absences, by Heather Howard in her first road race ever, and by Brant Dame who toed the line this year after running his first Frontrunners Island Race Series in Sooke last year. Ladysmith Striders stand at tenth position in club standings after their first competition. Special mention goes out to Tiffany Smith, Tiffany Chapman, John Mountain, Niki Van Horne, and Denise Aucoin who all broke top ten in their age divisions. Go Striders!
Ladysmith Striders results are outlined in the table below. Click the participant names to view individual statistics which will open in a separate browser window.

Next race is a CEEVACS sponsored 10k race on the Bonner School course at Cobble Hill on January 23rd. As a friendly reminder to Ladysmith Striders that some Cedar 12K fun is coming to our area on February 6th and it would real delicious to make that road race our Sunday morning run. Hope to see you all there!


January 2, 2011 - John's Half-Fast Run Report - New Years Day Strider Run -- Mitts, scarves, toques, and ear muffs were the Striders chosen apparel for the annual New Years Day Run which brought raves from many drive-by fashionistas who slowed to nod their approval for the runner's cold weather haute couture. Minus four degrees was no reason to remain in morning pajamas as fifteen Ladysmith Striders indeed did suit up and brave the frosty weather for their annual January 1st five kilometer run. Leaving from a very central Saltair location, a parade of healthy handsome Ladysmith Striders modeled their fine-looking sportswear for residents living on Seaview Crescent, South Oyster School Road, Chemainus Road, Oyster Way, and Olsen Road. While there were no casting calls offered to any in this stunning collection of quick and able runway models, it should be noted however that that their group photo will likely adorn the front cover of the next Fashion Week Magazine.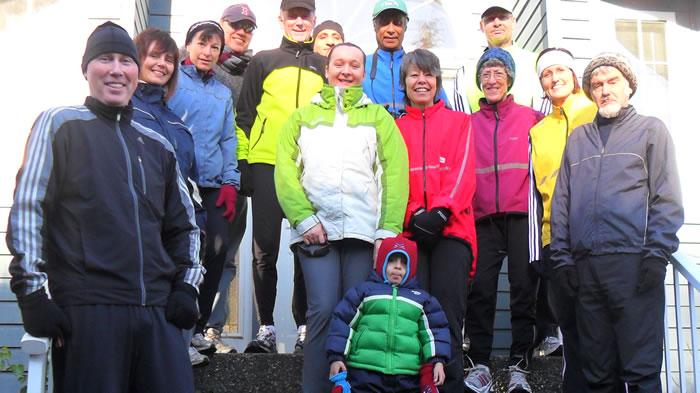 Left to right: Dave Van Horne; Heather Howard; Dolly Brown; Phillip Howard; Chris Geens; Harvey Khun Khun; Elissa Khun Khun; Bala Naidoo; Robin Billas; Pauline Naidoo; Terry Morrow; Michelle Fraser; Michael Rowell. Front: Jonas Khun Khun. Photo: John Mountain
The Ladysmith Striders New Years Day run is an annual event and is hosted by Pauline and Bala Naidoo. Not only does the run originate from their home, the Naidoos graciously open their home to the Striders after the run and provide the runners a light lunch, snacks, coffee, and as always, great conversation. Special thanks to the Naidoos for hosting this annual get together, and for their welcoming nature and abundance of goodwill.
There was a Ladysmith Strider who was unable to attend the New Years Day run because she was working away and who - like the Naidoos - also has a welcoming nature and an abundance of goodwill. Her name is Laurel Borisenko and she is currently employed near Nairobi in Kenya, Africa. Under contract to an NGO, the bulk of her work involves the interviewing of refugees to determine who might be eligible for resettlement. Laurel recently sent the Ladysmith Striders a note to share her first Nairobi running experience, and to also make a request of her running friends back on Vancouver Island.
First the run. The following is an account of Laurel's first run in Kenya and the Ladysmith Striders are very pleased to reprint it below.
My First Run in Kenya
Sadly, I did not manage my first run in Kenya until Dec 24th, and that was in the rainforest of Western Kenya, where I have come for the Christmas holiday. Fortunately, I am used to running in rainforests, so the slippery leaves, water-filled mud holes, the tree roots to jump over, are not new to me. But there were plenty of new distractions.

I stopped to watch a group of black and white Colobus monkeys jump from tree to tree high up in the forest canopy, I see several brilliantly coloured butterflies landing on a black slug, I disturb a swarm of flies buzzing like a loud chain-saw on some animal scat, and a line of safari ants... thousands, maybe tens of thousands... I don't know, who form a solid column of movement across the trail.

Then I run toward a group of children illegally collecting firewood and they all scatter a short distance into the woods. I stop and call to them, "hallo, hallo"... and they shyly come out, smiling. "Can I help you collect wood? You pay me" I say. They all giggle and become more brave. "No, you pay me" the older one retorts. "No, you pay me!" I answer back, and we continue an antiphonal chorus as I continue to run down the trail. The last offer I heard... "you pay me and I will run for you!"

I come across a narrow trail going downhill, and have to walk down. It winds down into the forest, but now I have run out of time and must turn back. As I retrace my steps, I pass by all the forest scenes in opposite order and a returning chorus of the camp song Goin' on a Lion Hunt appropriately comes to mind. All this as I again pass by the column of ants, the flies enjoying the scat, the butterflies on the slug, and the monkeys jumping in the trees. The last line I pass are the children carrying out their piles of firewood, each according to her ability. And they smile and greet me, unable to run and hide in the forest this time.

I run back to the main road, and barely make it back for lunch, muddy and sweaty, but ready for my next run in the rainforest. ---- Laurel Borisenko
Laurel Borisenko also included a request with her note. Her request was that when Ladysmith Striders finish their Sunday morning run and meet for coffee at Esquires Coffee in Coronation Square, they put some coffee money aside for the purpose of donating to a worthy cause in Kenya. Laurel asks that money spent on Sunday morning coffee be matched as a donation to a local NGO called Heshima Kenya which helps refugee women who are single heads of household with children- a very marginalized group. The donations would be put towards the purchase of warm clothes for the children and maybe some toys as well. She asks that after 3 months we could let her know how much we have collected and that once the funds are transferred to here she will make the purchases in Nairobi and provide the donations.

Ladysmith Striders are pleased to announce that a coffee money collection was made and a sum of money has been sent on it's way to Kenya where Laurel will spent Strider coffee money to buy some warm clothes for those less fortunate. Ladysmith Striders wish to thank Laurel for suggesting the means by which runners in Ladysmith could make a difference in someone's life in Kenya, and to wish her all the best in her African adventure.



January 1, 2011 -- It's that time of year again when many runners begin to gaze into the new year and ponder the running calendar challenges that lie ahead. No doubt there will be some Ladysmith Striders that include themselves in this group as many Striders participated in the Frontrunners Island Race Series last year. For Ladysmith Striders that are considering the fun again, the Frontrunners Island Race Series begins on January 9th so I think it appropriate here to provide a friendly reminder to take advantage of some cost savings by entering early. And when entering, don't forget to record that you are from the Ladysmith Striders.
For your further awareness, runners who complete all eight races in the 2011 series, or eight races and volunteer at their own race, will receive a gift certificate from Frontrunners entitling them to 50% off the series registration (without shirts) for the 2011 series. Check out the schedule below.
Frontrunners Island Race Series 2011 Schedule
Race

Date

Start

Timex Series

Info

Results

Prairie Inn Pioneer 8k
Saanichton

Jan 9

11am

Yes

Cobble Hill 10k
Cobble Hill

Jan 23

11am

Cedar 12k
Cedar

Feb 6

11am

Hatley Castle 8k
Colwood (Royal Roads)

Feb 20

11am

Mar 6

11am

Yes

Comox Valley 1/2 Marathon
Courtenay

Mar 20

11am

Yes

Merville 15k
Merville

Apr 3

11am

Sooke River 10k &
Series Awards - Sooke

Apr 17

11am
Click here to register online.